Roasted Tomato and Bell Pepper Soup
Made with just 5 ingredients and very little prep work, this roasted tomato and bell pepper soup will definitely warm you up and have everyone asking for seconds!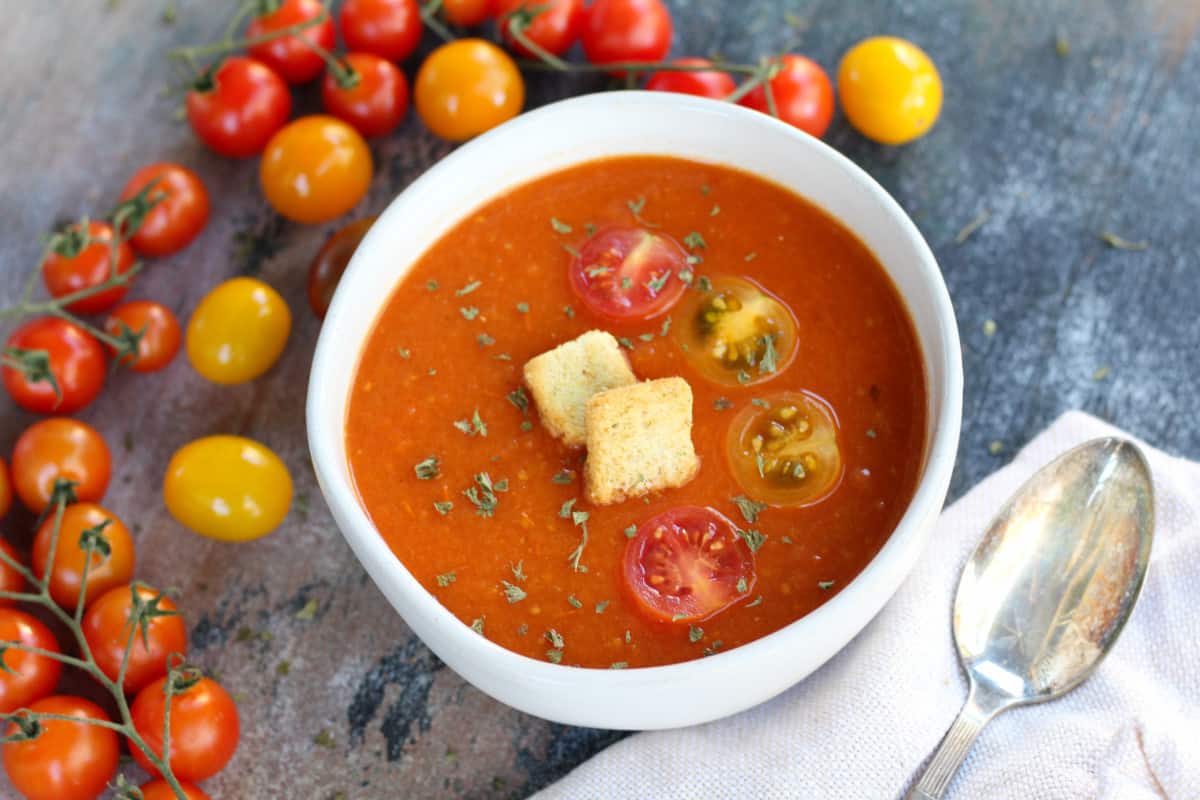 Are you looking for a delicious and easy soup recipe that you can make any day of the week? This Roasted Tomato and Bell Pepper Soup is it! Not only is it full of flavor, but it's also packed with plenty of fresh ingredients.
This savory dish starts by roasting tomatoes, bell peppers, garlic and onions in the oven until they are lightly charred. The vegetables are then blended together with spices to create a thick and creamy soup. Serve this flavorful soup in bowls topped with freshly grated cheese or croutons for an added crunch. Your family will love this comforting meal that you can make anytime!
Why We Love Roasted Tomatoes and Bell Peppers
Roasted tomatoes and roasted bell peppers are the perfect addition to make any soup burst with flavor.
Tomatoes and bell peppers are both incredibly versatile ingredients, so they can be used in a variety of dishes. When roasting them together, the natural sweetness of the tomatoes pairs perfectly with the bell peppers. The result? A savory combination that will have everyone will love! Best yet, roasted tomatoes and bell peppers are simple to prepare – just a few minutes of prep time, then you pop them in the oven and let it do the rest.
Why Do You Remove the Skin From Roasted Peppers Before Adding it to Recipes?
Adding roasted peppers to your soup is a great way to give it an extra kick of flavor. But before you toss the peppers in, you should always remove the skin first. Why? Here are a few reasons why you should always take off the skin before adding it to your soup.
First, removing the skin makes sure that none of its bitterness will be transferred into your dish. Roasted peppers have very thin skins, and if not removed could make for an overly unpleasant taste experience as they can sometimes be bitter.
Second, taking off the skin ensures that the pepper stays soft and tender even after cooking which makes for much more enjoyable eating.
How Are Immersion Blenders Different From Regular Ones?
I used an immersion blender to make this soup, if you don't have one, you can definitely use a regular blender, I just like the ease and size of the immersion blender.
Unlike regular blenders that require large containers to hold ingredients while blending them together, immersion blenders can be inserted directly into a pot or bowl! This allows for quick and easy blending without having to transfer the mixture from one vessel to another. Plus, they are much smaller than regular blenders meaning they take up less countertop space and can easily fit in a drawer when not in use.
Immersion blenders also offer greater control over the texture of your mixtures – simply adjust the speed as needed for desired consistency!
Health Benefits of Tomatoes and Bell Peppers
Do you love the taste of roasted tomatoes and bell peppers as much as we do? Then you're in luck – not only do they add a delicious flavor to any meal, but they can also be good for your health! In recent years, research has suggested that eating roasted tomatoes and bell peppers can have some important benefits.
The antioxidants found in these vegetables can help protect your cells from damage and may reduce your risk of certain chronic diseases. They're also an excellent source of vitamins A and C as well as dietary fiber, making them a great food choice for those who are looking to improve their overall nutrition.
Roasted Tomato Soup with Bell Pepper Key Ingredients
Tomatoes
Bell peppers
Onion
Garlic
Broth – I used low sodium chicken broth, feel free to use vegetable broth to make this soup vegan.
That's it! Simple. Delicious. Healthy. Amazing.
Alright, let's make some soup, shall we?
Roasted Tomato and Bell Pepper Soup
Roasted Tomato and Bell Pepper Soup is the perfect recipe to try! Not only is it full of flavor, but it's also packed with plenty of fresh ingredients. This soup is sure to have your family asking for seconds!
Equipment
1 Immersion Blender or regular blender/food processor
Ingredients
4 Bell Peppers
2 lbs tomatoes cherry or other
5 garlic cloves
1 yellow onion – peeled and cut in half
2 cups low sodium chicken broth
Salt and pepper to taste
Instructions
Preheat oven to 400 degrees F.

Cut the bell peppers in half and clean out the seeds and membrane.

Spray baking sheets with olive oil.

Place the pepper halves, tomatoes, onion, and garlic cloves on prepared baking sheets.

Roast for 20-30 minutes, until the skin is dark on the peppers and have collapsed. The skin on the tomatoes will soften and begin to burst.

Allow the peppers to cool and remove the skin.

Place all the vegetables and the juices from the tomato pan into a stock pot or dutch oven.

Add in the chicken broth, salt and pepper.

Using an immersion blender, blend until smooth. *If you don't have an immersion blender, use a regular blender.

Heat and serve.
Nutrition
Calories: 139kcalCarbohydrates: 29gProtein: 8gFat: 2gSaturated Fat: 0.4gPolyunsaturated Fat: 1gMonounsaturated Fat: 0.4gSodium: 341mgPotassium: 1072mgFiber: 7gSugar: 16gVitamin A: 4214IUVitamin C: 176mgCalcium: 103mgIron: 4mg
More recipes to try:
Tomato Soup & Baked Mini Grilled Cheese