Cinnamon-Honey Banana Bites
Ready for a different and simple way to enjoy a banana? Try out these Cinnamon-Honey Banana Bites for a warm, delicious treat the whole family is sure to love. Whether you are a huge fan of bananas or not, these little bites melt in your mouth and are a fun little snack when you have some extra bananas laying around.
Nutrition Tip: Bananas happen to contain the amino acid tryptophan, which has been shown to improve both your mood and your memory.
I know we are always looking for different uses of bananas other than just by themselves or in a banana bread recipe. We have tried the Banana Sushi Rolls and loved those so I wanted to keep experimenting. I wanted to try out a little something different for dessert one night. That is how these Cinnamon-Honey Banana Bites came about! The kids loved them, and so did I especially with how easy they were to make. There are just a few simple ingredients and they can come together in about 15 minutes! Perfect for a quick, simple, and healthy snack or dessert.
Key Ingredients for these Honey-Cinnamon Banana Bites
Bananas– this fruit is a staple in many households which makes them a quick grab and go snack and are perfect to bake with to add flavor and moisture to recipes. Bananas are also loaded with many health benefits that include high in potassium, fiber, and can help improve your digestive health!
Sunflower Seed Butter– This peanut butter alternative is high in protein, has many healthy fats, and a great source of Vitamin E and also magnesium.
Cinnamon– Not many people associate cinnamon as a healthy food but it is! Cinnamon is loaded with Vitamins and is known to help fight off diseases because of its antifungal and antibacterial components. This flavorful spice is great in many baking dishes as well being able to add it to smoothies or even your coffee!
Honey– As a great natural way to add sweetness over sugar, honey is high in antioxidants, is great for your digestive track, and can even help prevent Acid Reflux!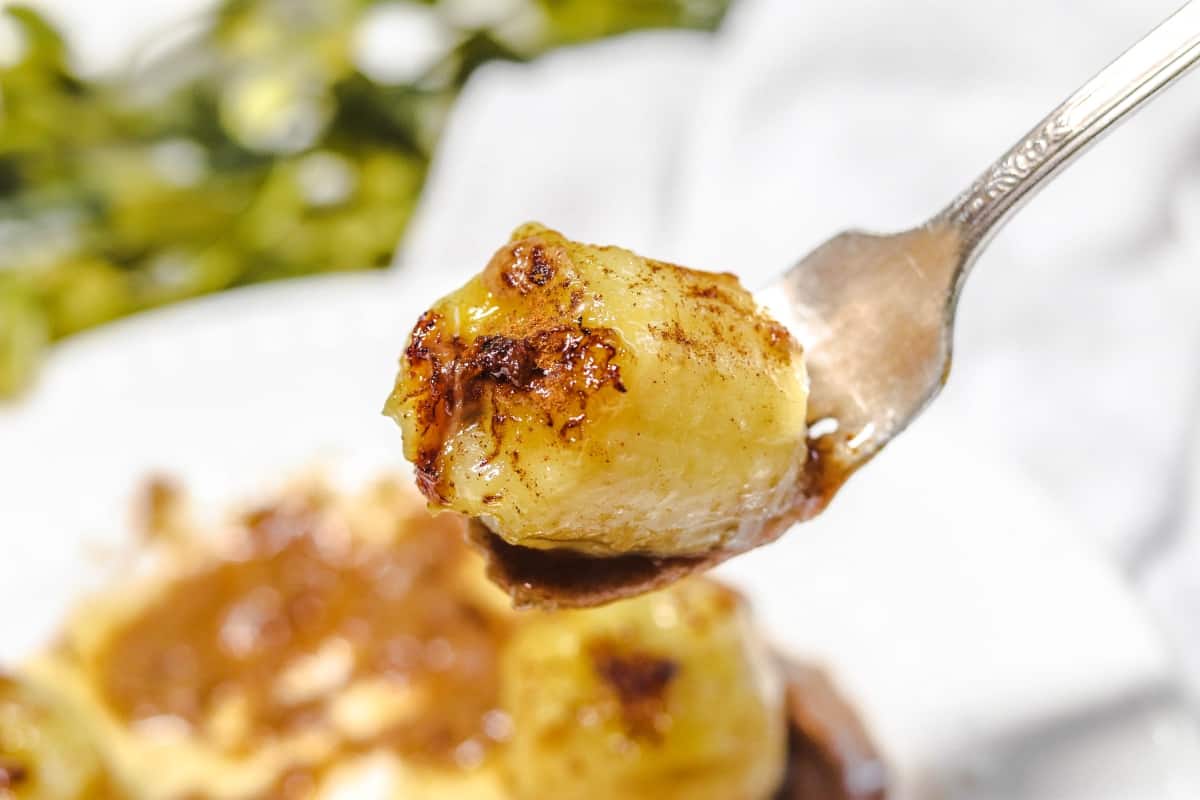 How to make these Banana Bites
First heat a nonstick skillet over medium heat and spray with cooking spray. Then add the bananas and cook for about 3-5 minutes on each side, or until lightly browned.
Remove from heat. Then add the sunflower seed butter, cinnamon, and honey to each half. We did one banana per person, so just customize it for your serving needs. Serve warm and enjoy!
Frequently Asked Questions:
Can I use peanut butter?
Yes Peanut butter, almond butter, or any other butter would taste great in this recipe as well. Use what you have or what your family enjoys.
How to serve these banana bites?
We served ours right out of the pan into small bowls for everyone. You want them to be warm so the cinnamon and honey create a nice glaze on top. Try them out with a little scoop of vanilla ice cream or even Greek Yogurt!
Make sure to PIN IT!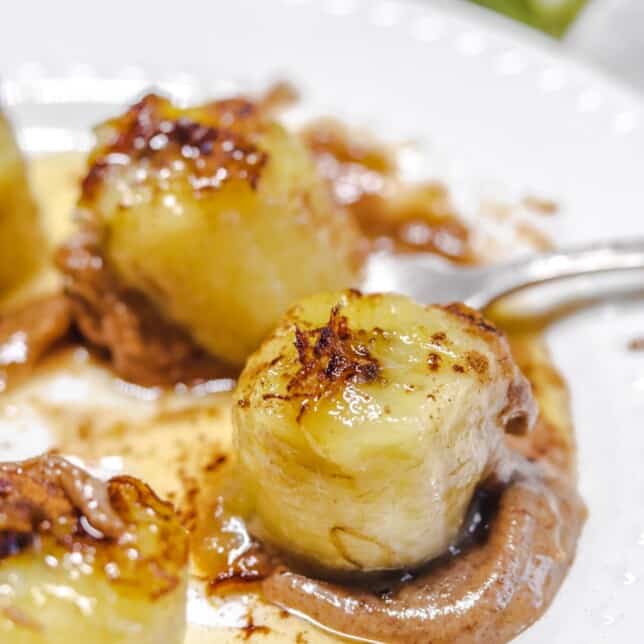 Cinnamon Honey Banana Bites
Enjoy bananas in a new way with this warm, delicious treat. Bananas are a good source of potassium, fiber and vitamin B6.
Ingredients
1 banana cut in half lengthwise or sliced
1 1/2 teaspoons sunflower seed butter
2 teaspoons ground cinnamon
1 tablespoon honey
Instructions
Heat nonstick skillet over medium heat; spray with cooking spray.

Add bananas and cook 3-5 minutes each side, or until lightly browned. Remove from heat.

Add sunflower seed butter, cinnamon, and honey to each half.
Nutrition
Calories: 248kcalCarbohydrates: 51gProtein: 4gFat: 6gSaturated Fat: 1gPolyunsaturated Fat: 1gMonounsaturated Fat: 1gSodium: 3mgPotassium: 459mgFiber: 5gSugar: 32gVitamin A: 94IUVitamin C: 11mgCalcium: 62mgIron: 1mg
Other Banana Recipes to Try: