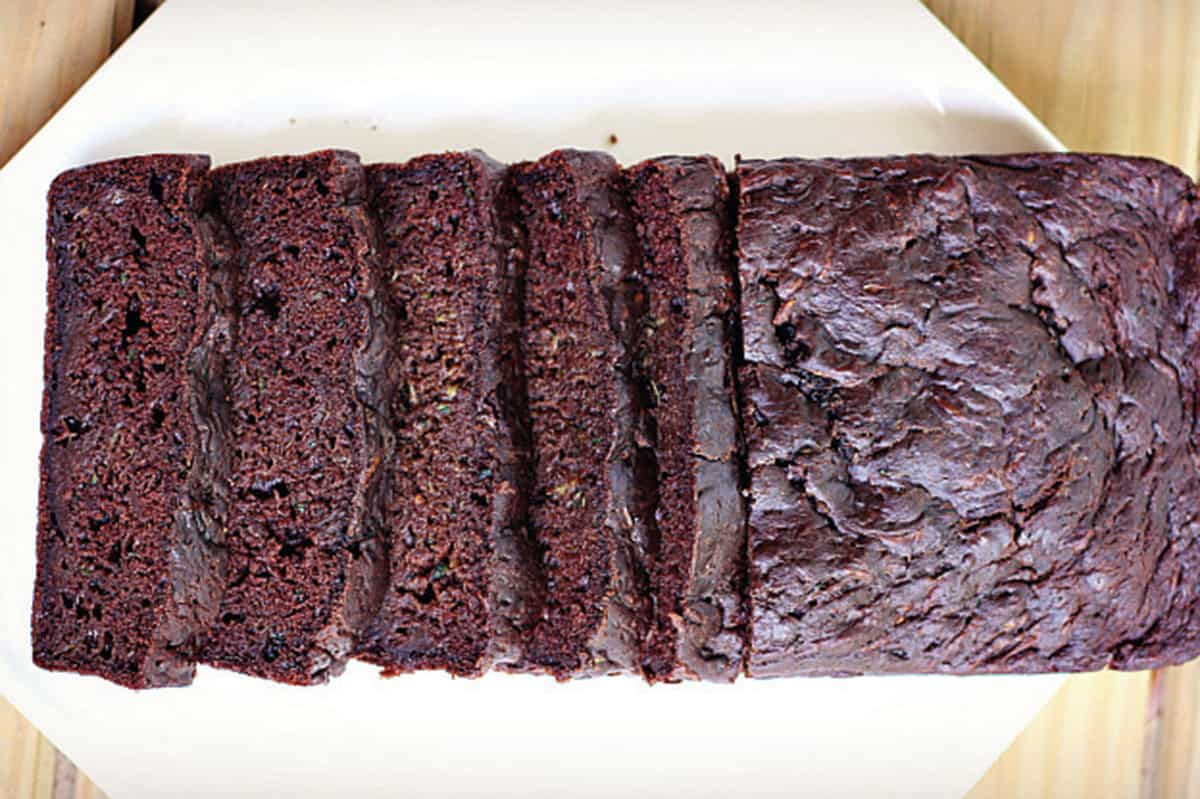 Are you ready for a sweet treat with hidden veggies! This Chocolate Zucchini Bread is a fluffy, chocolatey dessert bread that gets a healthy dose of veggies by adding shredded zucchini! This bread turns out so moist and delicious that the kids won't even know they are eating some vegetables, too!
Recipe and photography by Estela of Weekly Bite.
Nutrition Tip: Potassium plays a crucial role in triggering every single heartbeat. With more potassium than a banana, zucchini can sufficiently provide the heart with this essential mineral.
I love incorporating fruits and vegetables when baking and this Chocolate Zucchini Bread is just perfect for when you are craving some chocolate. Knowing that you are baking with fresh shredded zucchini can help you feel better about eating it and feeding it to your family! A combination of chocolate and zucchini in a moist sweet bread turned out to be a win-win recipe!
For another great recipe that incorporates zucchini, make sure to check out these Mini Zucchini Bread Muffins!
Key Ingredients for this Chocolate Zucchini Bread
Whole Wheat Flour– Baking with whole wheat flour helps retain many of the nutrients and valuable fiber from the whole grain adding another feel good benefit to this sweet bread.
Zucchini– Fresh zucchini is loaded with fiber and many vitamins that can help lower blood pressure, cholesterol, and can even help strengthen teeth and bones!
Applesauce– Baking with applesauce? Yes, applesauce provides a lot of moisture and helps cut out some of the fats from oils.
Cocoa Powder- Cocoa powder is actually packed with nutrients you may not expect like iron, zinc, and magnesium!
For more information on Health Benefits of Zucchini, check out our Produce Tips: Zucchini Post!
How to make this Chocolate Zucchini Bread from Scratch
Step 1: First wash and shred your zucchini.
2: In a medium sized mixing bowl, combine all of your dry ingredients.
3: Then in a separate bowl, combine the wet ingredients and beat until well combined.
4: Next combine the dry ingredients to the wet and mix until smooth.
5: Fold in the shredded zucchini and pour into a greased loaf pan.
6: Bake for about 40-45 minutes.
Frequently Asked Questions:
Can I make this zucchini bread with regular flour?
Yes, of course just substitute the whole wheat flour with white flour. If using other types of flours, follow the recommended substitutions from the package.
Can I freeze this chocolate zucchini bread?
Yes, zucchini bread actually freezes wonderfully! If you feel up to it, double the recipe and bake according to the recipe. Once completely cooled, wrap in plastic wrap and place in a freezer safe plastic bag and freeze. Then when you are ready to serve just pull it out of the freezer and let thaw on the counter when you are ready to enjoy it!
Can you taste the Zucchini in the bread?
No! Baking and cooking with zucchini is a great way to sneak in some extra nutrients to your family's favorite meals. Since zucchini is full of moisture but very mild in flavor, it is a great vegetable to bake with!
Related Recipes to Try: