3 Easy Valentine's Day Treats with Strawberries
This post is sponsored by Wish Farms. All opinions are our own.
When I say "Valentine's Day" what fruit comes to mind? You probably said strawberries. Their beautiful red color, natural heart shape, and that they pair so well with chocolate certainly makes them a popular choice. These 3 Easy Strawberry Valentine's Day Treats are perfect to make with the kids to help celebrate this year!
Today we're teaming up with Wish Farms, a local Florida strawberry grower, to bring you 3 sweet Valentine's Day treats with fresh strawberries! Wish Farms, founded in 1922, is a third-generation family-owned supplier of strawberries, blueberries and blackberries. Visit wishfarms.com to learn more about them, plus nutrition facts, recipes and more.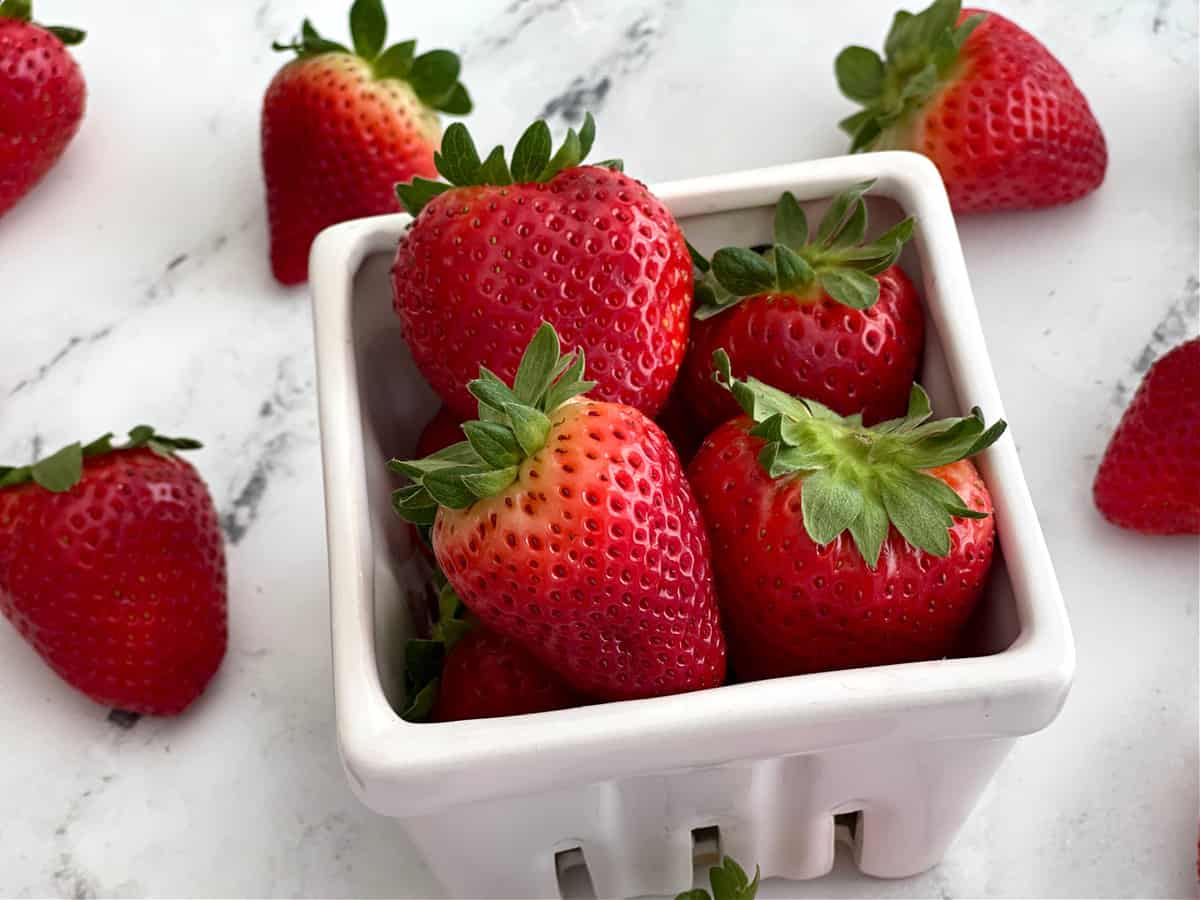 If you haven't noticed by now, we love strawberries! We cook, bake, snack, and blend them up in recipes all over our site! We love strawberries in smoothies like our Strawberry Banana Smoothie With Veggies, in our muffins, and even in a dessert pizza! So go ahead and check out more strawberry recipes to help you enjoy these berries all year long.
What we love about Strawberries:
Besides being sweet, juicy, and a family favorite, Strawberries are actually loaded in Vitamin C. These berries pack a punch in potassium, fiber, and folate! Strawberries are a low calorie fruit, too. Just one serving of these berries can even help improve heart health, lower the risk of developing certain cancers, and have been known to lower blood pressure. So when you are looking for a healthier snacking option for your family, pick up some fresh strawberries!
Here are 3 Easy Strawberry Valentine's Day Treats
Serve fruit in an extra special way this Valentine's Day with this heart-shaped fruit tray! The tray is easy to assemble and full of sweet, but good-for-you fruit as an alternative to candy. We used strawberries, blueberries, and kiwi but feel free to use what your family enjoys. You can serve it up with a yogurt dipping sauce or leave it as-is! Simple enough, just arrange your fresh fruit in the shape of heart!
Skip the candy this Valentine's Day and opt for a fun and sweet treat using fresh fruit! This simple snack is perfect for kids to assemble themselves during a classroom party or at home for an after school snack. Fresh strawberries, blueberries, and skewers make this a quick and easy snack everyone will love.
These bite-sized strawberry & yogurt bites are a sweet and delicious treat for Valentine's Day (or any day!). Let the kids help mix the ingredients and fill heart shaped molds for a fun activity. This recipe calls for plain Greek yogurt sweetened with a little honey, but any flavor or type of yogurt can be substituted. This is a win-win treat!
Do you have a go-to strawberry snack for Valentine's Day? Leave us a comment and let us know!
Make sure to PIN IT!
More Strawberry Recipes to try out: