Easy Chocolate Strawberry Hand Pies
Looking for an easy dessert recipe? These Chocolate Strawberry Hand Pies are prepped in just 20 minutes and are delicious! Filled with fresh strawberries and a little chocolate, no one in the family will be able to turn these down. While this post is sponsored by Wish Farms, our love of berries and this recipe are our own.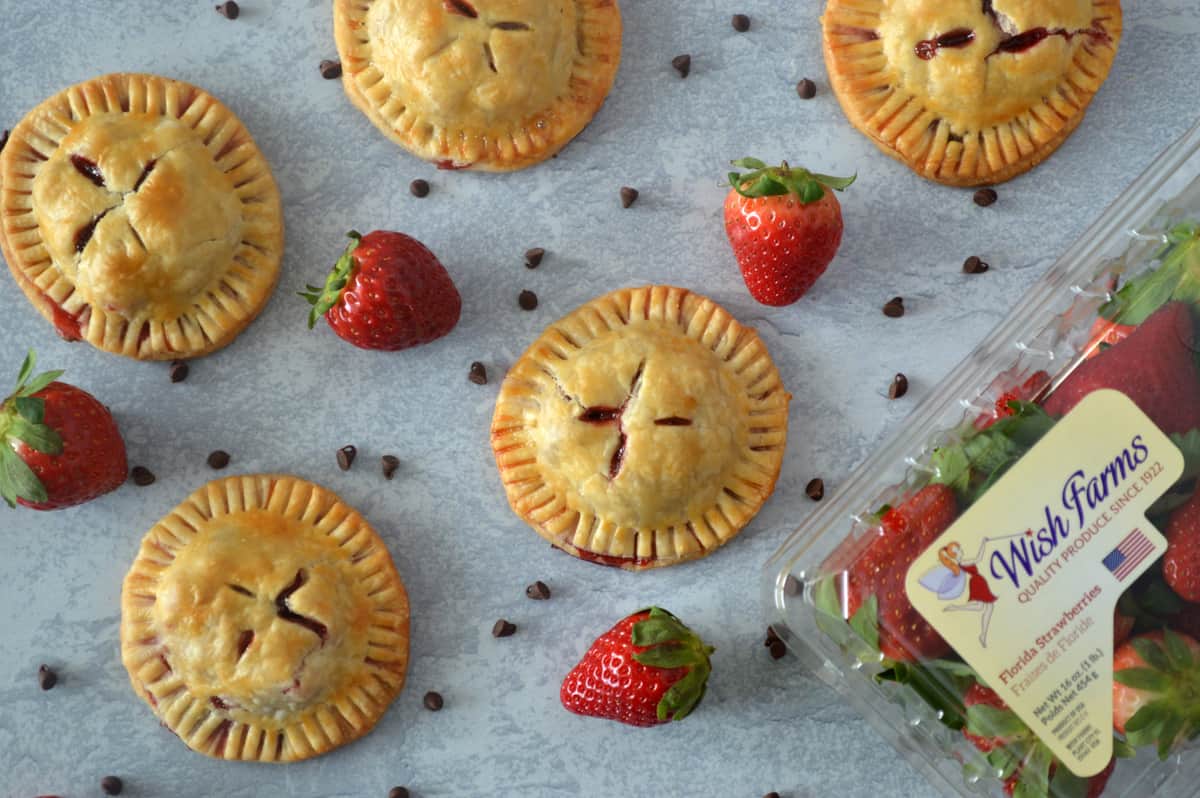 This easy dessert recipe uses just 6 simple ingredients and is ready-to-eat in 45 minutes. Kids will love helping in the kitchen with this yummy dessert, once you have the strawberries prepped, they can stuff the dough with them! Using store-bought refrigerated pie crusts makes these delicious, perfectly-portioned desserts a breeze. You can also sub in your favorite homemade pie crust if you prefer, but some days…ok, most days…I like to go the easy route when I can. I am all about saving time when possible!
Key Ingredients in Chocolate Strawberry Hand Pies
Fresh strawberries
Chocolate chips
Pie crust
You will also need some pantry staples; sugar, cornstarch, and an egg.
To make these easy strawberry chocolate hand pies you will simply cup out your dough, fill with strawberries and chocolate, close up and bake!
Can you refrigerate leftover hand pies?
Absolutely! Store them in an airtight container for up to 2 days. You may want to pop them in the oven for a few minutes to warm them up and give the crust that crispy texture again.
Can you freeze these dessert hand pies?
Yes! If you have leftovers, I recommend wrapping them individually and then add them to a ziplock bag. They will keep in the freezer for up to 3 months.
If you would like to prep these hand pies ahead of time so that you can just grab them from the freezer and bake so you have an easy dessert ready-to-go, you can do that too! I recommend prepping the hand pies as directed, but stop when it says bake! Pop the hand pies in the freezer (on parchment paper on the baking sheet) for a few hours, then wrap them individually, put them in a ziplock and store in the freezer for up to 3 months. Then, when you are ready to enjoy some chocolate strawberry amazingness, all you have to do is take one (or several) from the freezer, allow them to thaw and bake as directed.
Nutrition Tip: Young kids can get all the immune-boosting vitamin C they need in a day with just three medium strawberries!
Can you use different fruit?
Sure can! We love using fresh fruit that's in season when making dessert hand pies, feel free to experiment! And don't forget to come back and let us know your favorite combination.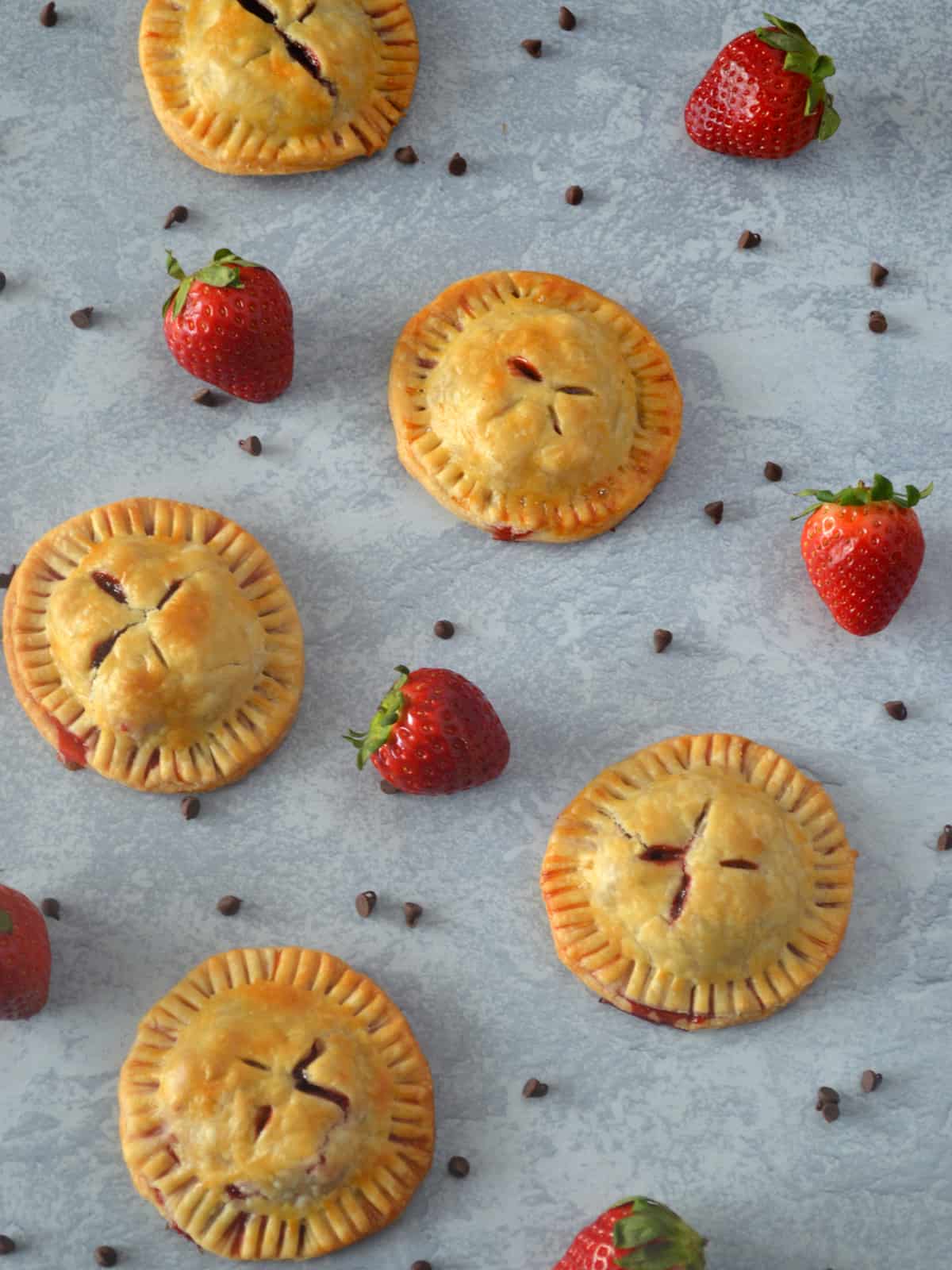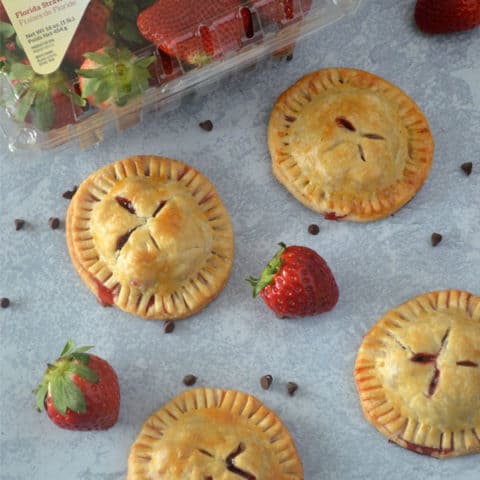 Strawberry Hand Pies with Chocolate
Filled with fresh strawberries and a little chocolate, the whole family will love this easy dessert recipe.
Ingredients
1 package refrigerated pie crust dough
2 cups finely chopped Wish Farms® strawberries
3 tablespoons sugar
1 tablespoon cornstarch
1/4 cup mini chocolate chips
1 large egg white beaten
Instructions
Preheat oven to 375F.

Mix strawberries, sugar and cornstarch in large bowl. Set aside.

Roll dough out on lightly-floured surface. Use small bowl or glass (about 3½ inches in diameter) to cut out 20 rounds. Reroll scraps as necessary.

Place 10 dough circles on parchment-lined baking sheet. Fill center with strawberries and chocolate chips. Wet rim of dough with water. Top with second dough circle and press edges firmly to seal or use a fork to seal edges. Brush with egg whites.

Bake 15-20 minutes or until golden brown. Let cool before serving.
Nutrition
Calories: 131kcalCarbohydrates: 18gProtein: 2gFat: 6gCholesterol: 6mgSodium: 114mgSugar: 7g