14 Healthy Smoothies to Kick off the New Year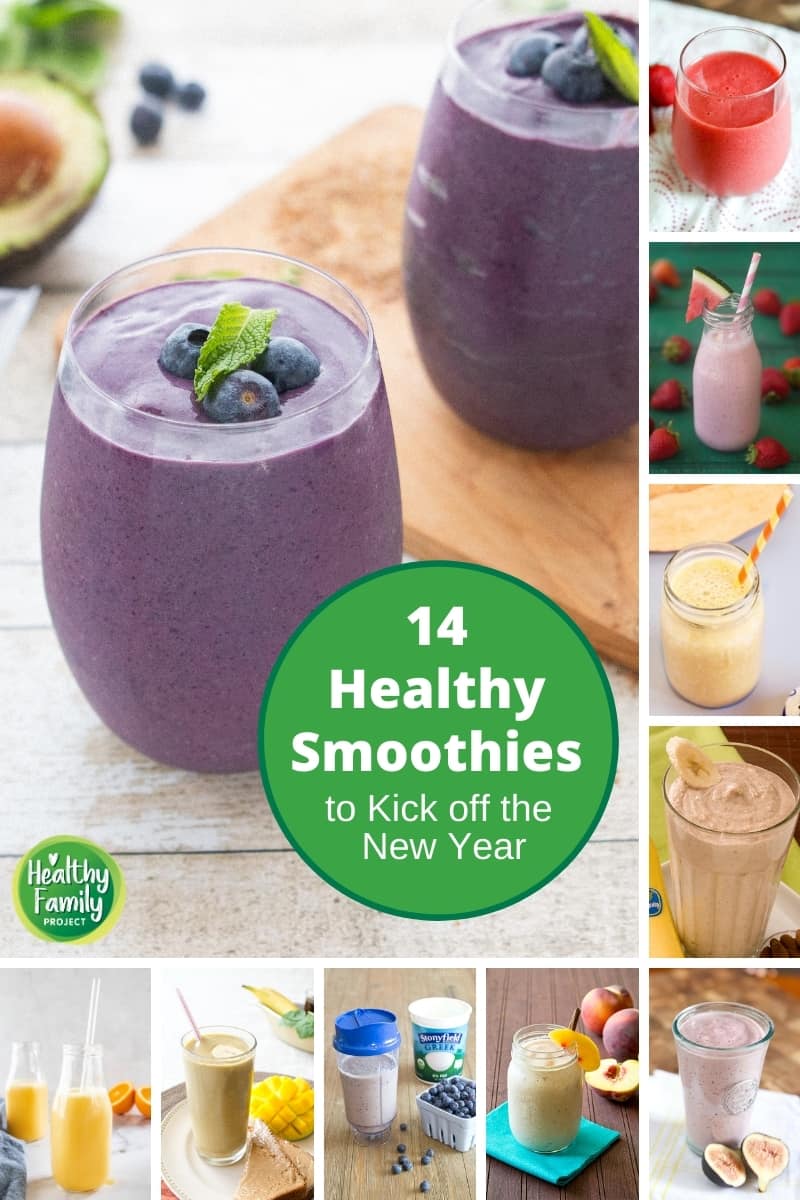 It's the start of a new year and resolutions are in full swing. Things like eating better, exercising more and kicking unhealthy habits are usually at the top of the list.
Did you know that smoothies are one of the easiest ways to snag some extra nutrition? They're perfect for blending up all sorts of fruits and veggies into a portable, drinkable meal.
Below, we're sharing a few of our favorite smoothie recipes with flavors like peach pie, fig and honey, and blueberry pancake.
If you're feeling creative, make sure to print out a copy of our Build Your Own Smoothie to mix and match your favorite ingredients, and read up on our DIY smoothie meal prep packs.
Start your morning off with a delicious, nutrient-packed smoothie! Avocado provides a uniquely silky smooth texture to this smoothie without an overbearing taste.
Photo Credit: aggieskitchen.com
This Strawberry, Grapefruit and Ginger Smoothie will give you a refreshing energy boost any time of day. Filled with seasonal fruit, it's makes a great nutritious snack or addition to breakfast!
Enjoy the fresh, summer taste of peach pie in a glass! Pour mixture into popsicle molds and freeze for a fun, healthy dessert.
Photo Credit: momtomomnutrition.com
Sweet Potato Pie Smoothie has all the warm flavors of fall with a refreshingly sweet and healthy twist on the typical pie cravings.
Smoothies are always a hit with kids, and this recipe is no exception! Watermelon and strawberries combine for a tasty treat without being too sweet. 
Photo Credit: aggieskitchen.com
This smoothie is a great way to introduce figs to little ones. Made with Greek yogurt, bananas, figs and a bit of honey.
Give your morning a boost with this quick and easy banana oatmeal smoothie recipe! It's packed with almonds, yogurt, oatmeal and bananas to give you the energy to start your day.
Photo Credit: www.realmomnutrition.com
Green smoothies are a perfect vehicle for boosting daily veggies, especially green leafies–something most kids woefully need.
While it may not be the real deal like fresh homemade carrot cake is, it is a tasty, quick and healthy alternative that offers a very similar taste.
Need a quick breakfast or fueling up for soccer? This smoothie is perfect!
Photo Credit: cookthestory.com
Smoothies for breakfast just got better. This one has a frozen waffle, blueberries and maple syrup blended right into it!
This Banana, Blueberry & Mango Smoothie is the perfect quick breakfast to blend up before school.
Photo Credit: www.mealplanningmagic.com
Ready in just 5 minutes and filled with nutritious fruits and vegetables and so easy to make, we call it a Green Monster Banana Spinach Avocado Smoothie because it has all kinds of healthy goodness to make us strong and it tastes delicious!
Photo Credit: www.createkidsclub.com
A simple orange smoothie that tastes just like an Orange Julius. Fresh oranges are pureed with milk and vanilla - a delicious way to get more fruit into your family!