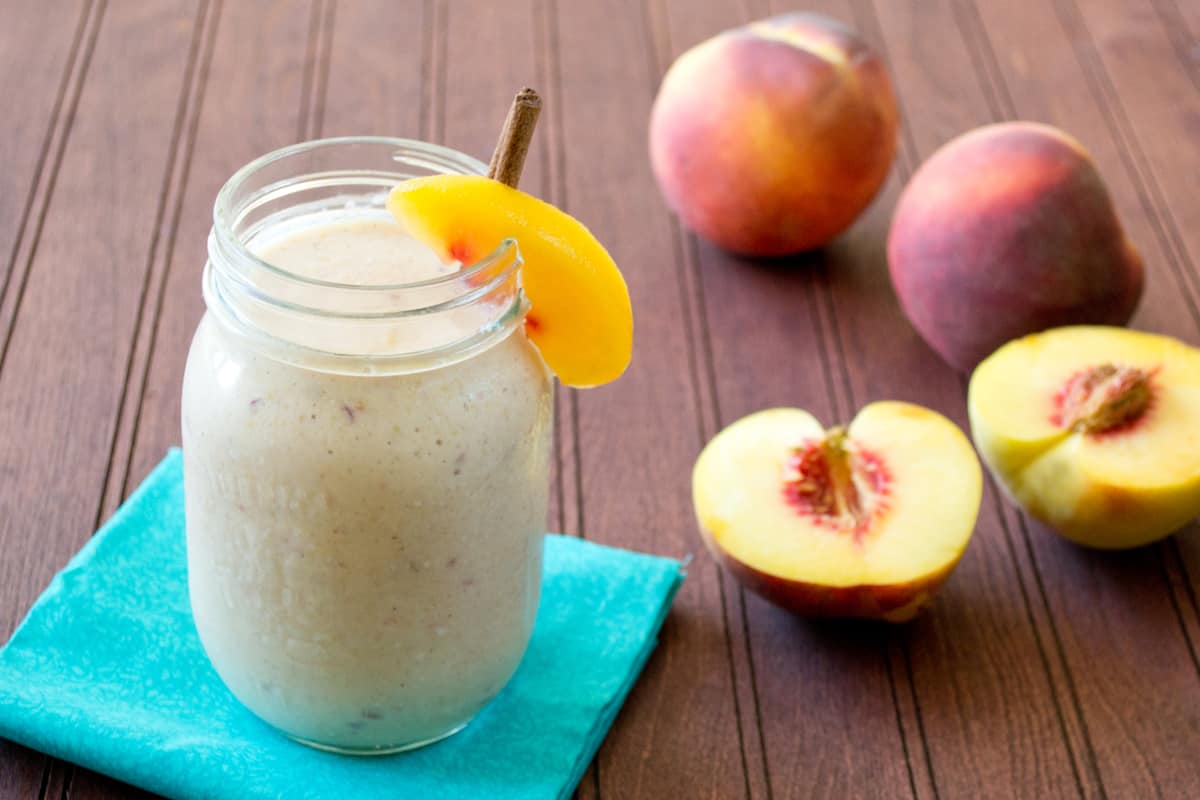 Enjoy the fresh, summer taste of peach pie in a glass! Pour mixture into popsicle molds and freeze for a fun, healthy dessert. Kids love the taste, moms love the nutritional value!
This peach pie smoothie is a great way to get more fruit in your diet. It's packed with vitamins and minerals, and it's a delicious and refreshing treat.
FAQs About Our Peach Pie Smoothie
Can You Use Frozen Peaches?
If you don't have fresh peaches on hand, no problem! This delicious peach pie smoothie works well with frozen peaches, and it's just as good.
Can I Make This a Smoothie Bowl Instead?
Yes! You can turn this recipe into a smoothie bowl. Just pour it into a bowl and top with your favorite toppings. I like to use granola, fresh fruit, and honey.
Can You Make it Dairy Free?
Yep! You can use a non-dairy yogurt or non-dairy cream cheese in place of the traditional dairy products. With just a few simple substitutions, you can enjoy this delicious smoothie without any dairy.
Can I Freeze it For Later?
The short answer is yes, you can freeze this smoothie. Peaches are already a great fruit for freezing, as they retain their flavor and texture well. And since this smoothie has yogurt and milk in it, those will also hold up well in the freezer. So if you have some extra peaches or you want to make a batch of this smoothie to have on hand for quick breakfasts or snacks, go ahead and pop it in the freezer.
Our recommendation is to freeze it in ice cube trays so you can just pull out the amount you want, throw it back in the blender and drink it!
Can I Use Oat Milk in Place of Almond Milk?
Sure! Oat milk is a great alternative to almond milk if you're looking for a different dairy-free milk option. It's packed with vitamins and minerals, and it has a creamy texture that makes it perfect for smoothies. Oat milk is also a good source of fiber, which can help keep you feeling full and satisfied after your smoothie. If you want a thinner consistency, add more oat milk until you reach the desired thickness.
Do I Need a Fancy Blender?
Nope! A lot of people think they need to go out and buy a super expensive blender in order to make smoothies. However, this simply isn't the case. A standard blender is more than capable of making smoothies – especially with softer fruits. The only thing you really need to worry about is whether or not the blender can handle ice. Other than that, a standard blender will work just fine!
How Long Will Smoothies Last in the Fridge?
A pre-made smoothie will last in the fridge for about 2 days. After that, the quality of the smoothie will start to degrade and it will not be as fresh. If you want your smoothie to last longer, you can freeze it. A frozen smoothie will last for about 2 weeks.
Can I Add Protein Powder to My Peach Pie Smoothie?
Yes! If you're looking to add more protein to your diet, you may want to consider adding protein powder to your smoothies. Protein powder can help you feel fuller longer and can also help build and repair muscle tissue. There are a variety of protein powders available on the market, so be sure to choose one that fits your needs. We'd recommend vanilla for this one!
I'm Out of Honey! What Can I Substitute?
There are a few reasons you might want to avoid using honey in your smoothies. Maybe you're vegan and don't want to use any animal products, or maybe you're trying to cut back on sugar. Whatever the reason, there are some great substitutes for honey that will still make your smoothie taste delicious.
Here are a few of our favorite substitutes for honey:
Maple syrup: This is a great option if you're looking for something that's 100% natural and free of refined sugars. Just be sure to use Grade A or Grade B maple syrup, as the lower grades can contain additives that you don't want in your smoothie.
Agave nectar: This is another good option if you're avoiding refined sugars. Agave nectar is sweeter than honey and has a milder flavor, so you'll need to use less of it.
Brown rice syrup: This is an option for vegans and those who are cutting back on refined sugars. It's a great alternative to agave nectar.
Sorghum: This is a good alternative if you want to avoid refined sugars. It's sweeter than honey and has more of a molasses flavor, so use it sparingly.
Blackstrap molasses This is another great option for vegans and those who want to cut down on refined sugars. Blackstrap molasses is a byproduct of the sugar refining process, so it's packed with iron and calcium
I'm Vegan. How Can I Make This Smoothie Vegan Friendly?
Swap out the Greek Yogurt for a dairy free option yogurt, and swap the honey for maple syrup.
This smoothie is easy to make and it's sure to please everyone in the family. So, what are you waiting for? Give it a try today!
If you love this smoothie, be sure to try our Banana, Peanut Butter & Date smoothie!
More recipes to try: