Pineapple Mango Chicken Stir Fry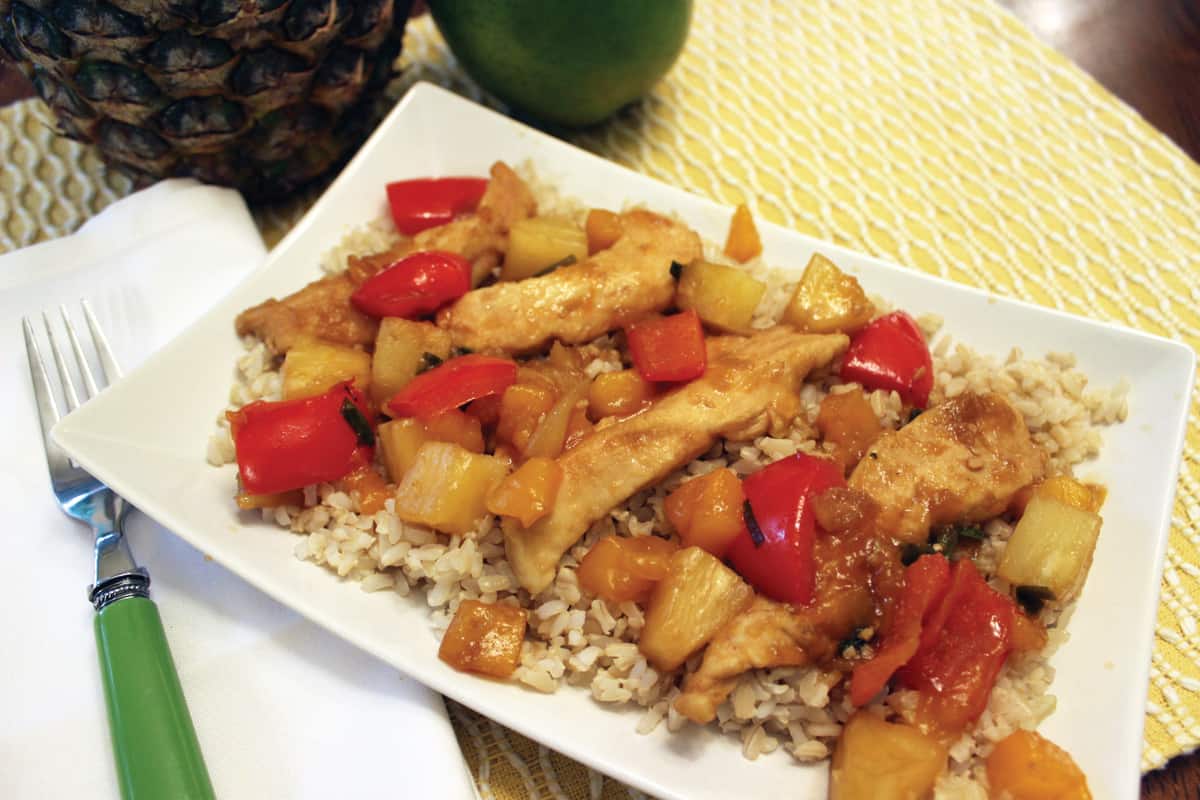 Did you know pineapple can help you ward off that pesky cold? A single serving contains 130% of your daily requirement of Vitamin C! Pineapple and mango give this classic stir fry a fun and fruity spin that the whole family will love.
Recipe and photography by Heather of Basilmomma.
Pineapple Mango Chicken Stir Fry
Yield: 6
Prep Time: 15 minutes
Cook Time: 20 minutes
Total Time: 35 minutes
Ingredients
1/4 cup reduced-sodium soy sauce
2 tablespoons white vinegar
2 tablespoons water
2 cloves garlic, minced
1 teaspoon grated ginger
2 tablespoons vegetable oil
1 pound boneless skinless chicken breast, cut into 1" strips
1 tablespoons cornstarch
1 red bell pepper, chopped
6 green onions, sliced
1 cup chopped pineapple
1 cup chopped mango
3 cups cooked brown rice
Instructions
Combine soy sauce, vinegar, water, garlic and ginger in bowl. Set aside.
Heat oil in large skillet over medium heat. Toss chicken in cornstarch and add to pan. Cook 4-5 minutes, or until cooked through. Add pepper and green onions, and cook 3-5 minutes, or until softened.
Reduce heat to medium-low. Add sauce and cook 4 minutes, or until thickened. Add pineapple and mango, and cook 2-3 minutes, or until heat thoroughly.
Serve over cooked brown rice.
Nutrition Information:
Yield: 6
Amount Per Serving:
Calories: 365
Total Fat: 8g
Cholesterol: 43mg
Sodium: 514mg
Carbohydrates: 56g
Fiber: 4g
Sugar: 26g
Protein: 20g