Kale & Bacon Breakfast Stuffed Peppers
(Last Updated On: February 25, 2021)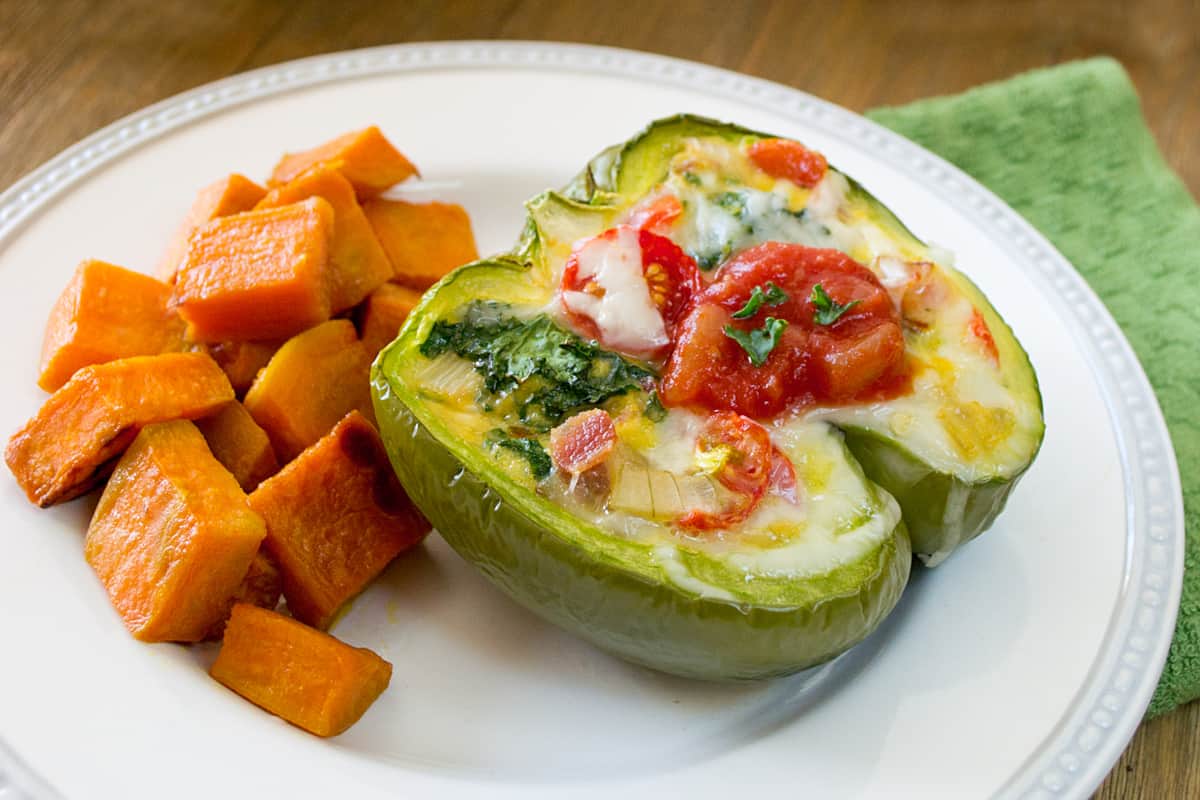 Get a hearty dose of veggies first thing in the morning with these breakfast stuffed peppers. They're filled with veggies and packed with protein for a filling breakfast any day of the week.
Kale & Bacon Breakfast Stuffed Peppers
Yield: 4
Prep Time: 10 minutes
Cook Time: 30 minutes
Total Time: 40 minutes
Ingredients
2 large green bell peppers, seeded, cut in half lengthwise
1 teaspoon olive oil
1/2 sweet onion, diced
1/2 medium tomato, seeded, chopped
3 slices bacon, cooked, chopped
1 cup chopped kale, tough stems removed
4 large eggs
2 tablespoons 1% milk
1/2 cup shredded low-fat mozzarella cheese
1/2 cup salsa
Instructions
Preheat oven to 350°F.
Arrange pepper halves in 13x9-inch baking dish.
Heat oil in skillet over medium heat; add onion and cook 3 minutes. Add tomatoes, bacon and kale, and cook 2-3 minutes. Spoon vegetables into pepper halves.
Whisk eggs and milk in small bowl until well blended. Pour evenly over vegetable mixture in pepper halves.
Bake 25-30 minutes. Remove from oven, top peppers with cheese and return to oven. Bake 5 minutes, or until cheese is melted.
Top each pepper with 2 Tbsp. salsa.
Nutrition Information:
Yield: 4
Amount Per Serving:
Calories: 435
Total Fat: 8.24g
Sodium: 541mg
Carbohydrates: 4g
Fiber: 7g
Protein: 15.14g