Hidden Veggie Turkey Meatballs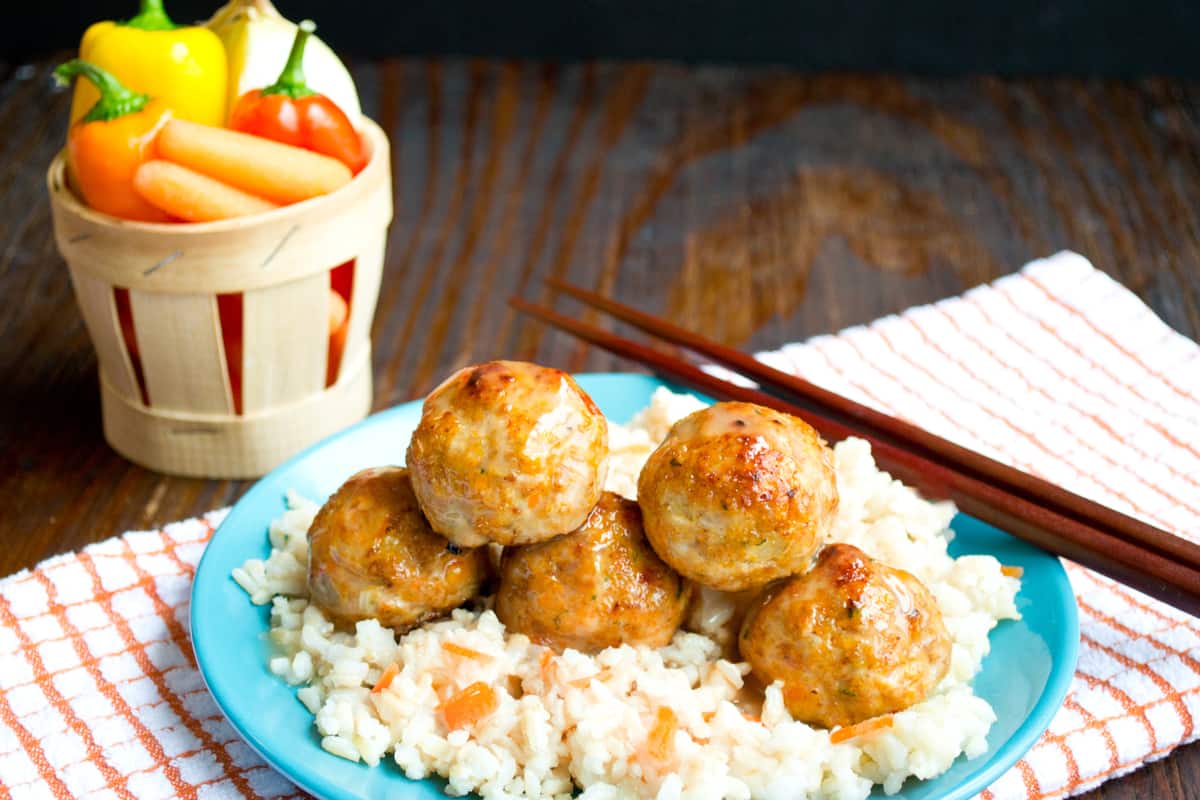 Give a family favorite a healthy makeover! These meatballs are packed with veggies and made with turkey, to give them a healthy spin. Serve with veggie rice for a delicious dinner or as a fun appetizer.
Nutrition Tip: Ground turkey is an affordable, easy-to-find source of protein, with nutrients like iron and zinc that growing kids need. Veggies and whole-grain breadcrumbs make these a good source of fiber too.
Got picky eaters that don't want to eat their veggies? This recipe might help! Our Hidden Veggie Turkey Meatballs are so tasty that we're betting your family won't even realize there are veggies inside at all.
Meatballs are a classic comfort food that many families love. However, they are often laden with unhealthy ingredients and can be a challenge to fit into a balanced diet. The good news is that with a few simple swaps and the addition of some hidden veggies, you can transform this beloved dish into a healthier version that both kids and adults will enjoy. These meatballs are not only delicious but also packed with nutrients, making them an ideal choice for a wholesome meal or a delightful appetizer. Let's dive into the recipe and learn more about the nutritional benefits they offer.
Getting kids (and even some adults) to eat their vegetables can be a struggle. However, by cleverly incorporating veggies into dishes, you can increase their nutrient intake without them even realizing it. This recipe takes advantage of the natural sweetness and vibrant colors of vegetables, using a blend of sweet onion, baby carrots, and sweet peppers. These veggies are pureed or finely chopped, making them virtually undetectable while adding valuable vitamins, minerals, and fiber to the meatballs.
Pro tip: If you choose to finely chop your veggies, remember that the finer you can chop them the better! The goal after all is to keep the veggies hidden.
The Healthy Twist: Turkey and Whole-Wheat Breadcrumbs
Traditional meatballs often rely on higher-fat meats like beef or pork, but this recipe swaps them out for lean ground turkey. Turkey is a fantastic source of protein and contains essential nutrients such as iron and zinc. By choosing lean turkey, you reduce the overall fat content while still providing a satisfying and flavorful protein source.
To further enhance the nutritional profile, whole-wheat breadcrumbs are used instead of the refined white variety. Whole-wheat breadcrumbs offer additional fiber, which aids in digestion, helps maintain a healthy weight, and supports heart health. The combination of lean turkey and whole-wheat breadcrumbs ensures these meatballs are not only tasty but also nutrient-dense.
Sesame Ginger Dressing: A Burst of Flavor
The meatballs are taken to the next level by tossing them in a delightful sesame ginger dressing. This dressing adds a burst of flavor and brings the dish together. However, be mindful of the amount used to control the sodium content. Feel free to adjust the quantity or seek out a lower-sodium dressing option to suit your preferences.
Serving Suggestion: Veggie Rice
To complete the meal, these Hidden Veggie Turkey Meatballs are served over a bed of cooked brown rice. Brown rice is a nutritious alternative to white rice, as it retains the bran and germ layers, offering additional fiber, vitamins, and minerals. By opting for brown rice, you create a well-rounded and balanced dish that will leave you feeling satisfied and nourished.
You could also try our cilantro lime cauliflower rice if you want to get more veggies in.
Let's make these Hidden Veggie Turkey Meatballs!
Hidden Veggie Turkey Meatballs
These meatballs are packed with veggies and made with turkey, to give them a healthy spin.
Ingredients
1 small sweet onion quartered
4 ounces baby carrots
4 mini sweet peppers
1 cup whole-wheat breadcrumbs
1 large egg
1 pound lean ground turkey
1 cup sesame ginger dressing
6 cups cooked brown rice
Instructions
Preheat oven to 350°F.

Place onion, carrots and peppers in food processor and blend until smooth. Alternatively, finely chop ingredients by hand.

Combine bread crumbs, egg, turkey and veggie mixture in bowl, mix well. Form mixture into 24 golf ball-sized meatballs.

Place in baking dish and bake for 25 minutes or until slightly browned and meat is no longer pink.

Remove from oven and toss with dressing. Serve over 1 cup brown rice.
Nutrition
Calories: 512kcalCarbohydrates: 63gProtein: 24gFat: 17gSodium: 394mgFiber: 5g