Salmon with Avocado Salsa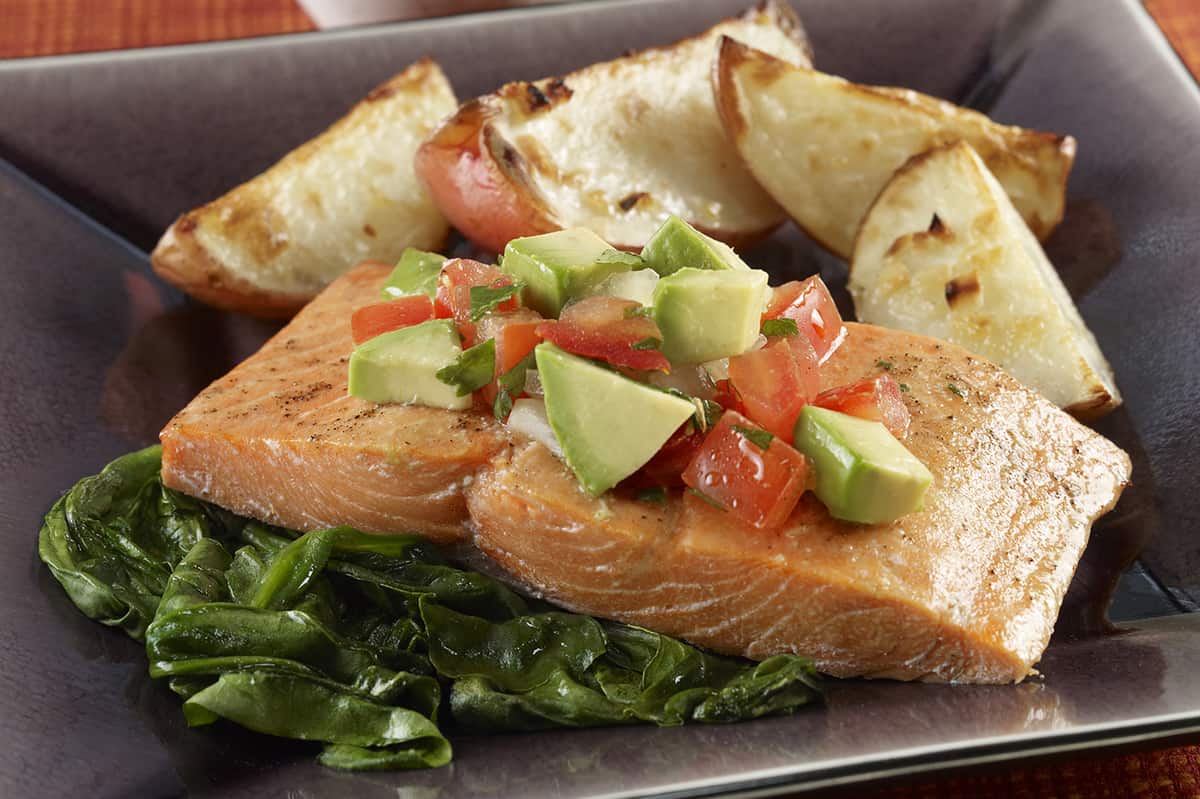 The avocado salsa topping on this salmon recipe is fresh, creamy and oh so good!
Here are some of the frequently asked questions we get about this dish:
What is the best way to cook salmon?
Salmon is a delicious and healthy fish that can be cooked in many different ways. While some people choose to sear it in a pan, one way to cook salmon is to broil it. Broiling is a method of cooking in which food is placed on a rack below a heating element and cooked by direct radiant heat.
We decided to cook our salmon under a broiler for two reasons. First, we wanted to get that nice, crispy skin on the salmon. Second, we were looking for a quick and easy way to cook the fish. We were not disappointed! The salmon turned out perfectly cooked with crispy skin. It was delicious!
How do I choose my salmon at the grocery store?
When choosing salmon at the grocery store, there are a few things to keep in mind. First, consider the color of the fish. The flesh should be pink or red, with no brown spots. Second, smell the fish. It should have a fresh, ocean-like smell. Third, feel the fish. The flesh should be firm. If it's mushy – choose another! Finally, look at the eyes. They should not be sunken in. They should be clear. If you keep these things in mind, you'll be sure to choose a delicious piece of salmon!
Can I use frozen salmon?
The answer is yes! Frozen salmon is perfectly safe to eat, and it can be a healthy and delicious addition to your meals when you can't get the fresh stuff in your area.
Here are a few tips for cooking with frozen salmon:
– Thaw the salmon in the refrigerator overnight before cooking.
– When thawing, make sure to keep the fish in its packaging so that it doesn't leak and contaminate other food in your fridge.
– Rinse the salmon fillets with cold water before cooking.
– Pat the salmon dry with paper towels before cooking.
– Cook the salmon using your favorite recipe such as this salmon with avocado salsa recipe.
How do I know my salmon is done?
If you're wondering how to tell if your salmon is done, there are a few things you can look for. First, check the color of the fish. If it's starting to turn opaque, it's probably cooked through. You can also insert a fork into the thickest part of the fish and twist. If the fish flakes easily, it's ready to eat.
Keep in mind that salmon continues to cook a bit after you take it off the heat, so if it's still slightly pink in the center, that's okay. Better to err on the side of undercooking than overcooking, since dry, overcooked salmon is not very pleasant.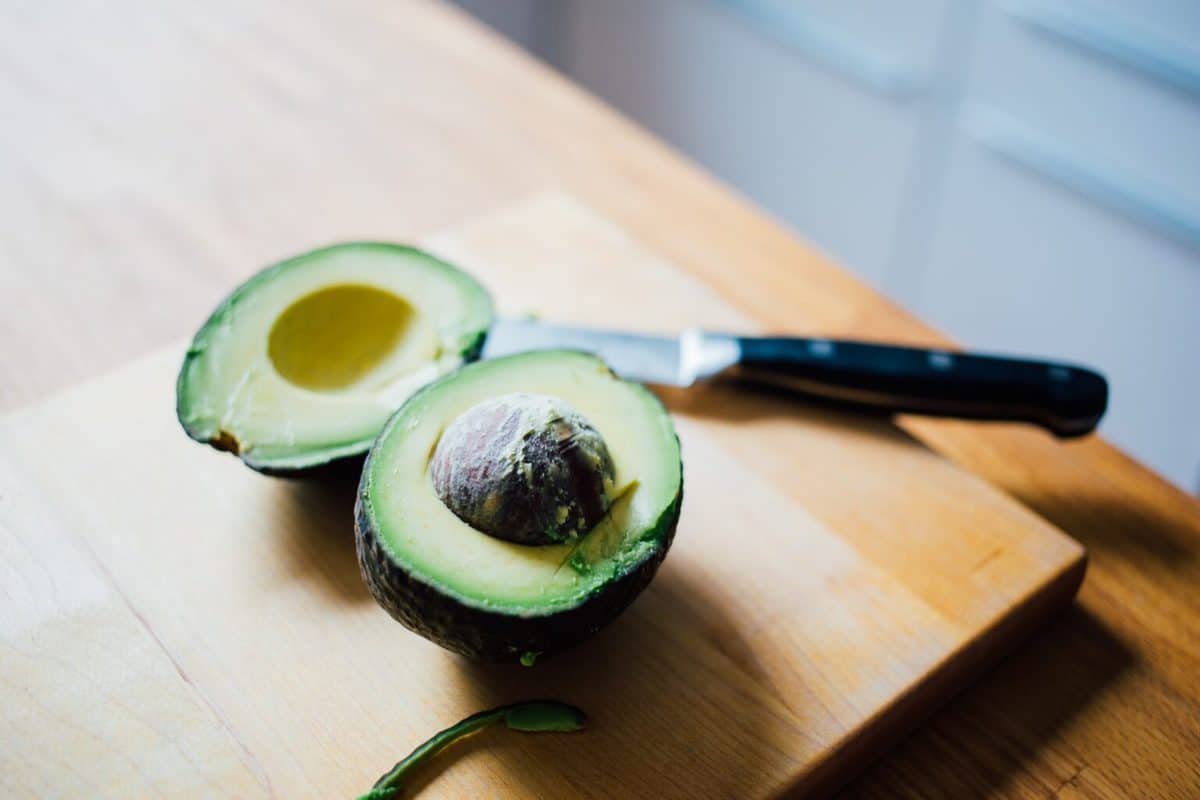 How do you pick a good avocado for the avocado salsa?
When it comes to avocados, there are a few things you want to keep in mind. For starters, you'll want to make sure that the avocado is firm, but not too hard. You should also be able to give it a little squeeze without the skin breaking. The skin should also be free of any blemishes or bruises.
As for the color, you'll want to look for an avocado that is dark green or black in color. Avoid avocados that are brown or have spots of discoloration. Once you've found an avocado that meets all of these criteria, you can be confident that you've found a good one!
I don't really want to eat potatoes. Any other side dish suggestions?
Salmon is a versatile fish that can be cooked in many different ways. It pairs well with a variety of side dishes, making it a perfect meal for any occasion. Here are some of our favorite side dishes to serve with salmon:
For a light and healthy meal, pair salmon with a simple salad like our Raspberry Walnut Salad. Add some fresh herbs and a light vinaigrette for a flavorful dish.
For a heartier meal, pair salmon with roasted vegetables. When we're not indulging in our garlic potatoes, we love roasting Brussels sprouts or sweet potatoes to accompany our salmon.
You could also use a rice pilaf or our Cilantro Lime Riced Cauliflower.
Make sure to Pin It!
Salmon with Avocado Salsa
This Salmon with Avocado Salsa is super easy to make with just a few ingredients. Fresh, flavorful, and great for something different.
Ingredients
Salsa Salmon
4 4 oz. salmon steaks
1 tablespoon olive oil
2 large tomatoes chopped
1 avocado diced
1/4 cup diced onion
2 tablespoons chopped cilantro
1 tablespoon lime juice or to taste
Garlic Potatoes
2 cups red potatoes quartered
4 cloves garlic chopped
2 tablespoons olive oil
Instructions
Salsa Salmon
Season salmon with olive oil and lay in baking dish.

Place under preheated broiler 5 inches from heat; broil 8-10 minutes, or until lightly golden and firm to touch.

Mix tomatoes, avocado, onion, cilantro and lime juice in large bowl. Top cooked salmon with salsa.
Garlic Potatoes
Toss potatoes with garlic and oil. Lay single layer on baking sheet and bake 20 minutes, or until golden and tender.
Nutrition
Calories: 461kcalCarbohydrates: 15gProtein: 36gFat: 29gSaturated Fat: 4gPolyunsaturated Fat: 6gMonounsaturated Fat: 16gCholesterol: 94mgSodium: 89mgPotassium: 1425mgFiber: 5gSugar: 3gVitamin A: 672IUVitamin C: 20mgCalcium: 45mgIron: 2mg