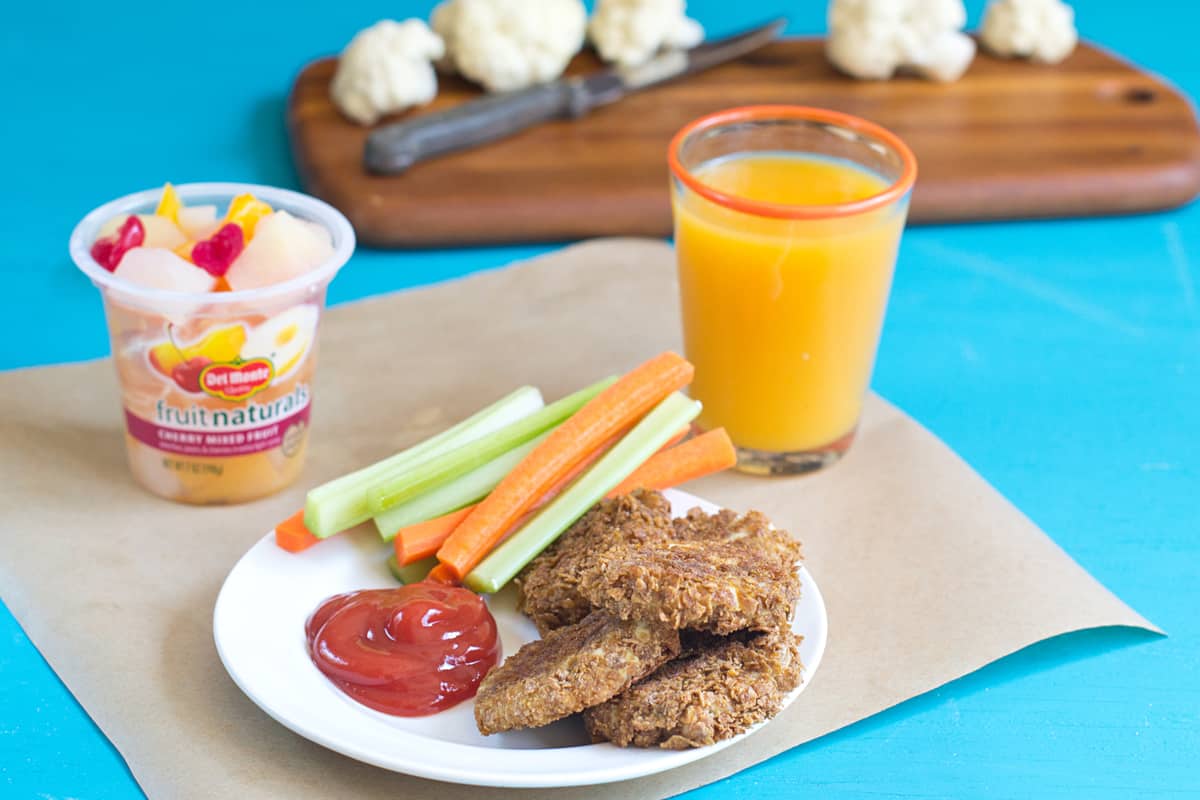 Healthier than other homemade chicken nuggets, these have a chicken and cauliflower filling and a bran flake crumb coating. Serve them straight from the oven or freeze them to pop a few into lunchboxes still frozen or bake until heated for a quick weeknight entree. Freeze in a single layer before transferring to a freezer bag to store in freezer for up to 3 months.
It's a common misconception that chicken nuggets are unhealthy. Yes, they are often fried and covered in breading, but there are ways to make them healthier. Chicken nuggets can be baked instead of fried, and the breading can be made with whole wheat flour or oats.
There are also many recipes for homemade chicken nuggets that are healthy and delicious, including this one! Our recipe uses lean chicken breast meat, and the "breading" is made with healthy ingredients. Can you guess what it is? It's bran flakes! Yep, just like the kind you might eat with breakfast!
So, if you're looking for a healthy alternative to traditional chicken nuggets, you can make these at home using healthy ingredients and enjoy delicious chicken nuggets with your kids and without all the guilt!
Our "Secret" Healthy Addition – Cauliflower
If you're looking to add a nutrient-packed veggie to your diet, cauliflower is a great option. This cruciferous vegetable is low in calories but high in fiber and vitamins, making it a healthy choice for anyone looking to improve their diet.
Here are a few reasons why you should eat more cauliflower:
Cauliflower is a good source of fiber, which can help promote digestive health and prevent constipation. Fiber is an important nutrient for overall health, and most people don't get enough of it in their diets.
Cauliflower is also high in vitamins C and K. Vitamin C is an important antioxidant that helps protect cells from damage, while vitamin K helps with blood clotting and bone health. Both of these vitamins are essential for good health, so adding more cauliflower to your diet can help ensure that you're getting enough of them.
And, when you blend it into this chicken nugget recipe, you completely forget it's there! Your kids will never know it's in the dish – unless you tell them of course!
Best Dipping Sauces for Chicken Nuggets
When it comes to chicken nuggets, it's all about the dipping sauce. Whether you like your chicken nuggets sweet, savory, or spicy, there's a dipping sauce out there for you. Here are some of the best dipping sauces for chicken nuggets:
Sweet and Spicy Honey Mustard: This dipping sauce is the perfect combination of sweet and spicy. It's made with honey mustard, sriracha sauce, and a little bit of sugar.
BBQ Sauce: BBQ sauce is a classic chicken nugget dipping sauce. It's smokey and tangy, and goes great with any type of Chicken Nugget. Try with our Watermelon Rind BBQ Sauce!
Ranch Dressing: Ranch dressing is another classic chicken nugget dipping sauce. It's creamy and flavorful, and goes well with just about any type of Chicken Nugget.
What's your favorite dipping sauce? Leave us a comment below and tell us!
Healthy Chicken Nuggets
Healthier than other homemade chicken nuggets, these have a chicken and cauliflower filling and a bran flake crumb coating.
Ingredients
16 ounces cauliflower florets
3 cups cooked chopped chicken breast
1/2 teaspoon salt
3 large eggs divided
3 tablespoons milk divided
1/2 cup flour
3 1/2 cups bran flakes
Instructions
Place cauliflower and 2 Tbsp. water in bowl. Cover loosely and microwave HIGH for 2 minutes at a time, for 5-6 minutes or until very tender.

Place cauliflower, chicken and salt in food processor and pulse into very small pieces.

Whisk 1 egg and 1 Tbsp. milk in small bowl. Add to cauliflower and puree until smooth. Mixture should be slightly damp but able to hold together when pressed. If too dry, add a drizzle of milk and puree

Preheat oven to 400. Spray large baking sheet with baking spray.

Put flour on plate. In bowl whisk together remaining eggs and milk. In separate bowl, add bran flakes and crumble into small pieces.

Scoop 1 Tbsp. of cauliflower mixture and drop gently into flour. Use fingers to roll around to coat, forming into a ball. Remove from flour and place in egg mixture; flip to coat. Remove and place into bran flakes. Roll around to coat. Transfer ball to prepared baking sheet and press down and flatten into a ¾" inch thick oval. Spray nuggets with baking spray.

Place in oven and bake 15 minutes, or until nuggets begin to darken underneath. Flip and cook 10 minutes. Serve immediately or allow to cool on pan.
Nutrition
Calories: 255kcalCarbohydrates: 31gProtein: 24gFat: 5gSaturated Fat: 1gPolyunsaturated Fat: 1gMonounsaturated Fat: 2gTrans Fat: 0.02gCholesterol: 131mgSodium: 464mgPotassium: 681mgFiber: 6gSugar: 6gVitamin A: 737IUVitamin C: 37mgCalcium: 54mgIron: 8mg