A delicious and refreshing quinoa salad, perfect for cookouts and potlucks. Use agave nectar for a vegan side dish that's ready in no time. To quickly cool quinoa, place in fine-mesh strainer and rinse with cold water.
Nutrition Tip: Cranberries are wonderful for supporting the heart, as they contain both anti-inflammatory phytonutrients and antioxidants that reduce the risk of developing CVD.
This salad is healthy and flavorful, and perfect for a summer picnic, but also gives all the fall feels that would make it a perfect healthy option for Thanksgiving dinner. It's got all the good stuff – quinoa, lime juice, olive oil, honey, navel orange juice, baby spinach, cranberries, shelled edamame, and sunflower seeds. Yum!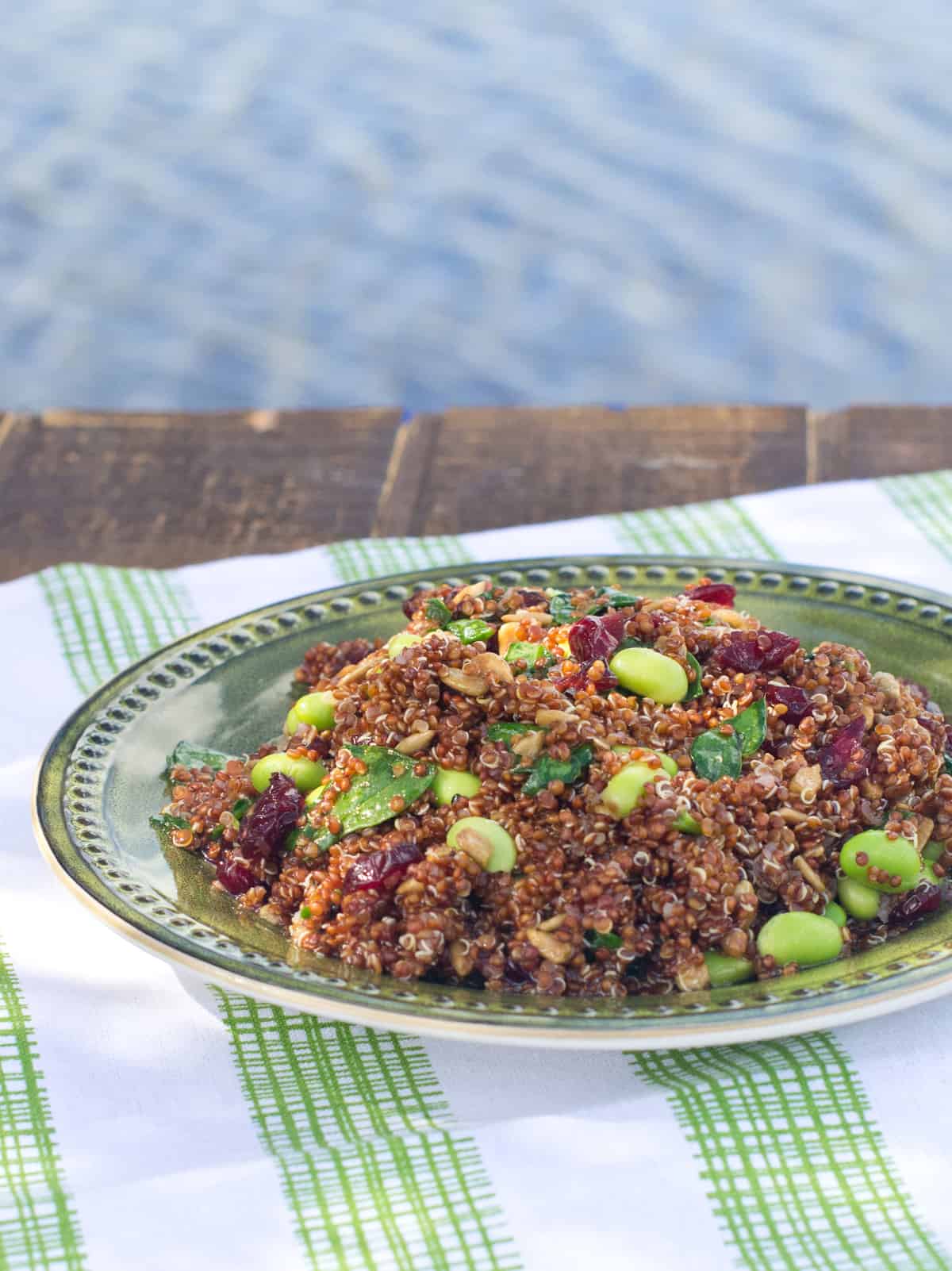 Why We Love Quinoa
There's no doubt that quinoa is having a moment. This trendy grain has been popping up on restaurant menus and in home kitchens alike. But what exactly is quinoa, and is it really as healthy as everyone says it is?
Quinoa is a seed that belongs to the goosefoot family, which also includes beets, spinach, and Swiss chard. It's a good source of protein, fiber, and vitamins and minerals like iron and magnesium. Quinoa is also a "complete" protein, meaning it contains all the essential amino acids our bodies need.
So, should you start incorporating quinoa into your diet? YES! If you're looking for a nutritious grain to add to your meals, quinoa is a great option.
Why Edamame is So Good in This Cranberry Quinoa Salad
Edamame is a popular snack food in Asia that is slowly becoming more popular in the West. This delicious treat is not only tasty but also packed with nutrients that can have numerous health benefits.
Some of the key nutrients found in edamame include protein, fiber, vitamins A, C, and K, and minerals such as iron and calcium. Just a handful of edamame can provide a good source of these essential nutrients.
Protein and fiber are major elements of satisfying our hunger, as well as our pace of digestion. They can also help to keep our blood glucose levels in check and promote the health of the digestive system. Vitamins A and C are powerful antioxidants that can help protect our cells from damage, while vitamin K is important for bone health. And finally, minerals like iron and calcium are essential for maintaining healthy bones and teeth.
Baby Spinach Helps you Get In Your Greens!
Spinach is a leafy green vegetable that is a rich source of nutrients. It is low in calories and fat and high in fiber, vitamins, minerals, and other nutrients. Adding spinach to your diet can help you reach your daily recommended intake of vegetables. But how much spinach should you eat?
The amount of spinach you should include in your diet depends on your age, sex, and activity level. The United States Department of Agriculture (USDA) recommends that adults consume 2-3 cups of vegetables per day. This works out to about 1/2 cup of cooked spinach per day.
If you are trying to increase your intake of vegetables, adding more spinach to your diet is a great way to do it. That's why it's so great in this salad!
Make sure to Pin It!
Cranberry Quinoa Salad
This salad is healthy and flavorful, and perfect for a summer picnic, but also gives all the fall feels that would make it a perfect healthy option for Thanksgiving dinner.
Ingredients
1/2 cup quinoa
1 small navel orange juiced
1/2 lime juiced
1 tablespoon olive oil
1 teaspoon honey
1/4 teaspoon salt
1/2 cup baby spinach chopped
1/4 dried cranberries
1/4 cup shelled edamame
1/4 cup unsalted sunflower seeds
Instructions
Cook quinoa according to package directions. Set aside to cool.

In large bowl, mix salt, lime juice, orange juice, oil and honey. Add quinoa, cranberries, spinach, edamame and sunflower seeds. Served chilled.
Nutrition
Calories: 196kcalCarbohydrates: 23gProtein: 6gFat: 10gSaturated Fat: 1gPolyunsaturated Fat: 3gMonounsaturated Fat: 5gSodium: 151mgPotassium: 304mgFiber: 4gSugar: 5gVitamin A: 449IUVitamin C: 25mgCalcium: 44mgIron: 2mg
More recipes to try: