Kids will love this unique and fruity breakfast that's perfect for busy school mornings and can be eaten (mostly) with their hands! This Cosmic Fruit Wrap is quick to throw together and tastes great!
Nutrition Tip: With a high antioxidant and potassium content, strawberries are a delicious and healthy addition to any meal or snack.
A lot of kids don't like to eat breakfast in the morning because they're either too busy getting ready for school, or they're trying to sneak in a few more winks of sleep! But this unique and fruity breakfast is perfect for busy school mornings and can be eaten while on the go with their hands! It's a healthy and delicious way to start the day, and kids will love it! Here's what's in it and why it's the perfect morning meal: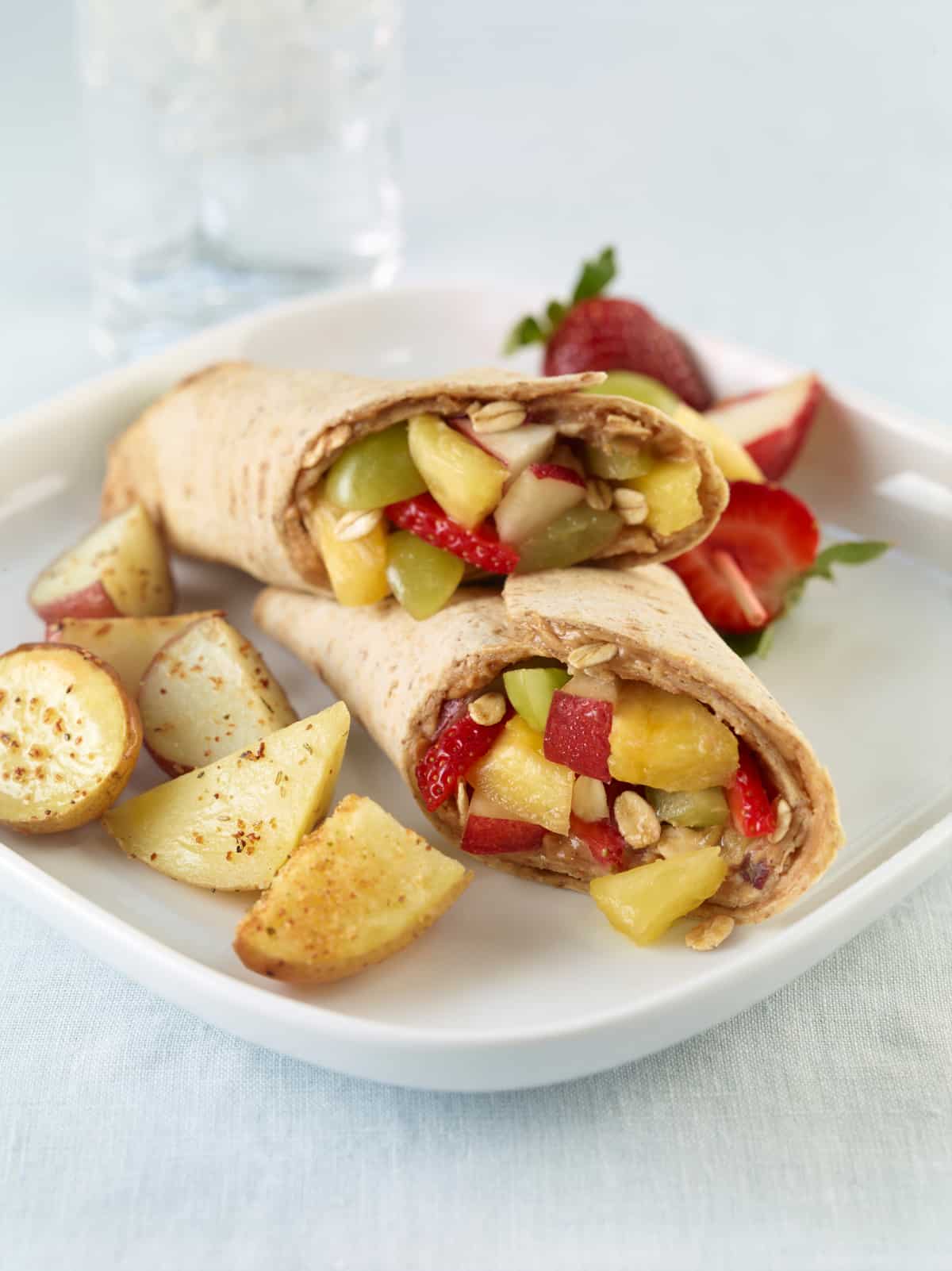 Key Ingredients in this Cosmic Fruit Wrap
Whole Wheat Tortillas: Regular tortillas are made with all-purpose flour, which is milled from the inner part of the wheat kernel. This type of flour doesn't have much flavor and can be very dense. My family loves whole wheat tortillas because they are made with whole wheat flour, which is milled from the entire wheat kernel. This type of flour has a nutty flavor and is lighter than all-purpose flour. Whole wheat tortillas are better than regular tortillas because they have more flavor and are lighter. If you're looking for a healthier option, whole wheat tortillas are the way to go!
Nut Butter: These cosmic fruit wraps are a great way to get your daily dose of fruit, and they're even better with a dollop of nut butter. There are plenty of nut butter options out there, so feel free to experiment until you find your perfect combination.
Here are a few of our favorite nut butter and fruit combinations:
-Peanut butter: a classic! But, since more people these days are allergic to it, you might need an alternative
-Almond butter: a sweet nut butter that never gets old
-Cashew butter: spreadable, savory, and just downright delicious
– Sunflower seed butter: made with sunflower seeds, and has an earthy flavor that pairs surprisingly well with fruit
You can even make your own nut butter if you choose to!
Making your own nut butter is easier than you might think, and it's a great way to control the ingredients (and the cost!). All you need is a food processor and some patience.
Here's how to make nut butter at home:
1. Choose your nuts. You can use any type of nut you like, or a combination of nuts. Raw or roasted nuts will work, but roasting them yourself will give the finished product a deeper flavor.
2. Add the nuts to a food processor and pulse until they're finely chopped. If you're using raw nuts, you'll want to roast them first at 350 degrees for about 10 minutes.
3. Keep processing the nuts until they turn into a smooth butter. This can take up to 15 minutes, so be patient!
Honey and granola: We added honey and granola to our cosmic fruit wrap for a couple reasons. First, the sweetness of the honey helps balance out the tartness of the fruit. Second, the crunchiness of the granola adds a nice contrast in texture. And third, we just really like the taste!
The honey also provides some health benefits. It's a natural source of energy, so it's perfect for an on-the-go snack. Plus, it contains antioxidants and can help boost your immune system. The granola is also packed with nutrients like fiber and protein.
So there you have it! Our wrap just got a little sweeter and a lot more nutritious.
And of course, there's the fruit: We chose pineapple, strawberries, nectarines, and grapes. When it comes to fruit, there are so many delicious options to choose from. But when you want something that's both healthy and delicious, these four fruits stand out: pineapple, strawberries, nectarines, and grapes.
Pineapple is a great source of Vitamin C and has been shown to boost immunity. And of course we love strawberries because they are not only delicious, but they're also packed with antioxidants. Nectarines are a good source of fiber and potassium. And grapes are a low-calorie fruit that's also a good source of vitamins A, C, and K.
So next time you're looking for a healthy snack option, reach for one or all four of these fruits to add to your cosmic fruit wrap. You'll be getting some essential nutrients while satisfying your sweet tooth!
Make sure to PIN IT!
Cosmic Fruit Wrap
These Cosmic Fruit Wraps are great for something different and loaded with fresh fruit. Easy to make for busy mornings!
Ingredients
Cosmic Fruit Wrap
4 7-inch whole wheat tortillas
1/4 cup nut butter
1/2 cup chopped pineapple
1 cup sliced strawberries
1 nectarine pitted, sliced
1/2 cup sliced grapes
1 cup granola
4 teaspoons honey or to taste
Roasted Potatoes
1 pound small red potatoes halved
1 tablespoon olive oil
1 teaspoon garlic salt
Instructions
Cosmic Fruit Wrap
Place tortillas on baking sheet and warm in oven for 5 minutes. Remove from oven.

Spread nut butter on each tortilla and top with pineapple, strawberries, nectarine, grapes and granola. Drizzle with honey, if desired.

Roll up and cut in half.
Roasted Potatoes
Add potatoes to parchment-line baking sheet. Drizzle with oil and season with garlic salt. Toss to coat evenly.

Bake 15-20 minutes or until potatoes are soft on the inside and crispy on the outside.
Nutrition
Serving: 1wrap + 1/4 potatoesCalories: 552kcalCarbohydrates: 82gProtein: 14gFat: 21gSaturated Fat: 3gPolyunsaturated Fat: 4gMonounsaturated Fat: 9gSodium: 905mgPotassium: 915mgFiber: 10gSugar: 26gVitamin A: 155IUVitamin C: 42mgCalcium: 185mgIron: 4mg
More recipes to try: