Chili-Lime Kale & Spinach Chips
Ready in under 30 minutes, these Chili Lime Spinach and Kale Chips are a delicious and healthy snack the whole family will love!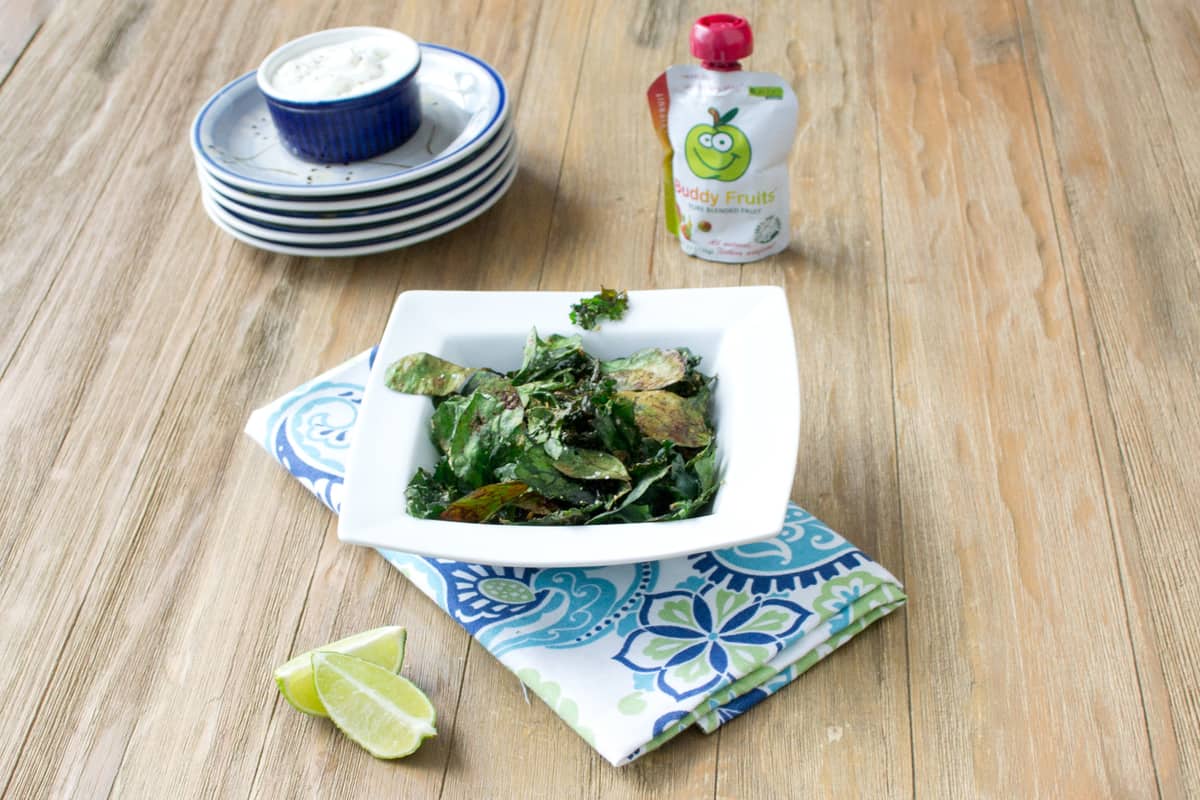 Kale and spinach in one dish together make this snack a nutrient-packed powerhouse! These veggie chips are healthy and just as tasty as regular old potato chips. Store leftovers (if you have any!) in an airtight container lined with uncooked rice to keep the chips crisp for up to five days.
Nutrition Tip: Just a half of a cup of raw kale provides you with 100 percent of the Daily Value for vitamin C. Try this vegetable in soups, smoothies, or even make your own kale chips!
Kale and spinach are packed with nutrients. Spinach is also packed with vitamins A and C, as well as iron and fiber. These chips provide a nutritional boost that other chips don't.
Kale and spinach chips are a great way to get your greens. If you're not a fan of eating raw kale or spinach, these chips are a delicious way to get all the benefits of these nutrient-rich leafy greens.
Spinach and kale chips are also low in calories, and high in fiber.
Which is Healthier – Spinach or Kale?
We all know that leafy greens are good for us, but when it comes to kale and spinach, which is the healthier option? Kale is a nutrient powerhouse, providing more than twice the amount of vitamins A and C than spinach. It's also a good source of calcium, iron, and fiber. Spinach contains slightly more vitamin C than kale and a good amount of folate, magnesium, and potassium. So both kale and spinach are healthy options, and that's why we used them both in this healthy snack recipe.
How Do You Keep the Greens From Getting Soggy?
The key to keeping the greens from getting soggy is to bake them fully and then let the chips cool before enjoying! Once cool, they can be stored in an airtight container lined with uncooked rice to keep the chips crisp for up to five days.
Can I Make These Kale and Spinach Chips in the Air Fryer?
Yes, you can make these chili lime spinach and kale chips in the air fryer ! They are just as crispy and delicious as the ones you would make in the oven. The key to getting them crispy is to make sure that your kale and spinach leaves are dry before you put them in the air fryer. You can either pat them dry with a paper towel or use a salad spinner to get rid of any excess moisture.
Ok, let's make some delicious kale chips shall we?!
More recipes to try:
Cinnamon Apple & Sweet Potato Chips
Sweet Kale Salad with Roasted Chickpeas & Apples