How To Make Halloween Apple Monsters
Planning a Halloween party? Looking for kid-friendly Halloween snacks? Everyone will love these easy to make Halloween Apple Monsters!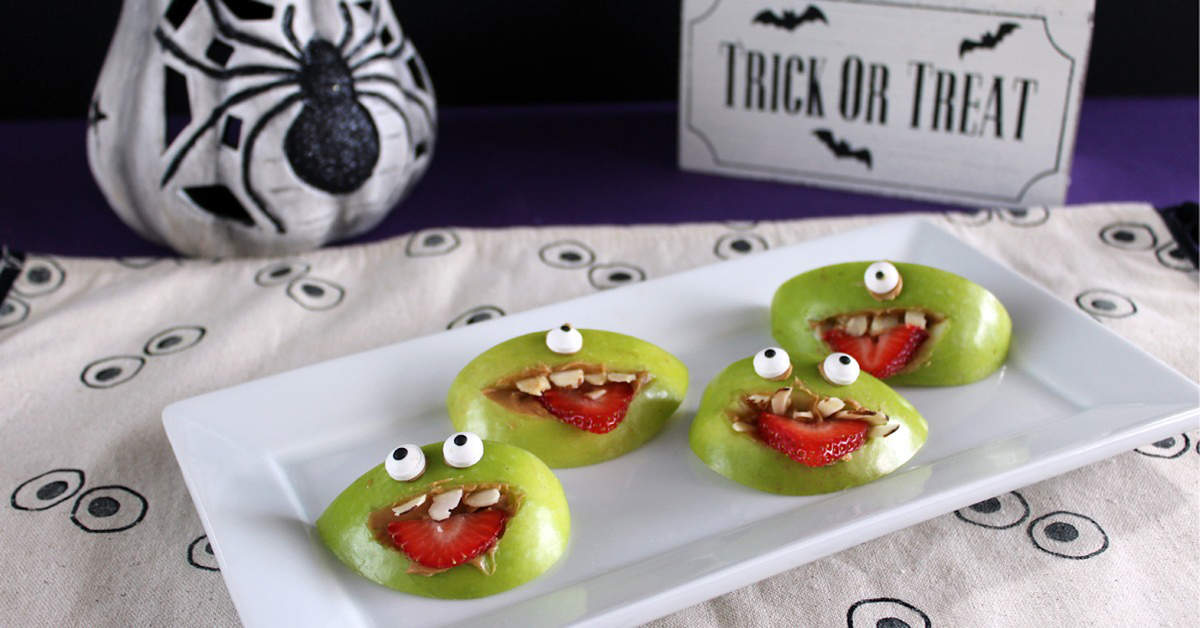 The Halloween season is a time for many events, such as haunted houses, Trick-or-Treating, and Halloween parties. Halloween parties give everyone the chance to dress up in Halloween costumes, celebrate the holiday, and just have a good time.
If you want to throw a Halloween party this season, here are some tips for planning a Halloween party and some Halloween food ideas.
Decide on the supplies and Halloween decorations in advance and buy them early. You can find supplies and decorations that match a specific theme, or you can any kind of Halloween supplies and decorations. Think Halloween-themed balloons, a candy bowl filled with fake spider webs, Halloween wreaths, and pumpkins. Lots of pumpkins!
If you are playing music, you can play Halloween music such as "The Monster Mash" and Michael Jackson's "Thriller". If desired, you can also play regular dance music as well. Of course you should keep the music at a reasonable level, so that the guests can still socialize.
Halloween games and activities for both children and adults can include "Bobbing For Apples", "Musical Chairs" (to Halloween music of course!), and, trivia for Halloween movies. Children can take part in arts and crafts and games such as "Pin The Witch On The Broom" (similar to "Pin The Tail On The Donkey").
Even your food can be Halloween themed! All you need to do is use your imagination! For example, fruit punch can be placed in a bottle or punch bowl labeled "Blood".
You can wrap biscuits around hotdogs and make them look like fingers or mummies. You can use ketchup as "blood". Orange and black cupcakes can have Halloween related toppers, Halloween cookies, and candy corn can be served as treats. Oh the possibilities are endless!
Here are a few of our favorite Halloween Recipes:
And these Halloween Apple Monsters!
Not all Halloween treats have to be full of added sugars. You can turn apples into a fun, themed Halloween snack with the addition of peanut butter, sliced almonds and strawberries! We like using green apples to make our apple monsters so that they contrast to the red strawberries, but if you don't have green apples, go ahead and try using the ones you have on hand! Be sure to let us know how they turn out.
These Halloween Apple Monsters are really easy to make, so be sure to get the kids involved in the process! In fact, if you are looking for a fun activity for the kids to do while they are at the party, have them make these Halloween Apple Monsters! Kids will have fun assembling their own for a spooky snack.
Worried about the apples browning? Check out these tips to keep apples from browning.
Nutrition Tip: Apples contain pectin, a prebiotic that provides food for gut bacteria that aide our bodies in digestion and immune health.