Episode 60: Teaching Kids to Prepare Healthy Snacks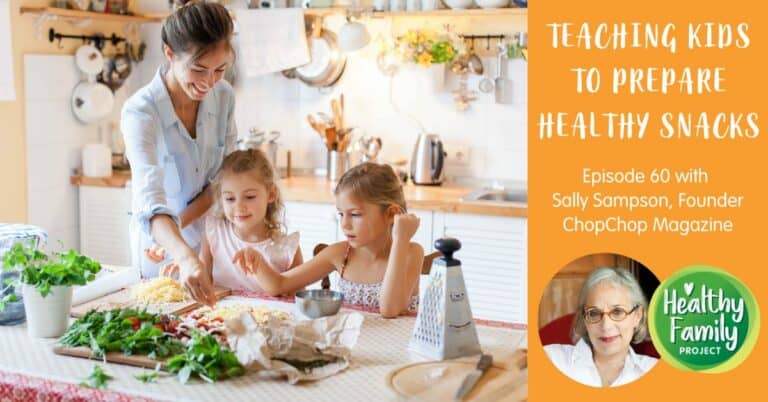 In this episode of Healthy Family Project, we talk to Sally Sampson, Founder ChopChop Magazine. Sally shared her tips for getting kids to prepare their own snacks and spend more time in the kitchen. Amanda and Sally cover how parents can encourage independence in their kiddos and encourage them to get creative in the kitchen.
Besides being a fun cooking magazine for families, ChopChop was named 2013 Publication of the Year by the James Beard Foundation and is endorsed by the American Academy of Pediatrics.
ChopChop Family's mission is to inspire and teach kids to cook and eat real food with their families. ChopChop Family believes that cooking and eating together as a family is a vital step in resolving the obesity and hunger epidemics.
Sally is the author and co-author of 23 cookbooks, including ChopChop: The Kids Guide to Cooking Real Food with Your Family, The Olives Table (with Chef Todd English), The Fifty Dollar Dinner Party and Souped Up!
She is a contributor to the New York Times' Motherlode Blog with her Picky Eater Project. She has contributed to Bon Appetit, Food and Wine, The Boston Globe and Cooks Illustrated, among others and previously owned From the Night Kitchen, a café in Brookline Village, Massachusetts.
Healthy Recipes & Tips in Your Inbox
Sign up for the Healthy Family Project e-newsletter to receive healthy recipe inspiration, our latest blog posts and more directly to your inbox each week.
Healthy Family Project Facebook Group
Join our Healthy Family Project Facebook group! This group will serve as a safe space for parents and caregivers to talk all about raising a healthy family – from dealing with a picky eater and tips to get more fruits and veggies onto plates to exercising as a family and mental health. We welcome all of you to join in!
Want to skip straight to a hot topic? See time stamps below. But of course, we recommend listening all the way through!
3:58 Meet Sally
5:02 Sally's journey to healthy eating & ChopChop
10:46 How to empower kids to make their own snacks
15:12 Picky Eater Project
23:27 How to encourage independence & get kids in the kitchen
29:47 Snacks for different age groups
38:50 How to get kids to clean up after themselves
43:20 What does a healthy family mean to you?
---
Relevant Links
Other Podcast Episodes to Check Out:
---
Healthy Family Project Podcast
Conversations covering hot topics in the world of health, food and family with a dose of fun. Helping families ease their way into a new fresh and healthy world.
Be on the lookout for new bi-weekly episodes and don't forget to subscribe on Apple Podcasts, Google Podcasts, Spotify or your favorite podcasting site. If you like an episode, make sure to leave a rating and comment.
If you are interested in being a guest on the Healthy Family Project podcast, contact amanda@healthyfamilyproject.com with your topic idea for consideration.