9 Simple English Muffin Ideas for Breakfast
Here are easy topping ideas for English muffins that require zero cooking making them easy for kids to assemble on their own! Tasty combos like raspberry, basil and cream cheese, or ricotta, banana and honey will make a boring breakfast way more delicious.
My girls jump at any chance they have to show off their budding culinary skills. They love to try new combinations of flavors to see how they taste together. I remind them often that great taste doesn't always equate to elaborate preparation and this round-up of easy topping ideas for English muffins proves just that.
All of these topping ideas require zero cooking so they're easy for kids to help out with. We like to pop our English muffins in the toaster but that's optional and based on your preference. When my girls were younger, I set out the ingredients and let them assemble. Now that they're older, they can do everything themselves!
English Muffin Topping Ideas:
Raspberry, basil and cream cheese – This sweet and savory combination will be a great way to compliment mom's morning tea.
Hummus and cucumber – Simple, filling and refreshing duo full of protein. Try making this homemade ranch hummus or this easy roasted tomato hummus.
Peanut butter with sliced strawberries – If you want to jazz it up, think about adding sliced kiwi to the mix.
Goat cheese with sliced pears – There's always the option to add a drizzle of balsamic oil if you have it on hand.
Cottage cheese and pineapple – A great combination of whole grains, protein and healthy fruit.
Almond butter with sliced apples – This is a familiar taste. Think about sprinkling on a pinch of Chia seeds or Flax seeds if you have them handy.
Avocado and edamame with lemon juice drizzle – Avocado is just as tasty as any spread and shelled edamame adds an extra zip.
Veggie cream cheese, tomato and cucumber – Who knew veggies for breakfast could be so delicious.
Ricotta, banana and honey – This is just like having dessert for breakfast. What better way to celebrate the weekend.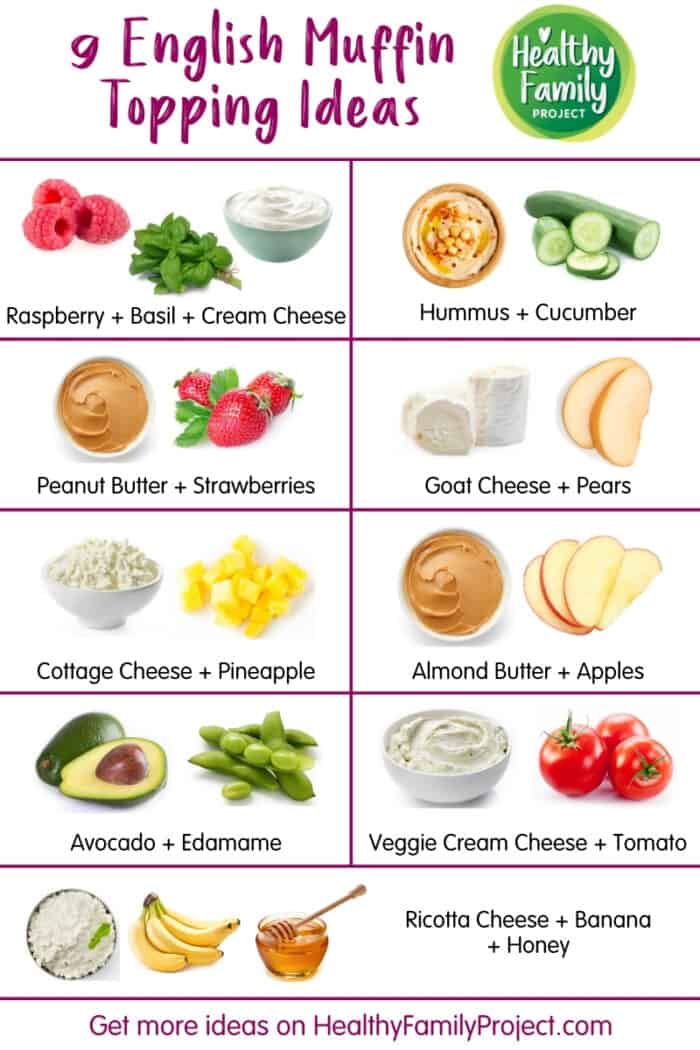 If you don't have English muffins on hand, these topping combinations also work well on bagels, toast or even in a wrap! What tasty combo are you going to try first?