Tofu Vegetable Fried Rice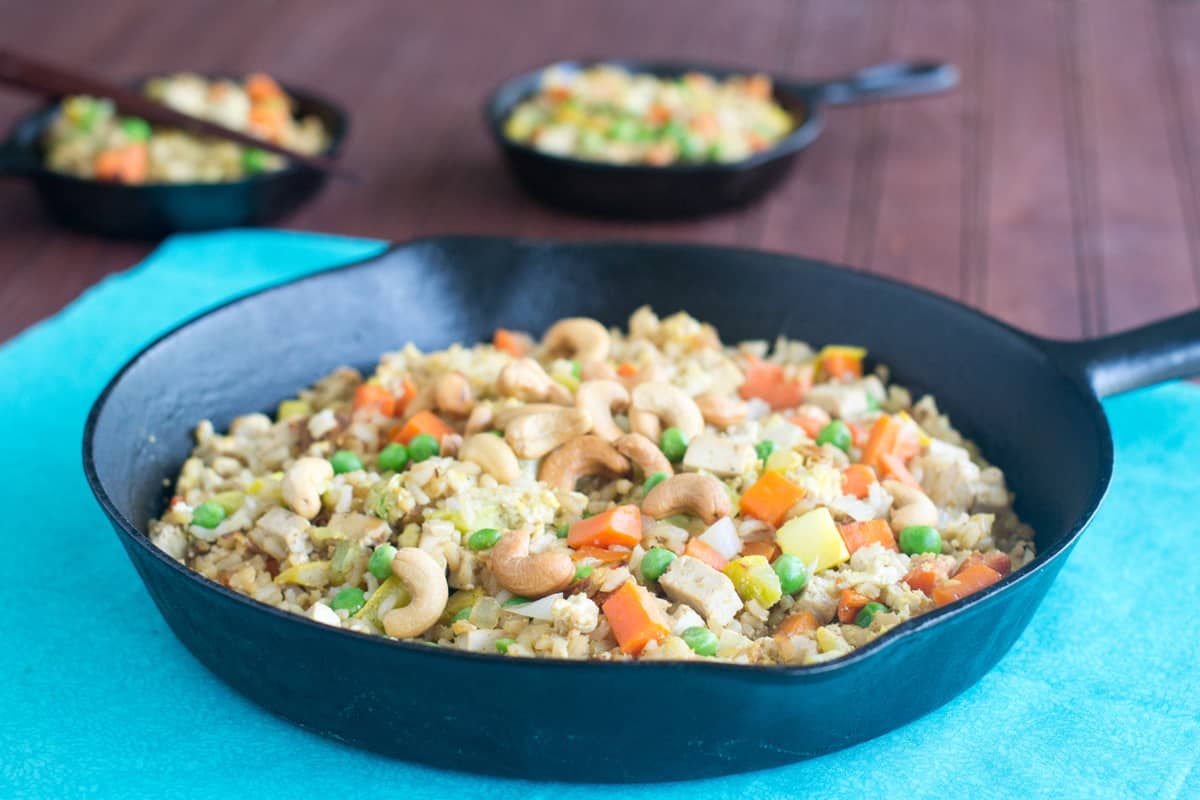 Browning the rice adds flavor to this veggie fried rice dish; so let sit another minute or two if needed after adding rice. Use gluten free tamari and seasonings to make gluten free. If you can't find baked tofu, press extra firm tofu with heavy can, lined between layers of paper towels in fridge for at least two hours. Cube tofu; spray with non-stick spray, pepper and salt; bake 20-25 minutes at 400 degrees until crispy. Serve with steamed broccoli, veggie potstickers or edamame.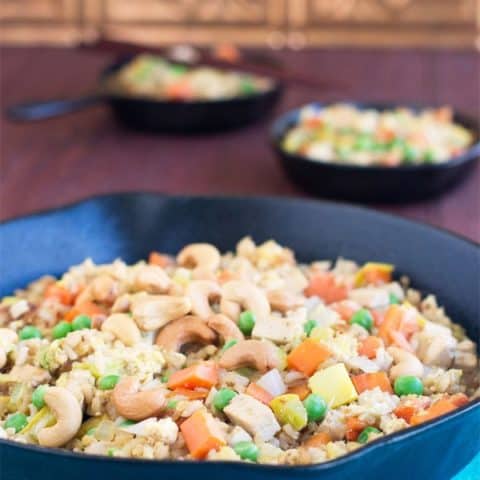 Tofu Vegetable Fried Rice
Ingredients
1 tablespoon canola oil
1 yellow squash diced
1 sweet onion diced
2 carrots diced
2 cups cooked brown rice
3 large eggs lightly beaten
4 ounces baked tofu , cut into ¼" pieces
3/4 cup frozen peas
2 teaspoons ground ginger
1/4 teaspoon pepper
1/2 teaspoon garlic powder
1/2 teaspoon onion powder
3 tablespoons reduced-sodium soy sauce
1/3 cup cashews
Instructions
Heat oil in large skillet over medium heat. Add squash, onion, carrots and cook 4-5 minutes, stirring occasionally, or until veggies are soft.

Add cooked rice, stir and let sit 2 minutes to brown.

Mix veggies and rice; push to the sides to make hole in middle. Pour eggs into hole; let sit 1 minute to set. Working in sections, flip eggs over and let sit on other side for 1 minute. Chop eggs into pieces; mix well.

Add tofu and cook 1 minute. Add peas, seasonings, soy sauce and cook 2 minutes.

Remove from heat; top with cashews.
Nutrition
Calories: 326kcalCarbohydrates: 37.93gProtein: 14.07gFat: 12.87gSodium: 514mgFiber: 5.18gSugar: 5.49g