Middle Eastern Broccoli & Dried Apricot Couscous Salad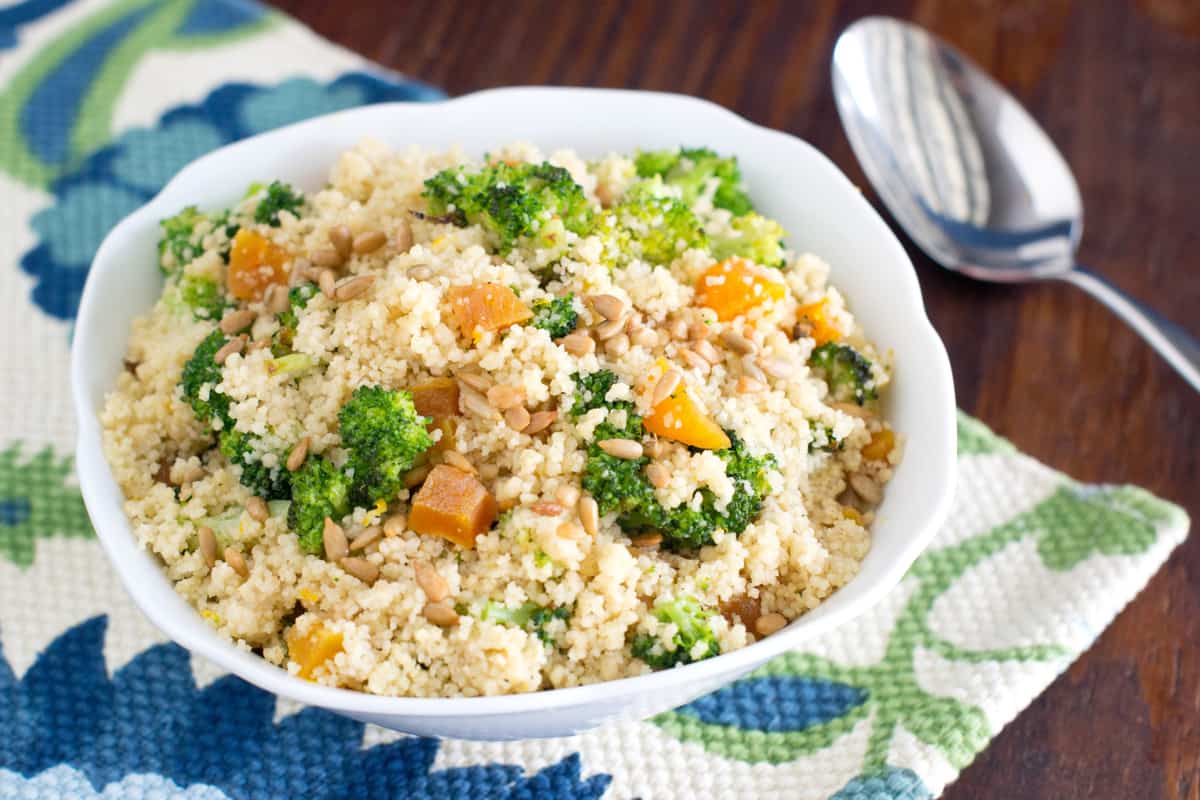 Couscous is a quick-cooking whole grain that's growing in popularity. Spice up your side dish routine with this couscous salad! Roasted broccoli gives a unique flavor that complements the dried apricots and zesty sauce.
Nutrition Tip: Couscous is a tiny version of pasta that's speedy to cook and popular in North Africa. The whole wheat version packs more fiber and protein than regular couscous.
Middle Eastern Broccoli & Dried Apricot Couscous Salad
Yield: 4
Prep Time: 5 minutes
Cook Time: 10 minutes
Total Time: 15 minutes
Ingredients
12 ounces broccoli florets
1/4 cup (plus 1 Tbsp.) olive oil, divided
1 small navel orange, juiced, zested
1 tablespoon lemon juice
1/2 teaspoon salt
1/4 teaspoon pepper
2 cups cooked whole wheat couscous
12 dried apricots, coarsely chopped
1 tablespoon sunflower seeds
Instructions
Preheat oven to 450°F.
Toss broccoli in 1 Tbsp. olive oil and lay single layer on baking sheet. Roast 10 minutes, or until tender.
Whisk juice, zest, ¼ cup oil, salt, and pepper together in small bowl.
Combine broccoli, apricots, and couscous in large bowl. Add dressing and mix to coat well. Top with sunflower seeds.
Nutrition Information:
Yield: 4
Amount Per Serving:
Calories: 295
Total Fat: 15g
Cholesterol: 0mg
Sodium: 318mg
Carbohydrates: 36g
Fiber: 3g
Sugar: 11g
Protein: 7g