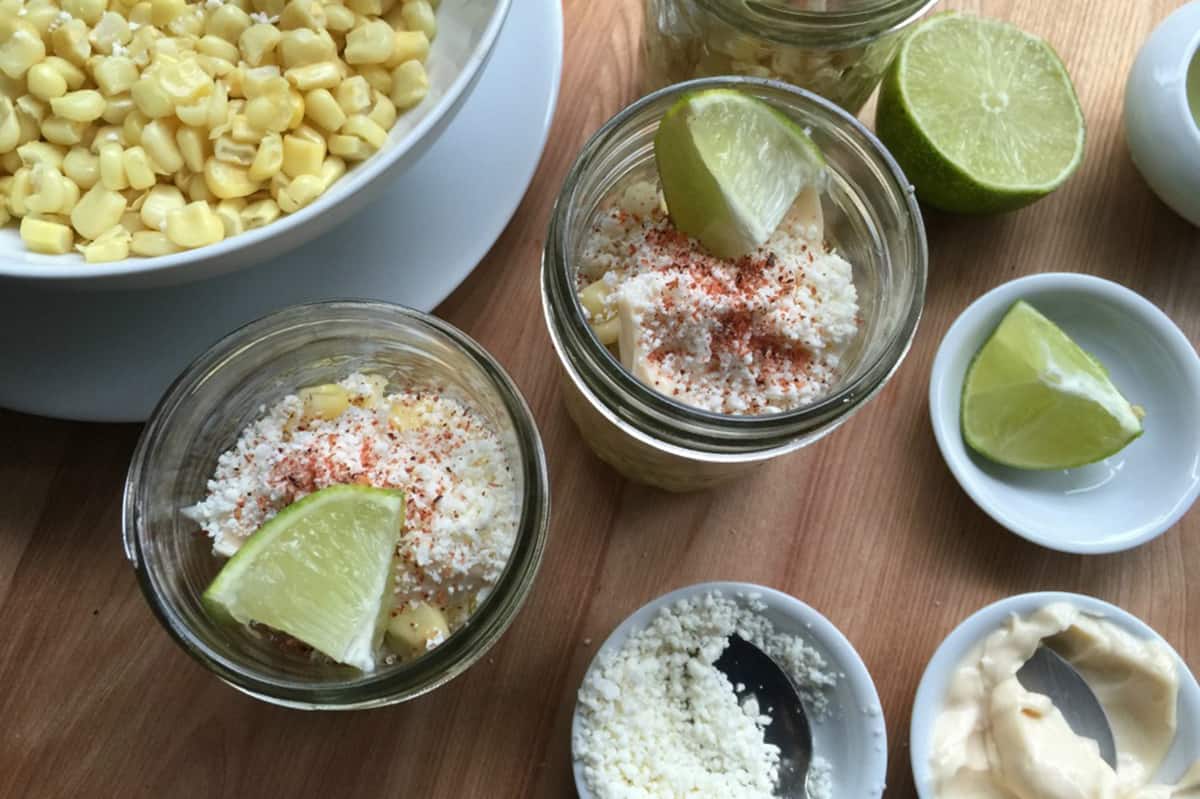 These Mexican Corn Cups are perfect for parties! Corn is mixed with lime juice, mayo, cotija cheese and chile pequin for this tasty dish.
Mexican Corn Cups or "Esquites" is a Mexican treat I grew up with and a recipe that I want to share since Hispanic Heritage month celebrations start today, September 15. Preparing Mexican corn cups could be a nice treat to offer if you are planning a Latino heritage party at home or if celebrating Mexico's independence, as both are celebrated in the same day
What are esquites?
The term "esquites or "ezquites" comes from the nahuatl word "ízquitl' which means to toast. Originally esquites were made on the grilled with direct flame.
However, in Mexico City where I was raised, esquites are made by boiling the corn in water seasoned with Mexican spices like epazote and salt. Then the corn is taken out of the water hot and the kernels are cut with a sharp knife and served in a small cup.
The cooked corn kernels are garnished with some of the cooking water, lime juice, mayo, cotija cheese and chile pequin.
The Mexican Corn Cups are enjoyed warm and each of the garnishes melts in your mouth. In my Mexican culture, we love esquites. We eat them at night before dinner for la "merienda."
And since I love them so much I have brought that tradition to my family here in the United States.
As you probably know, I love to cook but I don't like to spend too much time in the kitchen as I also like to enjoy and bond with my family.
So when making traditional recipes like this esquites I look for ways to simplify the process and I want to share with you my easy recipe for Mexican Corn Cups so that you can prepare at home following the ingredients list and the simple steps below.
Note: Use frozen corn kernels, preferably those that are not sweet. Go for the corn that is white. The esquites recipe requires the corn not to be sweet to have the authentic Mexican flavor.
Mexican Corn Cups
Ingredients
4 cups frozen white corn kernels
2 limes juiced
4 teaspoons mayonnaise
4 teaspoons cotija cheese
1 teaspoon paprika
1 lime quartered
Instructions
Cook corn in microwave, according to package directions.

Spoon corn into bowls or mason jars. Add lime juice, mayo and cotija cheese. Sprinkle with chile pequin or paprika. Pair with a lime wedge for extra lime flavor.

Serve warm and enjoy!
Nutrition
Calories: 153kcalCarbohydrates: 26gProtein: 4gFat: 6gCholesterol: 2mgSodium: 17mgFiber: 3gSugar: 3g