(Last Updated On: November 12, 2020)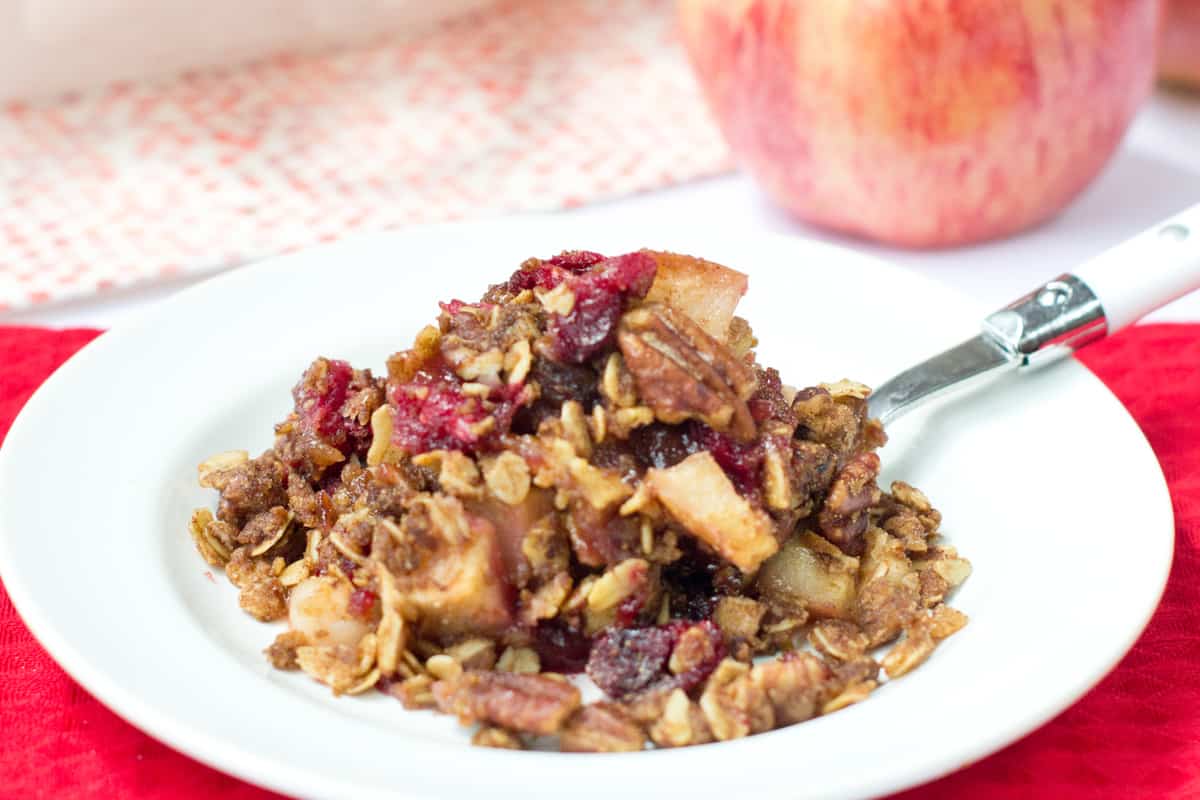 This lightened-up spin on classic fruit crisp is sure to be a new family favorite for the holidays. Get the kids involved by breaking up the pecans by hand, stirring ingredients together or sprinkling the topping over the fruit. Serve with lowfat vanilla Greek yogurt for a fun spin.
Get more fresh takes on holiday favorites with our free e-cookbook.
Nutrition Tip: Cranberries are not just for the holidays! Sprinkle over salads or mix in with your favorite trail mix for an immune boost thanks to their high antioxidant content.
Cranberry Apple Crisp
Yield: 12
Prep Time: 10 minutes
Cook Time: 40 minutes
Total Time: 50 minutes
Ingredients
2 cups fresh cranberries
3 cups chopped apples
1 cup light brown sugar, divided
1/2 cup (plus 2 Tbsp.) whole wheat flour, divided
1 cup old fashioned rolled oats
1 1/4 cup chopped pecans
6 tablespoons unsalted butter, melted
2 teaspoons cinnamon
1 teaspoon vanilla extract
1/2 teaspoon salt
Instructions
Preheat oven to 350°F.
Combine cranberries, apples, ½ cup sugar and 2 Tbsp. flour in mixing bowl. Pour into greased 8x8-inch baking dish.
Combine oats, pecans, ½ cup sugar, ½ cup flour, butter, cinnamon, vanilla and salt in mixing bowl until all ingredients are blended; mixture should resemble coarse crumbs. Sprinkle over fruit.
Bake 30-40 minutes, or until topping is lightly browned, mixture is bubbly and apples in middle are tender.
Nutrition Information:
Yield: 12
Amount Per Serving:
Calories: 383
Total Fat: 23g
Cholesterol: 15mg
Sodium: 103mg
Carbohydrates: 40g
Fiber: 5g
Sugar: 22g
Protein: 6g