Episode 65: Baby's First Foods to Toddler Meals
This episode of the Healthy Family Project podcast is all about tackling the world of first foods for babies and toddlers. Kathryn Doherty shares tips to ensure kids are being exposed to the right foods, how to conquer struggles around baby foods and toddler meals, and ideas for baby food meal prep when you're in a pinch.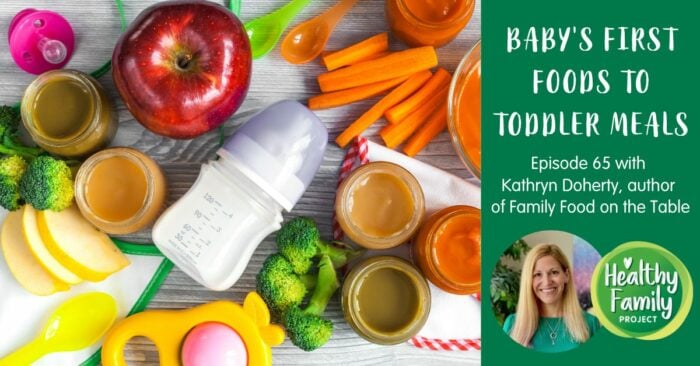 The world of baby and toddler food can be overwhelming. With so many styles of eating from baby lead weaning and purees, to figuring out when to start solids and how to introduce new foods, parents are left with lots of questions. Today on the podcast, we're sharing lots of tips and insights to help new parents easily navigate this exciting stage.
Listen to the episode
What We Cover:
Want to skip straight to a hot topic? See timestamps below. But of course, we recommend listening all the way through to get all the great tips and tricks!
1:16 – Meet Katheryn
5:16 – How can we ensure kids are being exposed to the right foods?
8:15 – How to get kids involved and interested in food and cooking
11:00 – Resources for parents looking to learn more about baby and toddler eating
14:58 – Healthy Bite Break Featuring Arctic Apples®
16:13 – How to tackle common struggles around baby & toddler food
21:32 – Meal prep and freezer-friendly meals for toddlers
24:32 – What does a healthy family mean to you?
About Our Guest, Kathryn Doherty
Kathryn Doherty is a health and nutrition editor and a food blogger at Family Food on the Table, where she shares easy, healthy, family-friendly recipes for the everyday home cook. She made 100 percent of the baby food for both of her children when they were little and enjoys cooking with them in the kitchen now, making delicious healthy foods that they (most of the time) gobble up.    
Sh recently released a new cookbook, Healthy, Quick and Easy Baby Food. This cookbook is packed with everything you need to make homemade baby food, plus tons of toddler and little kid recipes that are yummy for the whole family.
Today, we're snacking on Arctic® Golden slices paired with tasty homemade fruit dips. We partnered with Arctic Apples® to share 5 Easy Fruit Dips for Kids that make snack time fun and nutritious. These dips can be prepped ahead of time and paired with Arctic non-browning apples that come conveniently pre-sliced for snacking greatness. No prep work required!
Relevant Links
Other Podcast Episodes to Check Out:
Healthy Family Project Facebook Group
Join our Healthy Family Project Facebook group! This group will serve as a safe space for parents and caregivers to talk all about raising a healthy family – from dealing with a picky eater and tips to get more fruits and veggies onto plates to exercising as a family and mental health. We welcome all of you to join in!
Listener Survey!
Thank you so much for supporting the Healthy Family Project Podcast! We'd love it if you could take 5 minutes to let us know how we can bring you the best possible content for future episodes. Take the survey here.
---
Healthy Family Project Podcast
Conversations covering hot topics in the world of health, food and family with a dose of fun. Helping families ease their way into a new fresh and healthy world.
Be on the lookout for new bi-weekly episodes and don't forget to subscribe on Apple Podcasts, Google Podcasts, Spotify or your favorite podcasting site. If you like an episode, make sure to leave a rating and comment.
If you are interested in being a guest on the Healthy Family Project podcast, contact amanda@healthyfamilyproject.com with your topic idea for consideration.