Episode 64: Tips to Declutter Your Home
This episode of the Healthy Family Project podcast is all about how to get started with decluttering your home. Angela Betancourt shares tips to get over the overwhelming stage of organizing, how to tackle your closet, and strategies to kickstart your house decluttering journey.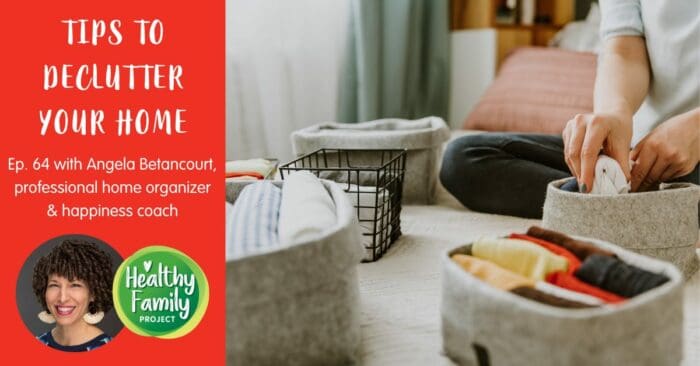 If the thought of decluttering and organizing your home has you running for the hills, stick with us! Today on the podcast, we're chatting with a professional home organizer about some easy and actionable steps you can take to tackle that closet, clean out that drawer, or go all-in and organize your whole house.
Listen to the episode
What We Cover:
Want to skip straight to a hot topic? See timestamps below. But of course, we recommend listening all the way through to get all the great tips and tricks!
3:40 – How did Angela get started in home organizing?
7:49 – What is the first step to decluttering your home?
14:25 – What is the early process of working with a home organizer?
15:32 – Confronting the mental aspect of decluttering your house
18:20 – Process for decluttering your closet
20:48 – How to let go of clothes you've hung onto for too long?
26:03 – Hot takes with Amanda & Angela
About Our Guest, Angela Betancourt
Angela Betancourt is a professional home organizer. In January of 2014, after a 12-year career in marketing and event planning, Angela left the corporate world to become a Licensed Massage Therapist.
Around this same time, she read "The Joy of Less, A Minimalist Living Guide" by Francine Jay and was blown away by the philosophy of living with less and the freedom and peace that come with a minimalist lifestyle.
She began implementing the book's recommendations and, much to her surprise, decluttering was actually fun – exhilarating even! Friends noticed the changes and soon she was getting requests for help with their homes.
Angela found so much joy in sharing what I learned that she began helping others experience the liberating joy of having a clutter-free, organized life.
Relevant Links
Other Podcast Episodes to Check Out:
Healthy Family Project Facebook Group
Join our Healthy Family Project Facebook group! This group will serve as a safe space for parents and caregivers to talk all about raising a healthy family – from dealing with a picky eater and tips to get more fruits and veggies onto plates to exercising as a family and mental health. We welcome all of you to join in!
Listener Survey!
Thank you so much for supporting the Healthy Family Project Podcast! We'd love it if you could take 5 minutes to let us know how we can bring you the best possible content for future episodes. Take the survey here.
---
Healthy Family Project Podcast
Conversations covering hot topics in the world of health, food and family with a dose of fun. Helping families ease their way into a new fresh and healthy world.
Be on the lookout for new bi-weekly episodes and don't forget to subscribe on Apple Podcasts, Google Podcasts, Spotify or your favorite podcasting site. If you like an episode, make sure to leave a rating and comment.
If you are interested in being a guest on the Healthy Family Project podcast, contact amanda@healthyfamilyproject.com with your topic idea for consideration.