Debunking Meal Planning Myths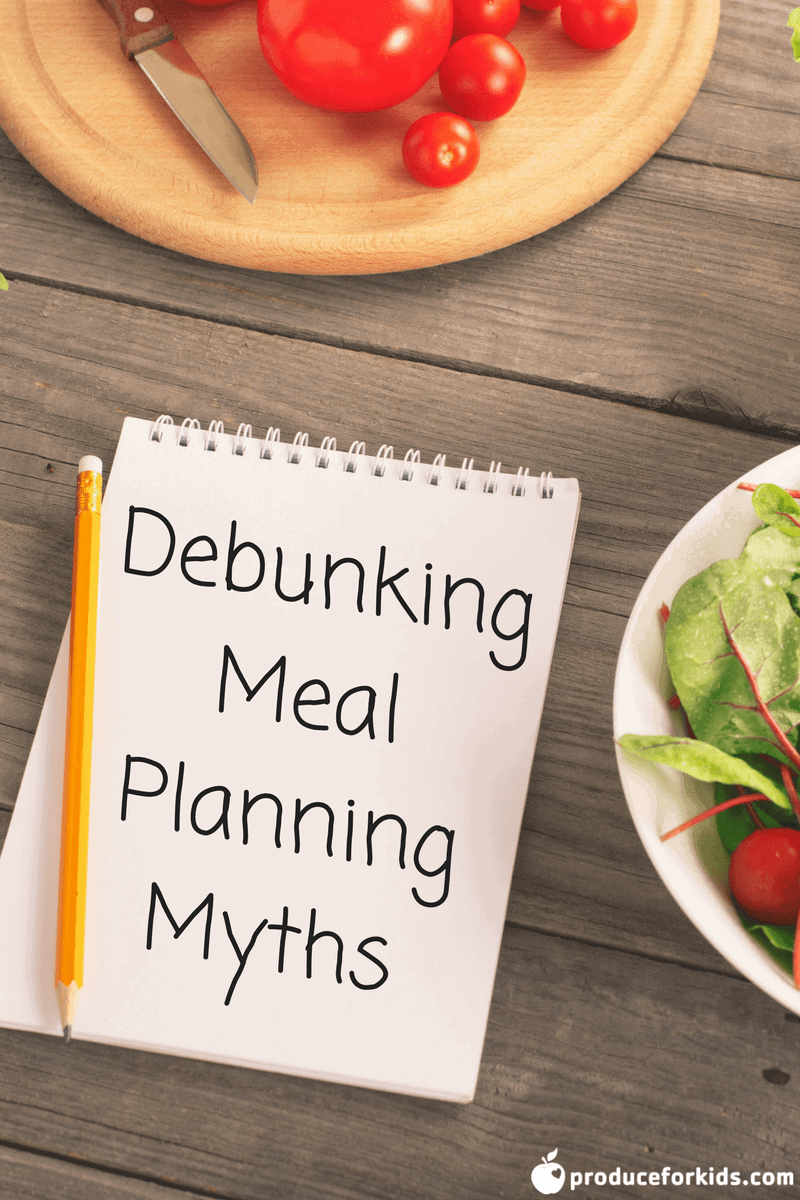 As a self-taught meal planner, I first started learning about meal planning when I had a toddler and a new baby. I needed to figure out a way to prepare and serve food that was good for us but not spend a ton of time shopping or cooking it as my time was limited. I've shared many of my tips on my blog Meal Planning Magic and here are Produce for Kids. But over the years, I've talked to many people that wish they could meal plan but some meal planning myths are holding them back. Hopefully these solutions will help you get started meal planning too.
MYTH: Once you make a meal plan, you must follow it 100%.
While meal planning will help you save both time and money, sometimes life happens and you can't always follow your plan. Occasionally I need to switch around days due to a schedule change or even postpone a day and eat out or make something that is quicker, like heating up leftovers. Sometimes you plan for something but just don't feel like having that on the day you planned. That's okay! You can make a meal plan but still be flexible and swap out days.
MYTH: Meal planning is expensive.
When you meal plan you can save money because you buy just what you need or plan around what items are on sale that week. You can also take advantage of lower prices at warehouse stores by buying items in bulk to use in multiple meals that week. Or take it one step further and make some meals ahead of time to have on hand in the freezer for busy days. You'll save time and money!
MYTH: You need to have a fully stocked pantry at all times.
This is a personal decision and based on how close you are to grocery stores and the size of your pantry storage. Fortunately, we live in a large city that has several grocery stores within a few miles of each other so I tend to stock up less often than I used to. Grocery store convenience also plays a role in your meal planning as it will help you focus on buying just what you need and can use before your next trip to the store.
MYTH: Meal planning takes too much time.
Taking time to plan will ultimately save time in the end. You'll spend less time wandering the grocery store thinking of things to buy or staring into the pantry or refrigerator figuring out something that you can put together. I can usually plan a week's worth of meals in about 20 minutes. It may take you longer when you're first getting started, but before long it will become easier.
MYTH: There is no variety in meal planning.
This myth is related to the first myth but meal planning can actually mean more variety. I created a Basic Weekly Meal Plan to help me create variety in my weekly meal plan. Each day has a focus like slow cooker meal one day, vegetarian or a chicken dish another. When I want to try a new recipe, I'll add it into the meal plan on one of those days. I also keep a list of meals that I know my family likes to include on my weekly meal plan. Meals that are a hit and are simple to make means it's easier to follow the meal plan.
With a little bit of practice, meal planning can save you both time and money. And who couldn't use more of those?
Take your meal planning game to a new level – join us on a Mission for Nutrition! Grab a free ebook with 5 simple and easy breakfast recipes for your family!
Follow #MissionForNutrition on Instagram for meal prep ideas and more.
Looking for more meal prep tips and healthy recipes? Check out these posts: