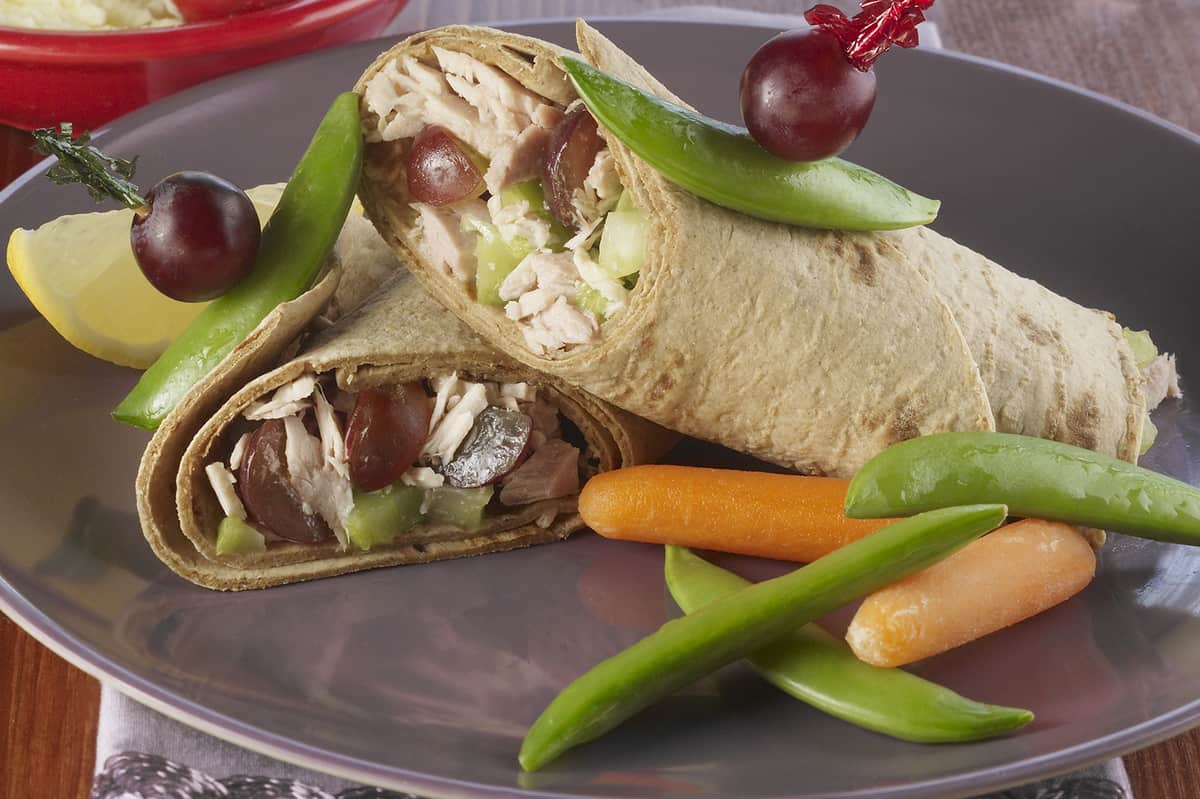 This tuna wrap gets an extra punch of nutrition with the addition of grapes, celery and fresh herbs.
Move over tuna sandwiches, this tasty tuna wrap will up your tuna game. This dish is easy to make and can be changed up to fit your unique tastes. All you need is a few ingredients, throw it all in a wrap and you're good to go! Whether you're packing a lunch or looking for a quick dinner, this dish will not disappoint.
What You Need for This Tasty Tuna Wrap
Lemon juice and olive oil are a great alternative to mayo in this tasty tuna wrap. This wrap is full of flavor and healthy ingredients. The lemon juice and olive oil add a bright flavor to the wrap, while the tuna, grapes, celery, and basil provide a hearty filling.
And don't skip the basil! Basil has a unique, slightly sweet taste that can enhance the flavors of the other ingredients in our recipe. Though it might seem like a simple addition, you will certainly notice the bright and fresh taste of it in your wrap.
What to Pair With Your Tasty Tuna Wrap
When it comes to wraps, there are endless possibilities. But when you've got a taste for tuna, the options might seem a little more limited. Here are some delicious sides that will complement your tuna wrap and leave you feeling satisfied.
For a light and refreshing option, try pairing your wrap with a simple salad. Just top some greens with your favorite veggies and a drizzle of dressing. This combo will give you a satisfying crunch in every bite.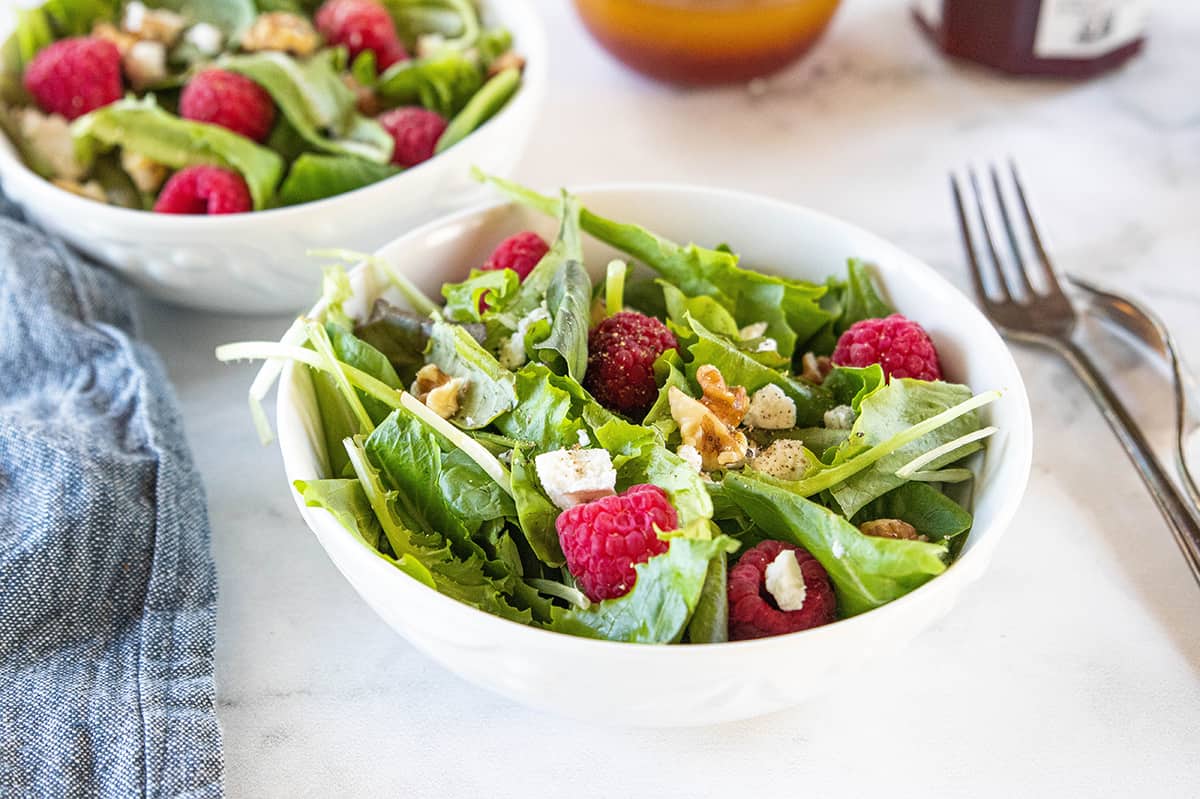 If you're looking for something heartier, a mix of roasted potatoes and veggies makes an excellent side dish for a tuna wrap. Season them with salt, pepper, and your favorite herbs, then roast in the oven until they're nice and crispy.
Some people like homemade potato chips or even a basket of sweet potato French fries. For us, we opted to keep it light by adding carrots and sugar snap peas on the side, but you could pair it with what you like most.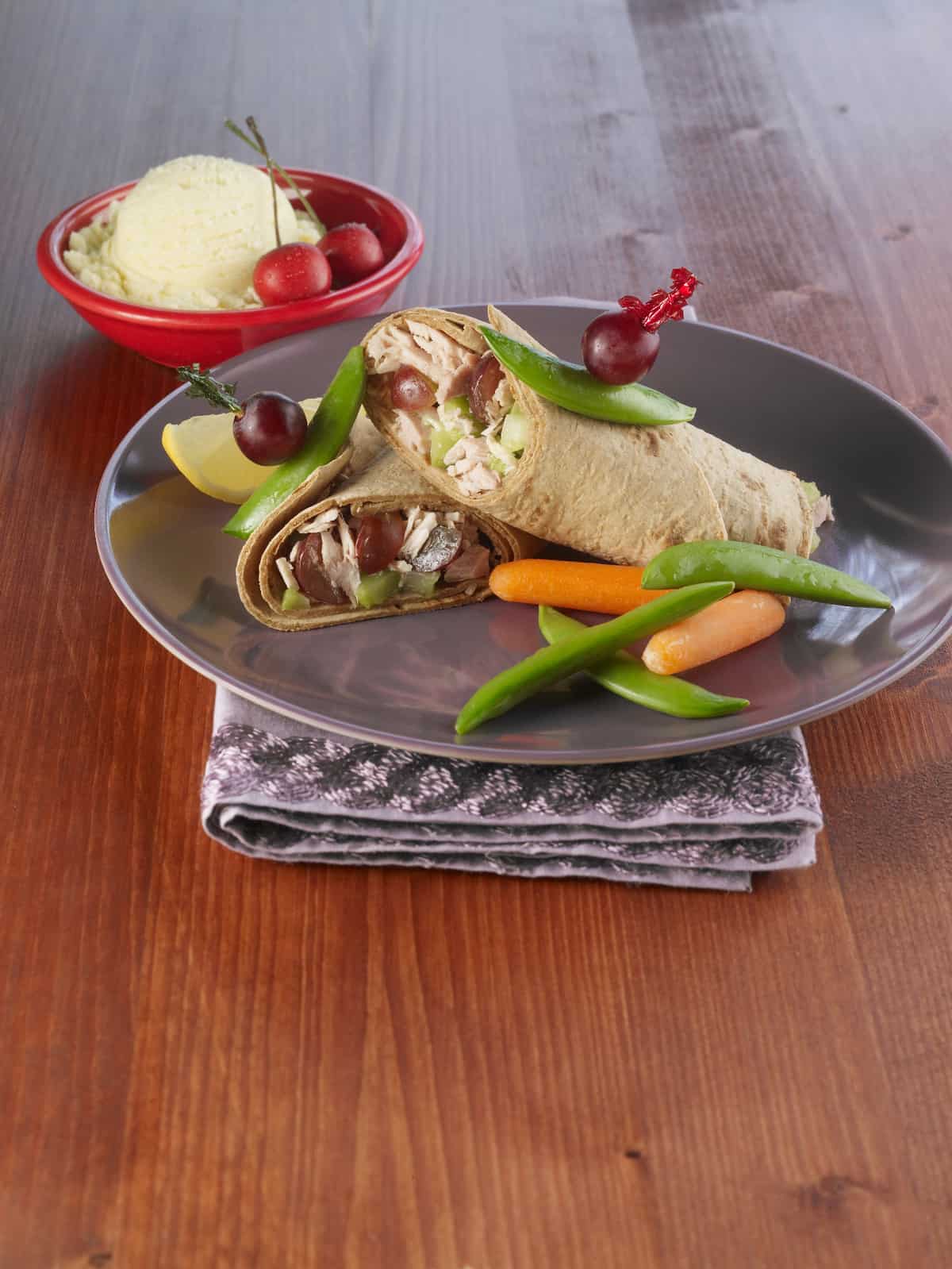 Make Plenty of Wraps Ahead of Time to Grab and Go
Making this tasty tuna wrap ahead of time is super easy and convenient. Here's how to do it:
Start with a good, quality wrap. You'll want one that's strong enough to hold up to being wrapped tightly and stored in the fridge.
Spread on your favorite tuna filling. Make sure to leave a little bit of room at the edges so that everything stays contained when you roll it up.
Roll it up tightly, then wrap in plastic wrap or aluminum foil.
Store in the fridge for up to 3 days. When you're ready to eat, just unwrap and enjoy!
If you're nervous about the wrap getting soggy, you could keep the tuna mix separate in a bowl and scoop out what you want when you're ready to eat.
We recommend keeping a container of baby carrots and sugar snap peas at the ready to pair with it for a quick lunch that comes together in moments.
Make sure to Pin It!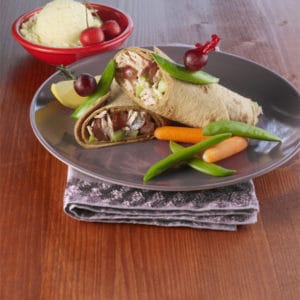 Tasty Tuna Wrap
This Tasty Tuna Wrap gets an extra punch of nutrition with the addition of grapes, celery and fresh herbs in a whole wheat wrap.
Ingredients
1 10 oz. can tuna, packed in water, drained
1 cup chopped celery
2 cups halved red seedless grapes
1 tablespoon olive oil
3 tablespoons lemon juice
1 teaspoon dried basil
4 7-inch whole-wheat wraps
Instructions
Mix tuna, celery, grapes, oil, lemon juice and basil in large bowl.

Lay wrap on plate and spread with tuna, roll up and cut in half.
Nutrition
Calories: 261kcalCarbohydrates: 38gProtein: 13gFat: 7gSaturated Fat: 2gPolyunsaturated Fat: 1gMonounsaturated Fat: 3gCholesterol: 15mgSodium: 401mgPotassium: 303mgFiber: 4gSugar: 14gVitamin A: 190IUVitamin C: 8mgCalcium: 113mgIron: 2mg
More recipes to try:
Tuna Salad Stuffed Mini Pepper Boats