Holiday Stuffed Turkey & Green Bean Casserole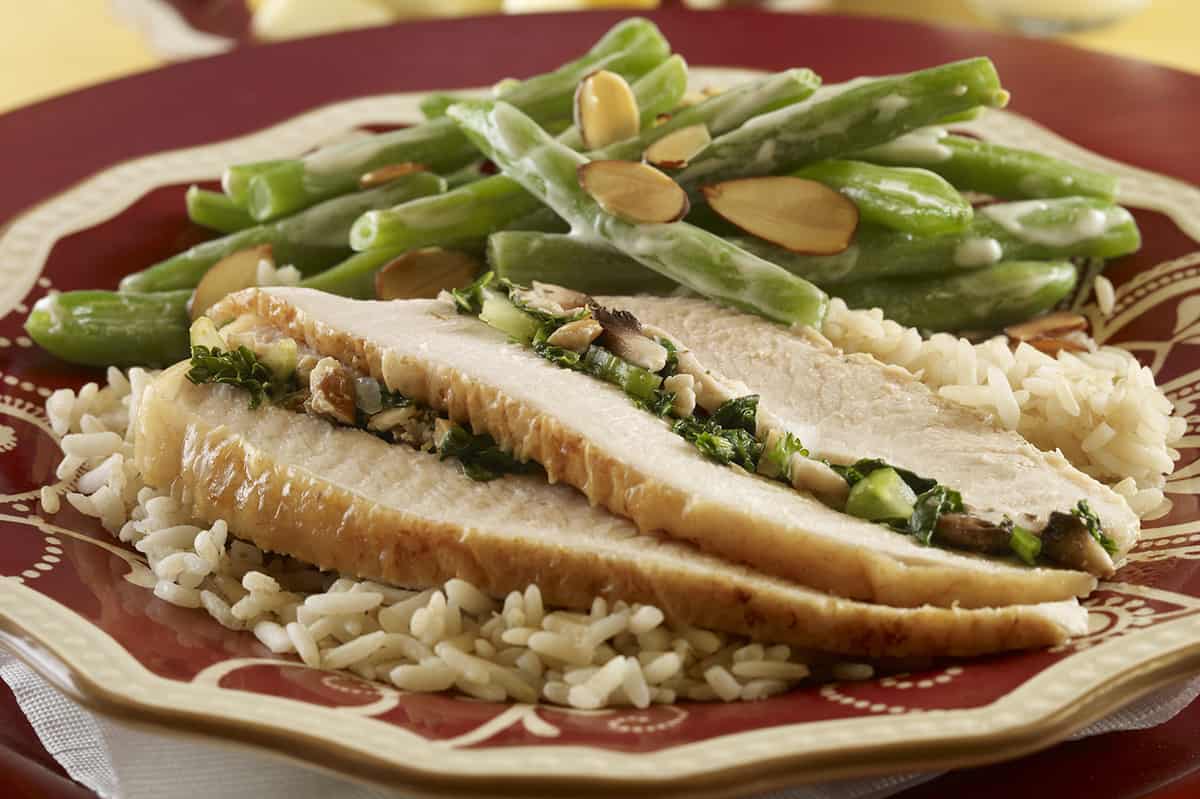 Love all the holiday foods but looking for a new idea? Try this Holiday Stuffed Turkey & Green Bean Casserole for a classic dish with a twist! Vegetables stuffed inside of a turkey breast and cooked to perfection! The paired green bean casserole is a healthier spin on the cream-based classic with less fats and nutrient-rich almonds.
Since the holidays are just around the corner, I have been craving some comfort foods. I wanted to experiment a little bit with some classic dishes but in a healthier way. This Holiday Stuffed Turkey & Green Bean Casserole hit the spot! It not only tastes great, but it is a little on the lighter side, and perfect to warm you up during the cooler months.
Fresh mushrooms and spinach get cooked down and stuffed inside of a turkey breast. The results are juicy turkey with some wonderful vegetables and herbs all cooked together! I will be making this again when the extended family comes over during the holidays.
Key Ingredients for this Holiday Stuffed Turkey & Green Bean Casserole
Turkey Breast– we used a small boneless turkey breast for this recipe. The results were tender, juicy, and flavorful!
Onions– cooking with onions provides so much flavor in many recipes. They are also high in Vitamin C and a great source of fiber, too.
Spinach– fresh spinach is a power food! These greens are loaded with Vitamin C & E, iron, and calcium.
Mushrooms– as the only natural food source of Vitamin D, mushrooms are a great addition to this stuffed turkey. Rich, flavorful and provides some depth.
Celery– adding crunch and flavor, celery is great in many recipes. Celery also is loaded with B vitamins, folate, fiber, and potassium.
Cashews– cooking with nuts provides some heart healthy benefits. Cashews provide a nice rich flavor and a little crunch in this stuffed turkey recipe.
For the green bean casserole, make sure check out our healthy recipe or we even have 12 Holiday Green Bean Recipes. Or of course you can serve this with some other cooked vegetables or a fresh salad to make this a complete meal.
How to make this Holiday Stuffed Turkey Recipe
First heat some olive oil in a skillet over medium-high heat. Then add the chopped onions, spinach, mushrooms, thyme, parsley, celery and cashews. Let cook for about 3 minutes. Remove from heat.
Next insert a knife into the side of the turkey breast and create a pocket in the middle. Stuff the turkey breast with the vegetable mixture.
Add the stuffed turkey breast back to the skillet and heat on each side until golden brown.
Then transfer the turkey to a baking dish and bake for about30-45 minutes, or until an internal temperature reaches 160ºF.
Let stand 10 minutes before slicing. Then serve with your green bean casserole and enjoy!
Make sure to PIN IT!
Get more fresh takes on holiday favorites with our free e-cookbook.
More recipes to try: