Easy & Healthy Tailgate Food Recipes Everyone Will Cheer About
These easy to make tailgating recipes can be made ahead of time and are prepped in under 30 minutes! Impress friends and family with these healthy tailgate food recipes this football season and beyond! While this post is sponsored by Dairy Council Of Florida, our love for sports and dairylicious healthy snacks are our own.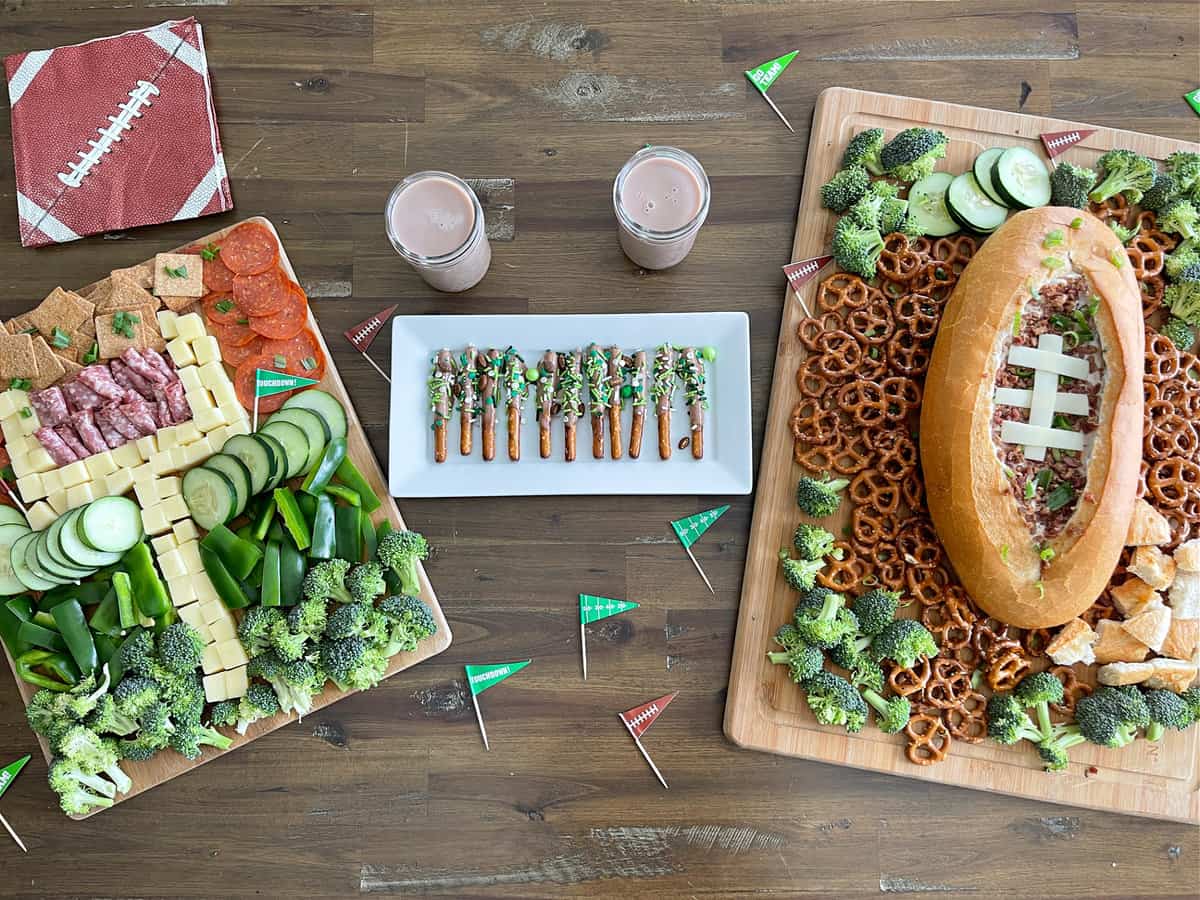 Football season is kicking off and it's time to start thinking about all the delicious food that goes along with tailgating and homegating. Even if you aren't a huge football fan, you can be a fan of the food that goes along with the big game.
Score major points with your guests by putting out an winning spread! The best part? All 3 of our game day recipe ideas can be prepped ahead of time, saving you time in the kitchen so that you can watch the game too! Or just enjoy your company 🙂
Football Sundays were a big deal in our house growing up. The entire family would gather around the living room TV for the big game. The game was important, of course! But, the family time together and the food we ate was what made the memories stick. It was tradition for all of us to wear our jerseys or team colors. My favorite games were when we had family over who was cheering for the opposing team and our competitiveness was on display!
My mom always loved putting out a fun spread on game days. Some of our favorites were homemade dips, pigs in a blanket, and cheesy potato skins.
But tailgating food recipes don't need to be unhealthy. That's why we made three healthy tailgating food recipes for you to serve up this season and beyond! We've lightened up the typical football spread with some healthy cooking swaps without sacrificing any flavor. Greek yogurt is always a great swap for cream cheese or sour cream in a lot of the popular dip recipes you'll find online. This cuts down on sodium, calories, and adds lots of protein to your game day menu.
Ready to create some cheer-worthy tailgating recipes? These snacks are easy, fun and include all the football flair. Plus, they are undeniably dairy, so you can feel good that your friends and family are getting some much needed vitamin D and vitamin A. Gotta have strong bones so that everyone can have fun and play along with their favorite sports teams!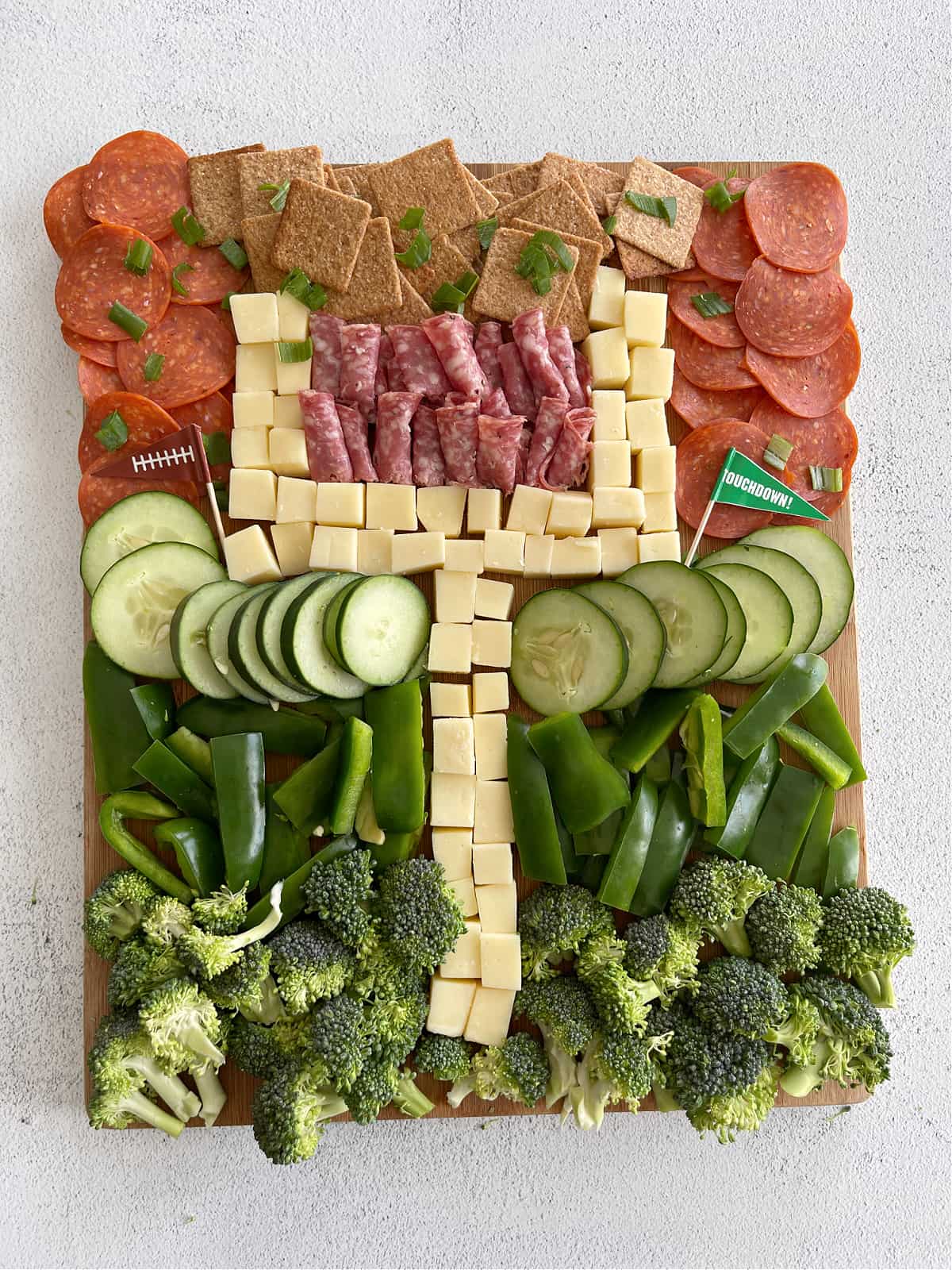 Here are the Tailgating Key Ingredients for all 3 of our favorite football appetizers
Bag Pretzel Dipping Sticks
Chocolate Syrup
Sprinkles – We recommend getting your favorite teams colored sprinkles 😉
Green Veggies – We used broccoli, cucumber and bell pepper
Wheat Crackers
Pepperoni
Salami
Slivered Almonds
Bacon Bits
Green Onion
Italian Bread Loaf
Simple Substitutions For Your Healthy Tailgating Food Recipes
Yogurt Dipped Football Pretzel Sticks
If you use full size pretzel rods, you'll probably end up with around 15-20 depending on how you dip them. We used dipping sticks (not to be confused with the thin pretzel sticks) and that made 34 dipped pretzels.
You can swap the yogurt and syrup mix with melted chocolate for dipping. The chocolate will hold up better at room temperature if you plan to have your pretzels out at room temperature longer.
Goal Post Snack Board
Feel free to use your favorite veggies on this board. We used cucumber, green pepper and broccoli to replicate the green football turf. You can swap in celery or add some green fruits into your board like kiwi and green grapes.
Football Shaped Cheese Dip
We used a large Italian bread to house the dip, but this dip can be served on it's own with crackers, pretzels or veggies. Make it vegetarian by skipping out on the bacon bits.
Pro tip: if you are looking for a loaf of bread for this easy tailgating recipe, keep an eye out for something oval shaped to help give a football shape.
How To Make Yogurt Dipped Football Pretzel Sticks

This sweet and salty game day snack could not be easier! Simply mix Greek yogurt and chocolate syrup in a bowl. Dip your pretzel dipping sticks or rods about halfway into the mix. Be sure to place them on a parchment paper lined baking sheet so they don't stick. Freeze them for about 15 minutes, decorate with sprinkles and they'll go into the freeze for 2 more hours.
Pro tip: These do tend to melt pretty quickly so be sure to remove them from the freezer as soon as your ready to serve. You can always toss them back in there and they'll harden again pretty quick.
Yogurt Dipped Pretzels
Easy to make and the perfect game day treat! Everyone will love these yogurt dipped pretzels.
Ingredients
34 Pretzel Dipping Sticks
5 oz vanilla greek yogurt
1.5 tbsp chocolate syrup
Sprinkles
Instructions
Mix 5 tablespoons yogurt with 1.5 tbsp chocolate syrup

Dip each pretzel dipping stick into the yogurt syrup mix

Place dipping sticks on cookie sheet lined with parchment paper

Freeze for 15 minutes

Remove from freezer and top with sprinkles

Freeze for 2 hours

Remove pretzel dipping sticks from freezer. Serve and enjoy!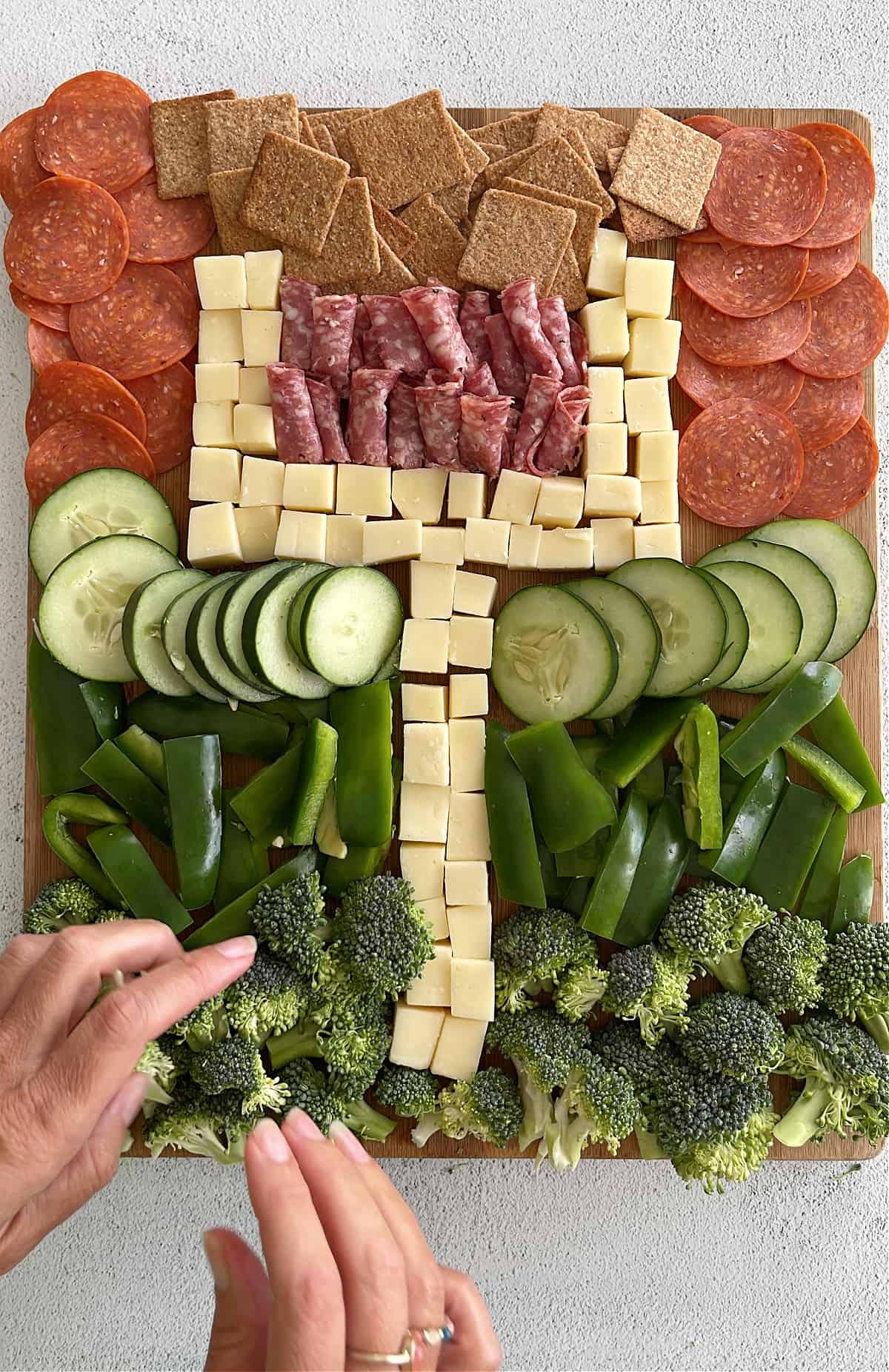 How To Make a Touchdown Worthy Goal Post Snack Board

This goal post snack board will impress your guests. Before you make it, cut up your veggies and cheese. To start assembling, arrange your cheese cubes in a goal post shape. After that you have free reign to place your crackers, veggies, and salami as you please. We placed all of our green foods under the goal post to look like the football field and filled in the remaining space with pepperoni slices, crackers, and rolled up salami slices.
Pro tip: Buy cheese cubes this will save you on a bit of prep work.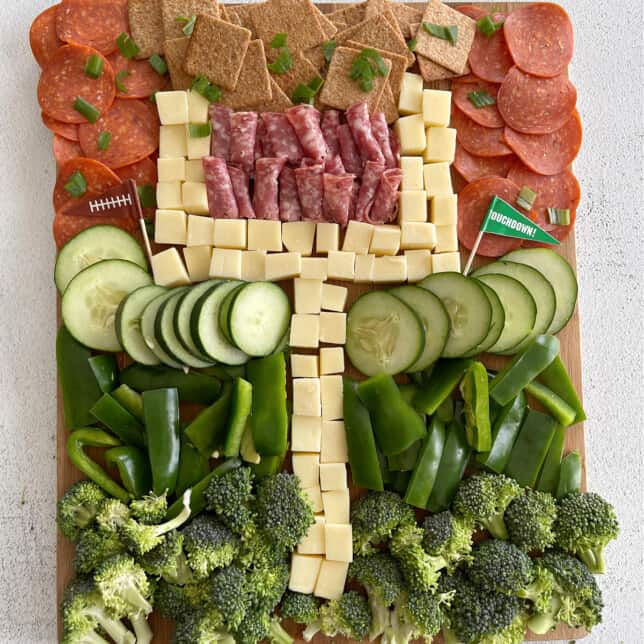 Goal Post Snack Board
Your friends and family will yell TOUCHDOWN when you serve this dairylicious Goal Post Snack Board this season.
Ingredients
16 oz. white cheddar cheese
1 head of broccoli chopped
1 cucumber sliced
1 green bell pepper sliced
1 cup wheat crackers
1 package pepperoni
1 package salami
Instructions
Choose a mid-size board

Cut white cheddar into cubes – or buy pre-cut

Place white cheddar cubes on board in shape of goal post

Fill in around goal post with sliced cucumber, cut broccoli, and green pepper to make the "field"

Add the crackers, salami and pepperoni

Enjoy with friends and family!
How To Make The Best Football Shaped Cheese Dip

We used a Chicago Italian loaf, it was kind of in the shape of a football…which is perfect for your game day snacks! Don't toss out the bread you cut out to make space for the dip, use that for dipping!
Feel free to set out as many sliced veggies or crackers and pretzels for snacking.
Football Shaped Cheese Dip
This easy appetizer is cheesy and delicious! Prepped in under 15 minutes, this dip will be the hit of the season!
Ingredients
24 oz. plain greek yogurt
1 cup shredded cheddar cheese
¼ cup slivered almonds
¼ cup chopped bacon bacon bits
1 tbsp chopped green onion
Large round Italian bread loaf
Pretzels, cucumber, broccoli for serving
1 slice white cheese – we used provolone
Instructions
Mix 2 cups Plain Greek Yogurt with the shredded cheddar cheese and almonds.

Refrigerate for 4 hours.

Take bread loaf and cut football oval shape in center using a serrated knife.

Remove dip from refrigerator and scoop into center of bread loaf.

Sprinkle ¼ cup chopped bacon (we used bacon bits) on top of dip.

Garnish with green onions.

Cut four strips of white cheese and add as football thread.

Serve with fresh veggies, pretzels, and remaining bread.
Be sure to have your favorite drinks out on game day too! We love chocolate milk, it is the best refueling beverage! Plus, it tastes great 😉
What is one of your favorite healthy tailgating food recipes?