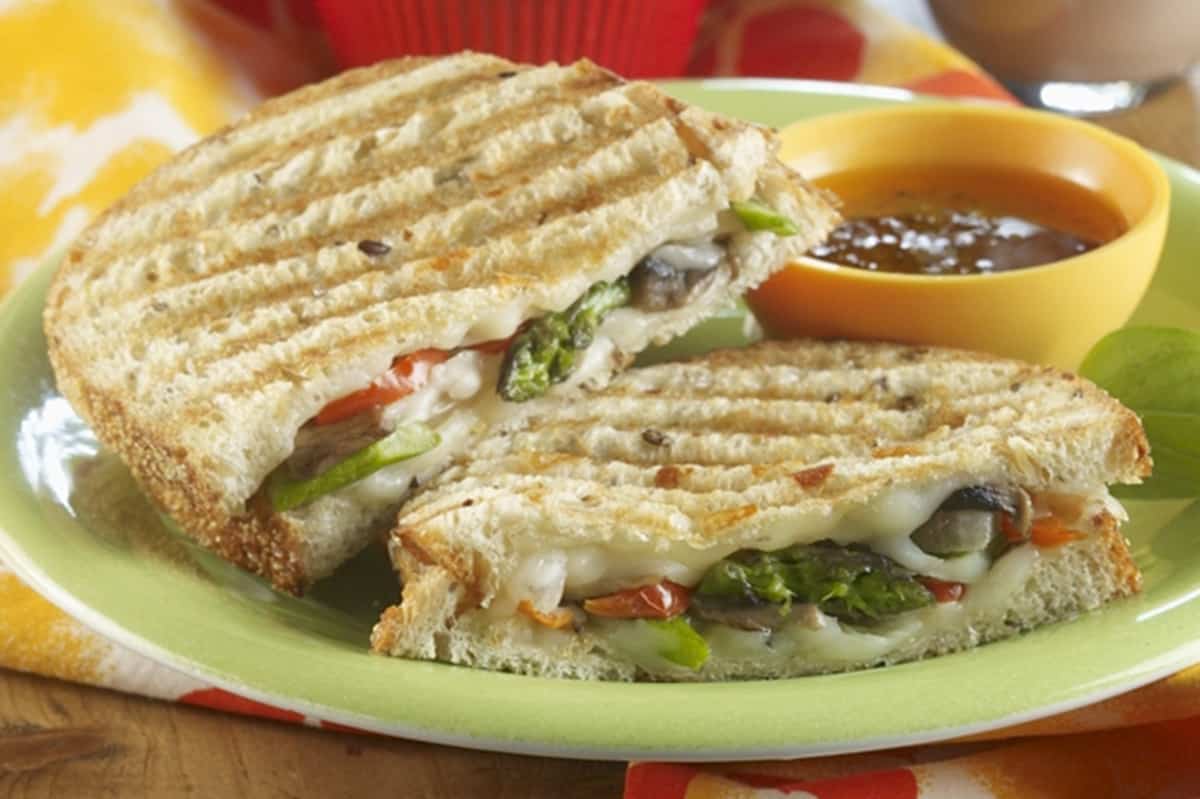 This hot sandwich is perfect for a cool fall or winter day. Try serving with a small cup of our Lentil & Veggie Soup when the family is craving a sandwich and soup.
When it comes to sandwiches, there's no need to limit yourself to just meat. This grilled veggie panini is packed with flavor and will satisfy even the hungriest of appetites. The combination of red bell pepper, asparagus, sweet onion, mushrooms, basil, and mozzarella is simply divine. Plus, it's easy to make and can be on your table in under 30 minutes.
FAQs About This Grilled Veggie Panini
Do I Need a Panini Press?
While it will help with the ridges that are signature elements in a panini sandwich, you can make it without a sandwich press! To make a grilled veggie panini without a sandwich press you can use a grill, griddle, grill pan, or even just a cast iron skillet. You'll just need to flip the sandwich halfway through cooking to ensure both sides are cooked evenly.
Can I Leave the Mushrooms Out?
Of course! As with all our recipes you can swap any veggies in or out that you would prefer. Some people might not like asparagus, for example. You could easily swap in sliced brussels sprouts or sliced broccoli in its place. You can make the recipe your own!
What Side Dish Should I Pair it With?
As we mentioned, you could try pairing it with our Lentil & Veggie Soup. But there are loads of other side dish options too including green salad, roasted potatoes, or even a pasta salad. For a fun and different twist, try making polenta fries. Cut polenta into fry-shaped pieces, then coat in olive oil and bake in the oven until golden brown. Serve with dipping sauces like ketchup or ranch dressing.
Can I Make the Grilled Veggie Panini Ahead of Time?
When it comes to paninis, fresher is always better. If you try to make your grilled veggie panini ahead of time, you'll be left with a sad, soggy sandwich that's nothing like the deliciousness you were hoping for. Trust us – it's worth the wait to make your panini fresh when you're ready to eat it. Here's why:
The veggies will lose their crunch. One of the best things about a grilled veggie panini is the crunchy texture of the vegetables. If you grill them ahead of time, they'll lose their crispiness and turn into mush.
The bread will get soggy. Another important element of a great panini is crispy, grilled bread. It's better to heat and eat right away!
That said, you can prep some of your veggies ahead of time by cutting them in advance. However, it's important to remember that most chopped veggies will only last in the fridge for 3-5 days. This includes items like carrots, celery, onions, and peppers.
What Bread is Best for the Panini?
When it comes to a grilled veggie panini, the bread is just as important as the fillings. The perfect bread for a panini should be hearty and crusty on the outside, while still being soft and fluffy on the inside. Here are two important tips on how to choose the perfect bread for your next panini:
Look for a bread that has a thick crust. This will help ensure that your panini stays crispy and doesn't get soggy.
Avoid using thinly sliced sandwich bread – it's too thin and won't hold up to the fillings.
We chose thick-cut whole wheat bread for its nutty flavor and the fact it's healthier for you than the Italian and sourdough bread options traditionally used in paninis.
Make sure to PIN IT!
More recipes to try: