Cranberry Cupcakes with Cream Cheese Frosting
Enjoy a new spin on cupcakes with this lightened-up cranberry cupcake recipe! It's made with canned cranberry sauce and topped with a cranberry cream cheese frosting for a sweet, but not too sweet, dessert. Perfect for Mother's day, holiday celebrations, birthday parties and more.
Disclosure: This post is sponsored by US Cranberries. All opinion are our own.
I have to admit, I'm not the biggest fan of cupcakes. My sweet tooth tends to lean more dark chocolate than cake and frosting. So, when our friends at US Cranberries reached out about doing a cranberry cupcake, I knew I was going to need some taste-testers to help me out.
Luckily, our team is always ready to try a new dish! After a couple of rounds getting the recipe just right, the team bit in and their eyes lit up – BINGO! We had it.
What makes these cupcakes special?
First, their light, fluffy and super moist thanks to the cranberry sauce. I could eat them just as they are without the cream cheese frosting. There would be no complaints on these for breakfast as a "muffin."
Second, I love that they have a balanced sweetness. They've got a little, but not hit-you-in-the-face sugar sweetness that you often get with boxes or store-bought cupcakes. The average store-bought cupcake can pack around 27g of sugar! This recipe contains 11g with over half of that coming from natural sources like cranberries.
Third, I'm a sucker for cream cheese frosting and love the addition of cranberry sauce to add some flavor and turn it into a pretty pink color with no food coloring needed.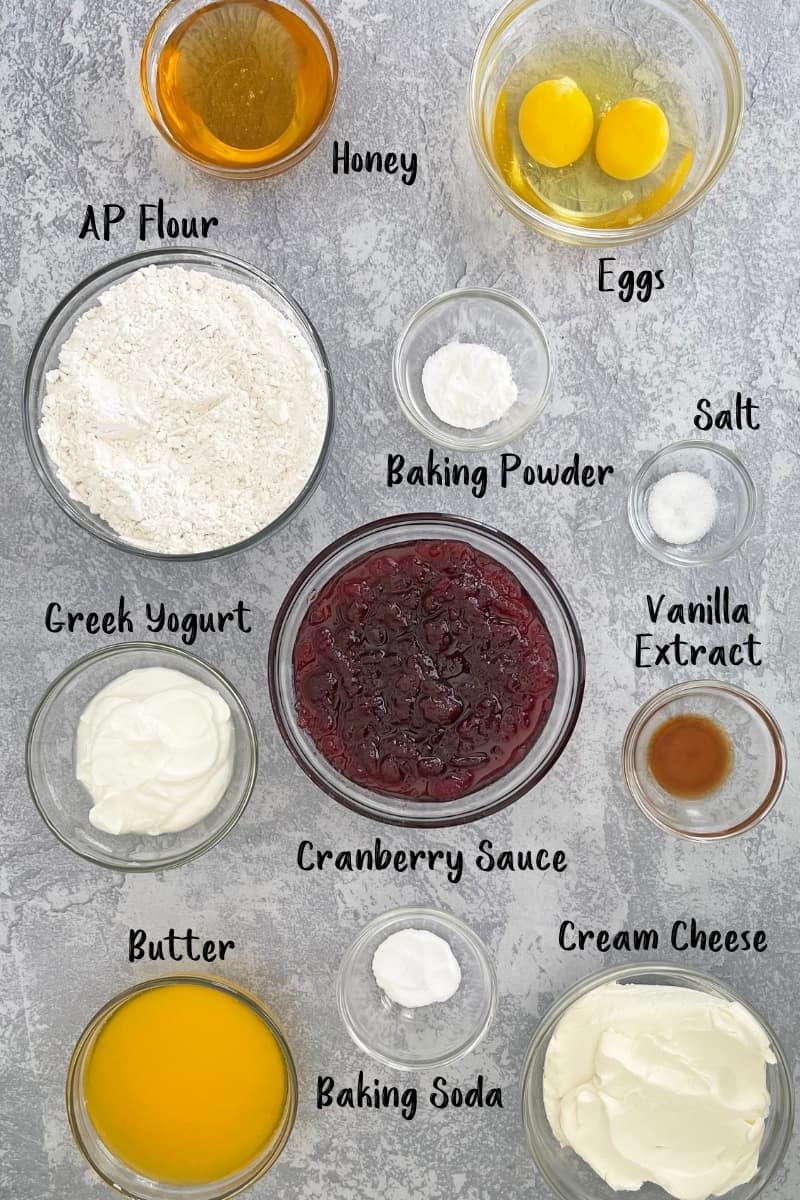 Key Ingredients
The ingredients needed for these cupcakes are pretty standard, most of these items you can probably find in your pantry already. Here are a few things to keep in mind with this recipe:
Flour: This recipe called for standard all-purpose flour. I didn't test these using a different type of flour, so I can't guarantee that a gluten-free flour would give you the same fluffy texture.
Canned cranberry sauce: I used "whole cranberry sauce" but any type would do. Or if you have leftover cranberry sauce from a holiday celebration, that works too!
Honey: You could also swap for maple syrup (for a slightly different flavor) or agave nectar
Cream Cheese: Make sure to set this out a few hours before making the frosting so it has time to soften. It'll make a huge difference in how easy it blends!
How many cupcakes does this recipe make?
This recipe made 16 cupcakes when I tested it at home. However, I made them at a friends house and it made 12. I think her muffin tin was slightly larger than mine. Maybe one was a "standard" size and the other wasn't? Either way, be prepared for this recipe to make 12-16 cupcakes, depending on the side of your pan.
Does cream cheese frosting need to be refrigerated?
Yes. Leftover desserts with cream cheese frosting should always be refrigerated. Before eating again, take it out of the fridge for an hour or two to "warm up" to room temperature.
Cupcake Decorating Tips
Wanting to make your cupcakes look like they're fresh from a cupcake shop? Go for it! Here are some tips.
Use a Piping Bag
Fill a piping bag with your frosting for that professional frosting look. Since the frosting does contain cranberry pieces, I'd use a tip with a larger opening so it doesn't get clogged
Top with Sugared Cranberries
Give these cupcakes some added flair by topping with a sugared cranberry! Here's how to make them:
Thaw frozen cranberries in water or small bowl at room temperature.
Toss in a little sugar until coated.
Add to your cupcakes!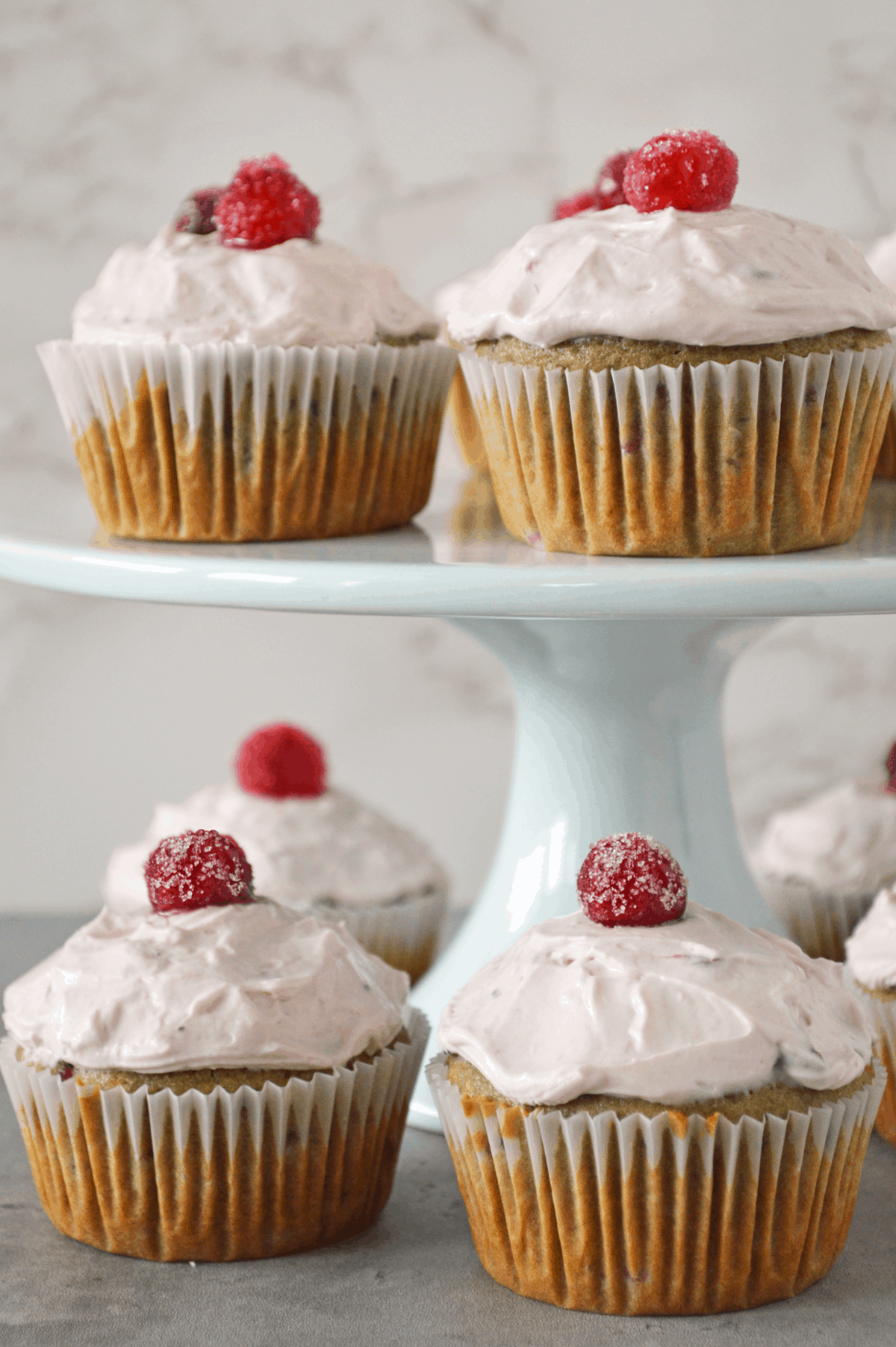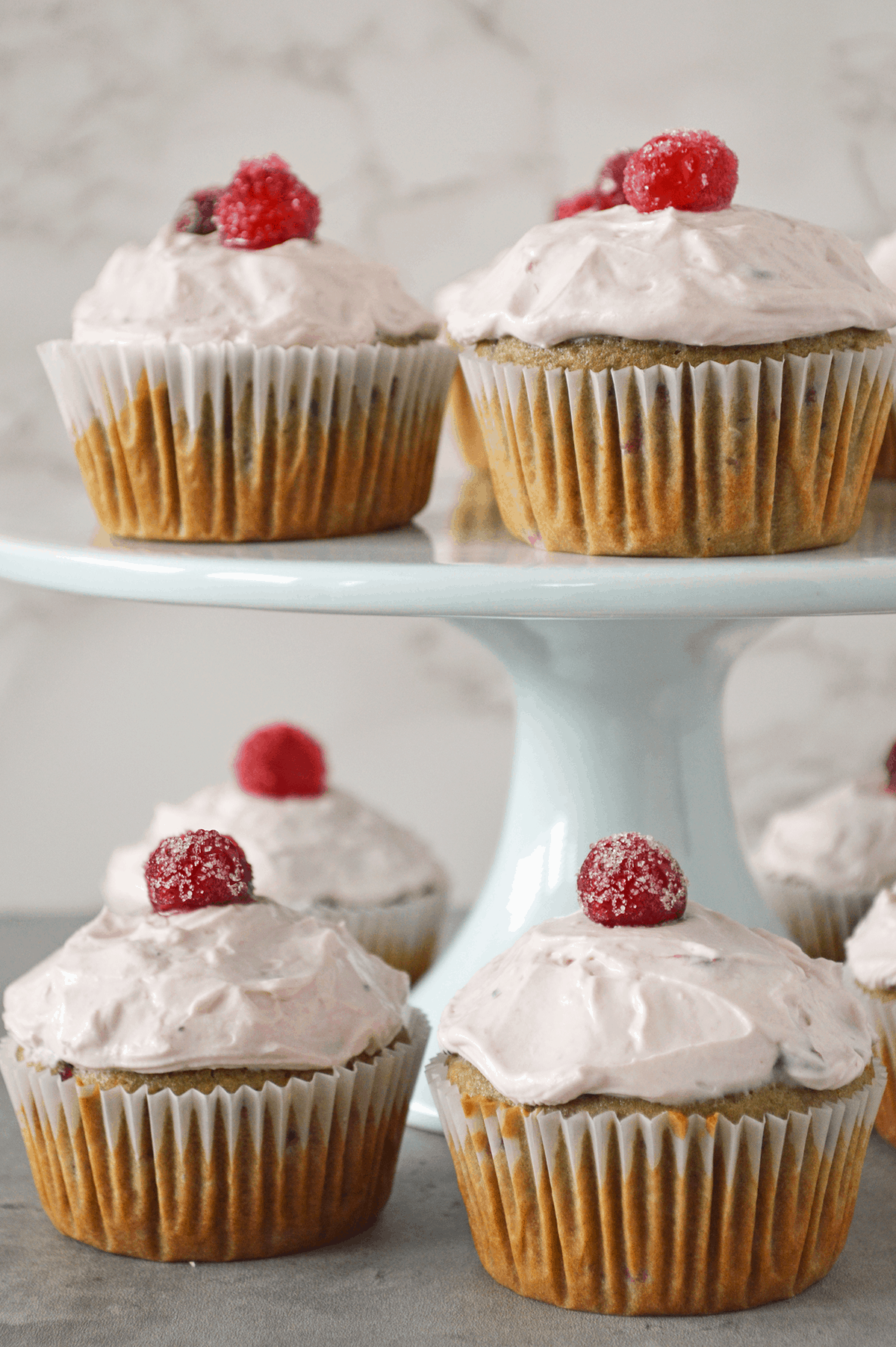 Other Sweet, but Not Too Sweet Desserts to Try
Cranberry Cupcakes with Cream Cheese Frosting
Enjoy a new spin on cupcakes with this lightened-up cranberry cupcake recipe! It's made with canned cranberry sauce and topped with a cranberry cream cheese frosting for a sweet, but not too sweet, dessert.
Ingredients
Cupcakes
1¼ cups all-purpose flour
1 tsp. baking powder
½ tsp. baking soda
¼ tsp. salt
2 large eggs
1 cup canned cranberry sauce
½ cup unsalted butter melted
⅓ cup honey
1 tsp. vanilla extract
Frosting
8 oz. cream cheese softened
½ cup plain nonfat Greek yogurt
2 Tbsp. canned cranberry sauce
1 Tbsp. honey
1 tsp. vanilla extract
Instructions
Cupcakes

Preheat oven to 350F. Line muffin tin with paper liners or spray with nonstick cooking spray.

Whisk together flour, baking powder, baking soda and salt in large bowl.

In a separate bowl, beat eggs. Mix in cranberry sauce, butter, honey and vanilla.

Add wet ingredients to dry ingredients until just combined.

Fill muffin cups to about ¾ full. Bake 16-20 minutes, or until toothpick inserted in center comes out clean (ovens can vary, check at 16 minutes). Remove from oven and let cool 2-3 minutes before removing from muffin tin and letting cool on wire rack.

Frosting

Beat cream cheese, yogurt, cranberry sauce, honey and vanilla with an electric mixer until smooth. 

Spread evenly on top of cooled cupcakes before serving.
Notes
The recipe makes 12-16 cupcakes, depending on the size of your muffin tin.
Make sure to let your cream cheese soften at room temperature before making the frosting. This will make it much easier to mix.
Refrigerate leftover cupcakes. Take out of refrigerator and store at room temperature for an hour if you want them "warmed up" for eating.
Nutrition
Serving: 1cupcakeCalories: 205kcalCarbohydrates: 23gProtein: 3gFat: 11gSaturated Fat: 7gPolyunsaturated Fat: 1gMonounsaturated Fat: 3gTrans Fat: 0.2gCholesterol: 50mgSodium: 162mgPotassium: 58mgFiber: 0.5gSugar: 14gVitamin A: 406IUVitamin C: 0.2mgCalcium: 46mgIron: 1mg