Angel Food Cupcakes with Blood Orange Frosting
(Last Updated On: April 23, 2021)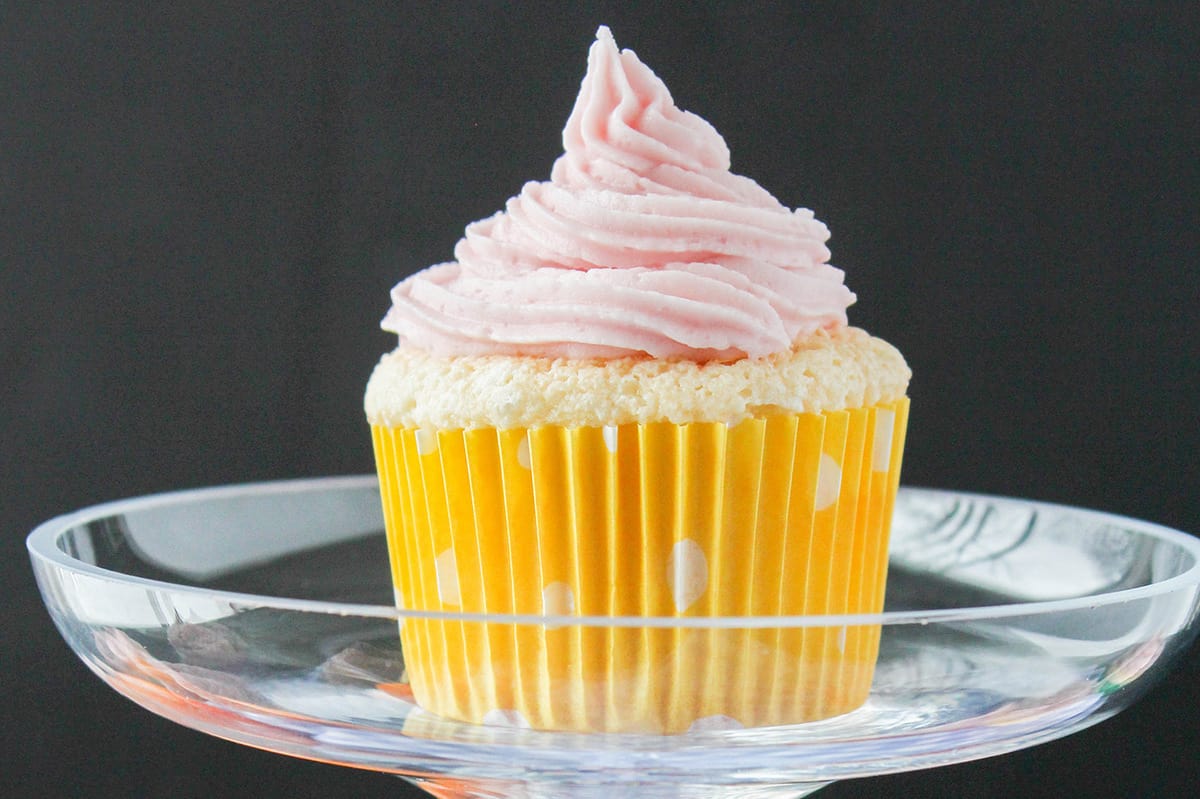 These Angel Food Cupcakes with Blood Orange Frosting are a favorite sweet treat for kids. The cupcakes are so light and airy, and the frosting turns a beautiful light pink color from the fresh blood orange juice.
Summer has finally arrived! Besides the beautiful weather, I also love summer because of the celebrations of the season. Summer produce is at its peak as well, and I can't wait to get back to the farmer's market and pick up colorful fresh fruits and veggies of all kinds.
Nutrition Tip: Research shows that synthetic food dyes may worsen attention problems for some children. Fruits and veggies can lend natural colors, no dyes needed!
This time of year I start to gravitate towards lighter meals rather than the traditional warm comfort food I've eaten all winter. That includes lightening up my desserts, too!
Bonus, they're really easy to make! These cupcakes are the perfect dessert for any other summer celebrations you might be having.
Angel Food Cupcakes with Blood Orange Frosting
These Angel Food Cupcakes with Blood Orange Frosting are a favorite sweet treat for kids.
Yield: 12 servings
Prep Time: 10 minutes
Cook Time: 20 minutes
Total Time: 30 minutes
Ingredients
1/2 cup cake flour
3/4 cup powdered sugar
5 large egg whites
1/4 teaspoon salt
2 teaspoons fresh lemon juice
1/2 cup sugar
2 teaspoons vanilla extract, divided
4 ounces light cream cheese
1/4 cup nonfat plain Greek yogurt
2 tablespoons fresh-squeezed blood orange juice
Instructions
Preheat oven to 350°F. Line 12-cup muffin tin with paper liners and set aside.
Whisk together flour and powdered sugar in medium bowl.
Beat egg whites and salt in separate large bowl with electric mixer on high speed until frothy. Add lemon juice and beat until soft peaks form. Gradually add granulated sugar to bowl, a little at a time, beating until stiff peaks form. Fold in flour mixture to egg mixture, about 1/4 cup at a time, with a rubber spatula. Stir in 1 tsp. vanilla.
Divide batter evenly into prepared muffin tin. Bake 18 - 20 minutes, or until tops of cupcakes are lightly browned. Remove cupcakes from pan and let cool completely on a wire rack.
To make the frosting, beat cream cheese with an electric mixer on high speed until light and fluffy. Add yogurt, blood orange juice and 1 tsp. vanilla and beat until smooth and creamy. Pipe or spread the frosting onto each cooled cupcake.
Nutrition Information:
Yield: 12
Amount Per Serving:
Calories: 122
Total Fat: 1g
Cholesterol: 5mg
Sodium: 165mg
Carbohydrates: 21g
Fiber: 0g
Sugar: 16g
Protein: 6g