Healthy Caramel Maple Yogurt Dip
Ready in just minutes and made with only 3 ingredients, this is a yummy and healthy snack that the whole family will enjoy!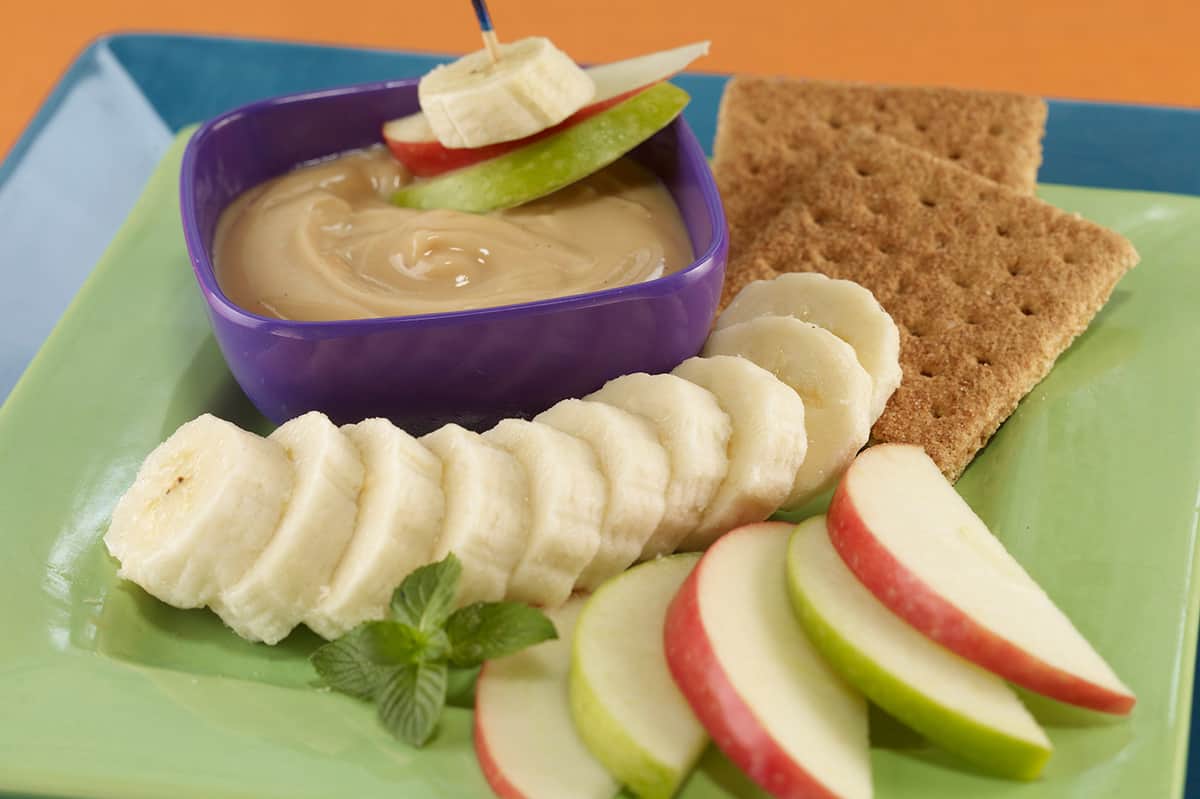 This smooth and sweet yogurt dip is a great way to enjoy fruit while also sneaking in healthy protein, calcium and probiotics.
Nutrition Tip: Besides containing beneficial bacteria for your gut, Greek yogurt has a much higher protein content compared to regular yogurt. It is perfectly paired with nuts and fruit for a mid-afternoon snack!
Probiotics in Greek Yogurt Are Good For Gut Health
There are many benefits to incorporating yogurt into your diet and one of those is the probiotic health benefits. Probiotics are live bacteria that are essential for gut health. They help to keep the digestive system functioning properly and can even help to improve immunity.
Greek yogurt is an excellent source of probiotics and adding it to your diet is a simple way to improve gut health.
What's the Difference Between Regular and Greek Yogurt?
There are several key differences between regular yogurt and Greek yogurt. For one, Greek yogurt is made from a different type of milk than regular yogurt. It also has a higher protein content and a lower fat content. Finally, the taste and texture of Greek yogurt are slightly different than regular yogurt.
Can I Make My Own Caramel For This Dip?
Sure! It will certainly take extra time, but if you want to create your own caramel for this recipe, you can certainly do that. We opted for a ready made version to get to snacking faster!
How to Pick a Maple Syrup
When it comes to picking a maple syrup, there are a few things you need to take into account. First, what kind of flavor do you want? There are three main types of maple syrup: light, medium, and dark. Light maple syrup has a delicate flavor that is perfect for pancakes and waffles. Medium maple syrup has a richer flavor that pairs well with oatmeal and yogurt. Dark maple syrup has the strongest flavor and is best used in baking or as a finishing touch on savory dishes.
Second, what is your budget? Maple syrup can be expensive, so it is important to know how much you are willing to spend. The good news is a little goes a long way, especially in this recipe. And, since you are mixing it with other ingredients, you don't need a large bottle. We do recommend using 100% pure maple syrup though…it just tastes better!
What Other Ways Can You Use This Caramel Maple Yogurt Dip?
We suggest dipping apples, bananas and even graham crackers into it. Some other ways you can use the dip include:
Dipping pretzels into it
Drizzling it over French toast or pancakes in place of syrup
Stir some of it into a serving of oatmeal for breakfast
How Long Will the Caramel Maple Yogurt Dip Last in the Fridge?
Because of the ingredients in the dip, it should last a few days in the fridge. Trust us though, it's so good, you shouldn't have any trouble eating it all before it goes bad. In fact, you might want to make a double batch!
Make sure to Pin It!
More recipes to try:
5 Easy Greek Yogurt Fruit Dips
Caramel Pear & Apple Dessert Nachos