Episode 51: Distance Learning Tips from an Educator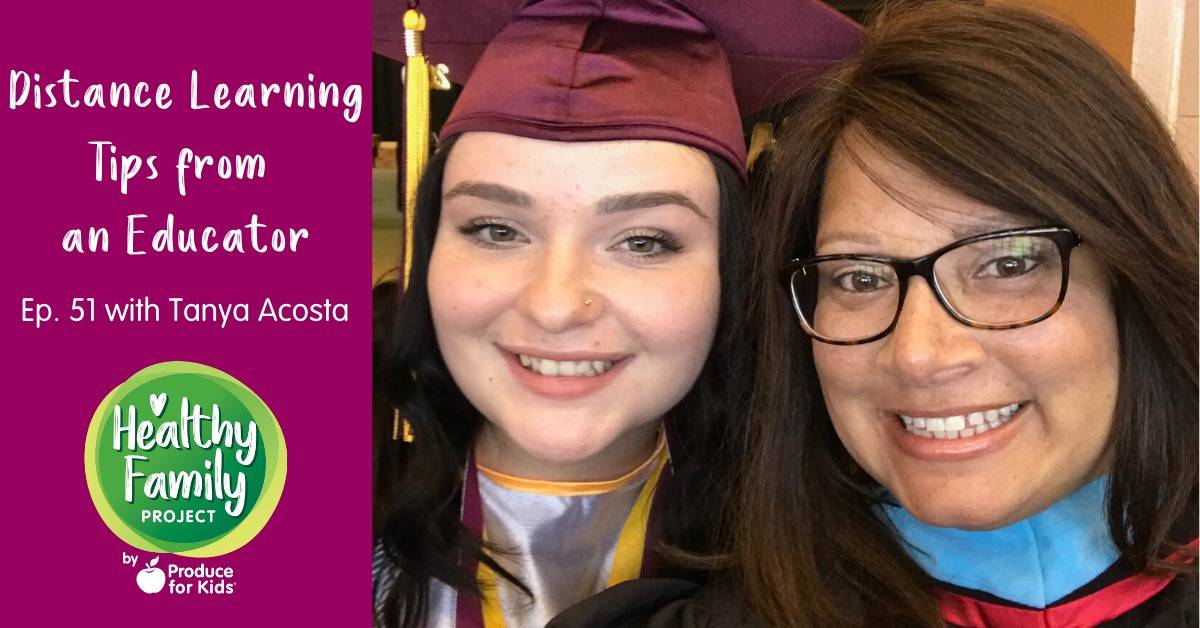 In this episode of Healthy Family Project, we talk to Tanya Acosta about navigating distance learning. With states around the country announcing school closures for the remainder of the year, distance learning is our new normal.
We invited our long-time friend, Tanya Acosta, an elementary school educator with 16 years of experience, to share distance learning tips for success.
Tanya covers setting schedules, creating a designated school space, adjusting routines based on your child's needs, and lots more to keep kiddos on track while remaining flexible.
Tanya has worked in the education field in different variations for about 16 years. She is certified in elementary education K-6, Exception Education (special education) K-12 and have a reading endorsement for grades K-12.
She has worked in the elementary capacity for most of her career as a classroom teacher and ESE teacher. She spent four years as a reading MTSS coach working with teachers and training them on reading instruction and how to implement interventions for their students.
Listener Survey!
Thank you so much for supporting the Healthy Family Project Podcast! We'd love it if you could take 5 minutes to let us know how we can bring you the best possible content for future episodes. Take the survey here.
Healthy Recipes & Tips in Your Inbox
Sign up for the Healthy Family Project e-newsletter to receive healthy recipe inspiration, our latest blog posts and more directly to your inbox each week.
Healthy Family Project Facebook Group
Join our Healthy Family Project Facebook group! This group will serve as a safe space for parents and caregivers to talk all about raising a healthy family – from dealing with a picky eater and tips to get more fruits and veggies onto plates to exercising as a family and mental health. We welcome all of you to join in!
---
Want to skip straight to a hot topic? See time stamps below. But of course, we recommend listening all the way through!
4:16 Distance learning tips & tricks
8:43 Tips for setting up a dedicated distancing learning space in your home
15:11 Routines to put in place to help your kids stay on track
18:45 How much time should students be spending on school work?
24:26 How much flexibility to allow right now & thoughts on lowering expectations
27:30 Student retention during distance learning
34:02 Advice for parents who aren't home during the day on how to check in on school work & keep their kids on track
36:56 What does a healthy family mean to you?
---
Relevant Links
Other Podcast Episodes to Check Out:
---
---
Healthy Family Project Podcast
Conversations covering hot topics in the world of health, food and family with a dose of fun. Helping families ease their way into a new fresh and healthy world.
Be on the lookout for new bi-weekly episodes and don't forget to subscribe on Apple Podcasts, Google Podcasts, Spotify or your favorite podcasting site. If you like an episode, make sure to leave a rating and comment.
If you are interested in being a guest on the Healthy Family Project podcast, contact amanda@healthyfamilyproject.com with your topic idea for consideration.