Episode 48: Self-Care for Busy Families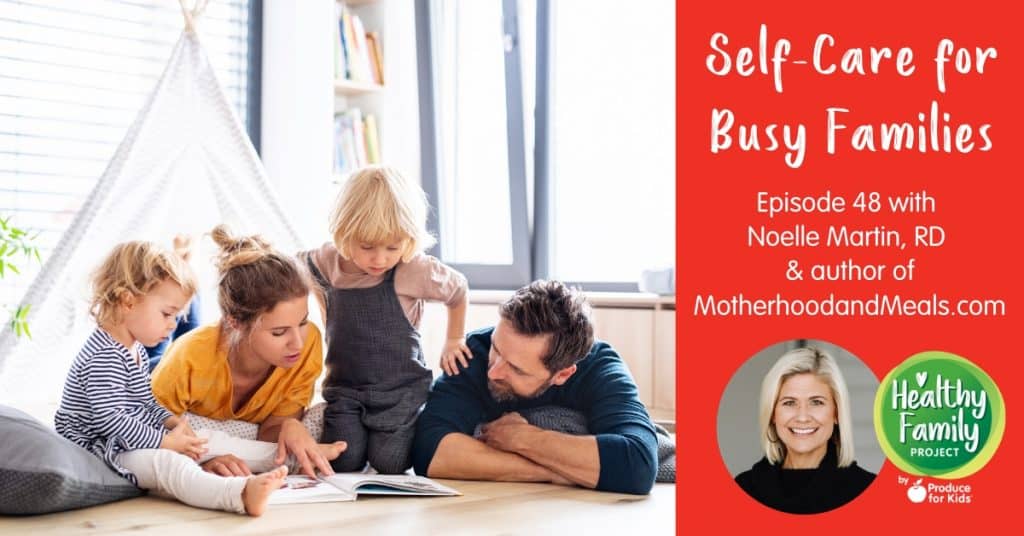 In this episode of Healthy Family Project, we talk to Noelle Martin, RD and author of MotherhoodAndMeals.com. Noelle joined us to talk about the importance of self-care and how to make time for it when you have a busy schedule.
Noelle Martin is a Registered Dietitian with a Master of Science in Foods and Nutrition and a mom of three young boys. Noelle is founder and president Motherhood and Meals Inc. and co-founder of Nourished Beginnings. She has a passion for educating, inspiring, and empowering women to make healthy choices for themselves and their families and bring consistent habits to the chaos of life.
Noelle works with individuals, families and groups in person through one-on-one sessions and workshop settings as well as on-line through virtual courses. Noelle also enjoys teaching at Brescia University College. Noelle just released a cookbook for kids entitled "Superfoods and Super Kids Cookbook." You can find Noelle at www.motherhoodandmeals.com and on Instagram.
Healthy Recipes & Tips in Your Inbox
Sign up for the Produce for Kids e-newsletter to receive healthy recipe inspiration, our latest blog posts and more directly to your inbox each week.
Healthy Family Project Facebook Group
Join our new Healthy Family Project Facebook group! This group will serve as a safe space for parents and caregivers to talk all about raising a healthy family – from dealing with a picky eater and tips to get more fruits and veggies onto plates to exercising as a family and mental health. We welcome all of you to join in!
---
Want to skip straight to a hot topic? See time stamps below. But of course, we recommend listening all the way through!
2:55 Welcome, Noelle!
5:07 Self-care defined
10:17 How to make time for self-care
20:30 How to teach our kids about self-care
27:40 How can families disconnect from the to-do list?
36:17 How to ask for help? How to build your 'village'?
---
Relevant Links
Other Podcast Episodes to Check Out:
Healthy Family Project Podcast
Conversations covering hot topics in the world of health, food and family with a dose of fun. Helping families ease their way into a new fresh and healthy world. Brought to you by Produce for Kids.
Be on the lookout for new bi-weekly episodes and don't forget to subscribe on Apple Podcasts, Google Podcasts, Spotify or your favorite podcasting site. If you like an episode, make sure to leave a rating and comment.
If you are interested in being a guest on the Healthy Family Project podcast, contact podcast@healthyfamilyproject.com with your topic idea for consideration.