Beet, Goat Cheese and Walnut Salad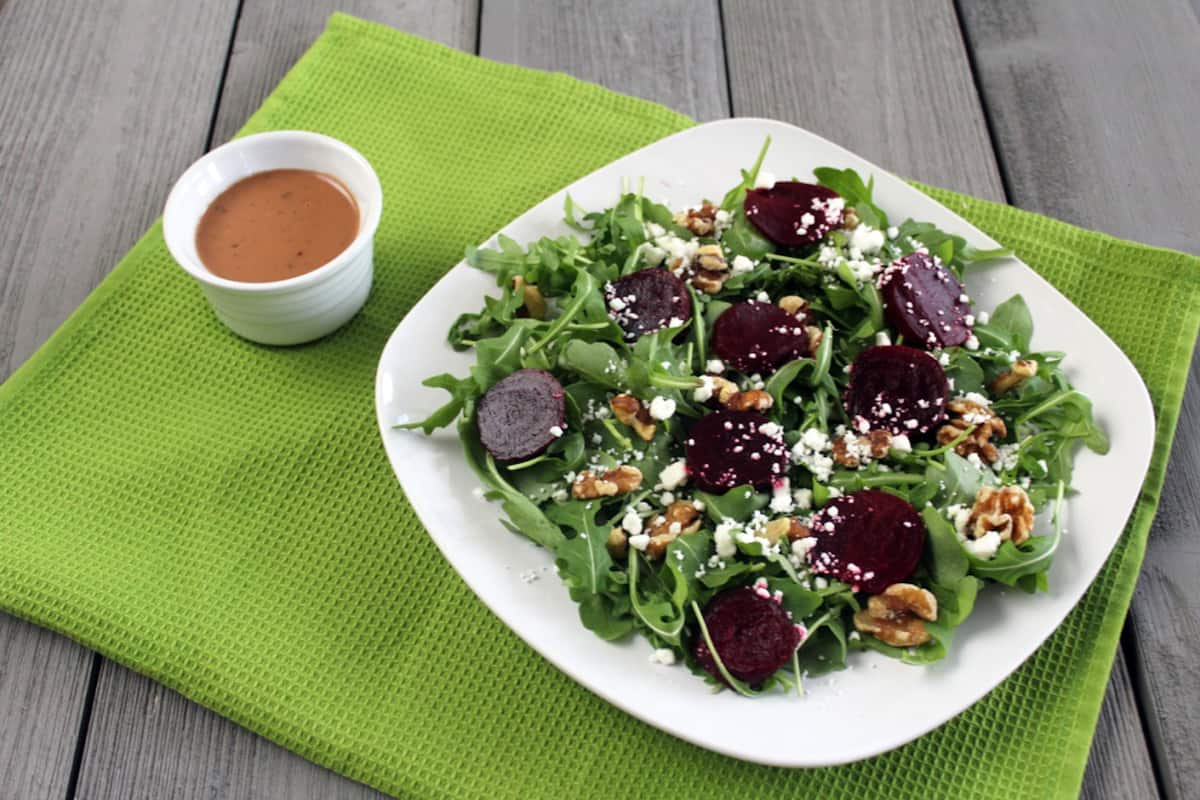 Step out of your usual salad rotation with this elegant, tasty salad topped with bets, goat cheese and walnuts. While raw beets have an earthy, bitter flavor, roasting, steaming or grilling beets brings out a candy-like flavor that pairs perfectly with the other ingredients in this salad.
Nutrition Tip: Active individuals: listen up! Beets are great for performance, as they boost energy during exercise and fight inflammation to maximize your recovery.
Beet, Goat Cheese, and Walnut Salad Health Benefits
Beets are a great addition to a salad because of their color and low-calorie content. They also contain many health benefits such as fiber, potassium, folate, iron, and vitamin C. Beets can help the cardiovascular system because of their high nitrate content as well, which reduces blood pressure.
This nutrition-packed salad combines beets with goat cheese and walnuts. Try adding two to four tablespoons of balsamic dressing to the beets for a delicious topping.
Walnuts are a great source of healthy fats, protein, and antioxidants. But they also contain tannins, which can give them a bitter taste.For the best flavor, make sure your walnuts are toasted if they aren't already. You can eat walnuts raw, but for this recipe we don't recommend it. If you're going to eat walnuts raw, we recommend soaking them in water for a few hours first. This will help to remove some of the tannins and make them more palatable.
Toast your walnuts before using them in recipes for the best flavor. Here's how to do it: (1.) Preheat the oven to 350 degrees F. Spread the walnuts on a baking sheet and bake for about 5 minutes, or until lightly toasted. (2.) Remove the baking sheet from the oven and let the walnuts cool before using them in your recipe. (3.) If you're in a hurry, you can also toast the walnuts in a dry skillet over medium-high heat. Cook for about 3 minutes, stirring often, until they're toasted.
Beet, Goat Cheese, and Walnut Salad = A Delicious Combination
This salad can be a starter or the centerpiece of a vegetarian meal. First, prepare the beets by peeling and slicing them. Here's how to cook sliced beets: (1.) Preheat your oven to 375 degrees Fahrenheit. (2.) Spread a layer of sliced beets on a baking sheet. (3.) Drizzle with olive oil and season with salt and pepper. (4.) Roast in the oven for 25-30 minutes, flipping once or twice during cooking. (5.) Remove from the oven and enjoy in your favorite recipe
Sliced beets make a great addition to any meal, whether you're serving them as a side dish or incorporating them into a main course.
If you're looking for a delicious salad recipe that's good for your body, try this beet, walnut, and goat cheese, salad. This salad is easy to make and has a great combination of flavors and textures. It's simply a great way to eat more vegetables while still being full and satisfied.
Beet, Goat Cheese and Walnut Salad
Step out of your usual salad rotation with this elegant, tasty salad topped with beets, goat cheese and walnuts.
Ingredients
1 10 oz. package arugula
2 small beets cooked, sliced
4 counces goat cheese
4 tablespoons chopped walnuts
4 tablespoons balsamic dressing
Instructions
Top arugula with beets, cheese, walnuts and dressing. Mix well.
Nutrition
Calories: 141kcalCarbohydrates: 6gProtein: 2gFat: 12gSaturated Fat: 1gPolyunsaturated Fat: 5gMonounsaturated Fat: 1gCholesterol: 0.5mgSodium: 171mgPotassium: 179mgFiber: 2gSugar: 4gVitamin A: 38IUVitamin C: 2mgCalcium: 20mgIron: 1mg