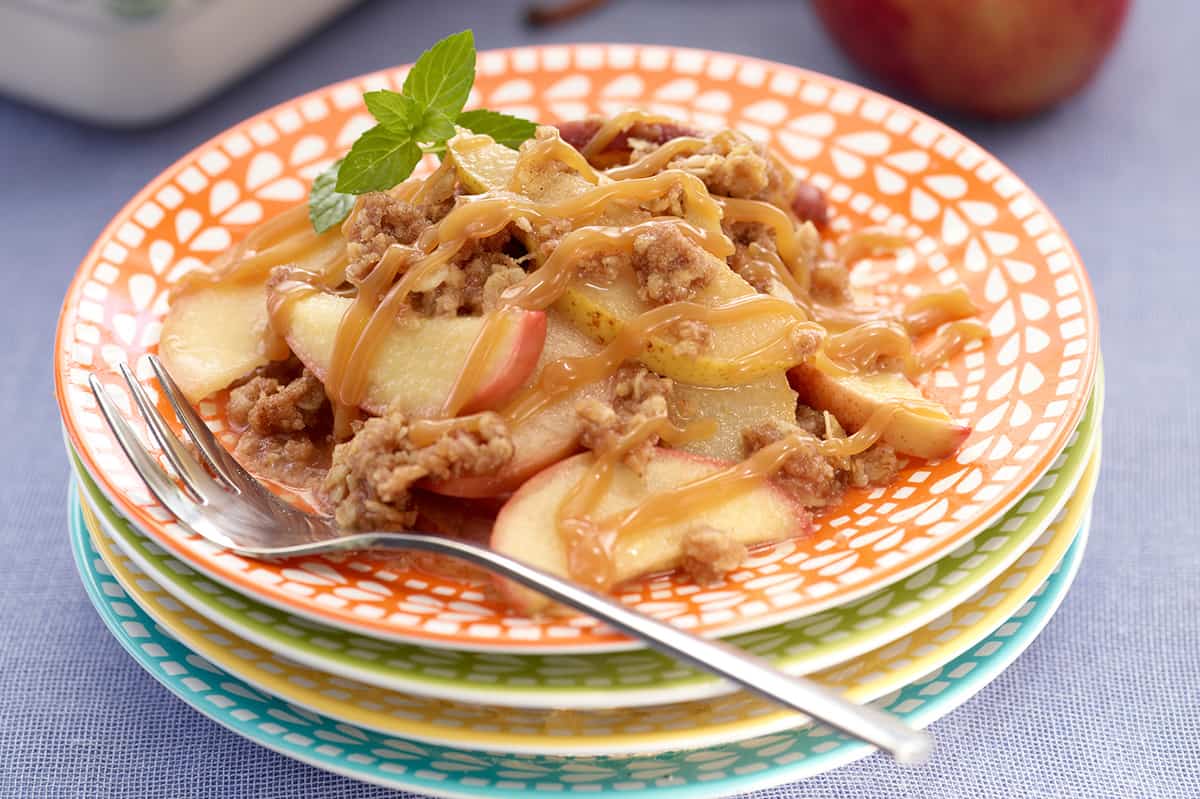 This fruit-packed dessert is perfect for holiday gatherings or special family meals.
Nutrition Tip: The phytochemicals in apples provide as much antioxidant health-protecting power as a large dose of Vitamin C.
An Apple Pear Crumble is the perfect holiday dish – it's easy to make, can be made ahead of time, and is always a hit with guests. Plus, it's a great way to use up any extra apples or pears you might have lying around.
Advice for Transporting Hot Desserts to Parties
If you're looking to impress your guests with a homemade hot dessert, there are a few things to keep in mind when transporting it to your party.
First, use an insulated container to keep the heat in. This will help ensure that your dessert arrives at its destination intact and still hot.
Alternatively, you could make sure the dessert is completely cooled before packing it up. Then, pop it in the oven prior to serving.
Secondly, pack any necessary serving utensils with the dessert so you're not scrambling at the party begging your hostess for something to serve it with.
Finally, if you are opting to bring a topping like whipped cream or ice cream along with it, be sure to pack it completely separate from your hot dessert and with plenty of ice!
How Long will The Apple Pear Crumble Last?
Like most desserts, it will last in the refrigerator for about four days. But, while it may be tempting to put your dessert in the fridge as soon as it's done so you can save it for later, that's not always the best idea. Here are two important reasons why you should let your holiday desserts cool completely before putting them in the fridge.
First, if you put a hot dessert in the fridge, it can raise the temperature of the whole fridge and cause other food to spoil.
Second, putting it in the fridge while it's still warm can cause condensation to form on the surface of the desert and make it soggy.
How Fresh Should My Fruit Be?
You want your apples and pears to be ripe, but not "too ripe"
When it comes to holiday desserts, we all want them to look and taste their best. But how fresh should our fruit be before using them in our desserts? Here are a few tips to help you out.
First, take a look at your fruit. If it looks wrinkled or has spots on it, then it's probably not going to taste very good. However, if it looks nice and plump, then it should be fine to use.
Next, give your fruit a smell test. If it doesn't smell very fresh, then it probably isn't and you shouldn't use it in your dessert. However, if it smells nice and fruity, then it should be fine to use.
Finally, give your fruit a taste test. If it tastes bad, then don't use it in your dessert.
How to Extend the Shelf Life Of Your Fruit
If you want your apples and pears to last longer, there are a few simple things you can do. First, store them in a cool, dry place. A fridge is ideal, but if you don't room, a cool cellar or pantry will also do the trick. Second, keep them far away from other fruits and vegetables. Apples and pears give off ethylene gas, which can cause other produce to ripen too quickly. Third, check on them regularly and remove any that are starting to go bad. By following these simple tips, you can extend the shelf life of your apples and pears by several days or even weeks.
Make sure to Pin It!
More recipes to try:
Caramel Pear & Apple Dessert Nachos