Food Rx: All About Pumpkins
Welcome to All About Pumpkins Food Rx with Jessica DeLuise, PA-C, CCMS, a physician assistant and culinary medicine specialist! This series will focus on the important role food plays in our overall health, plus we'll be sharing kid-friendly recipes to add more fresh produce to your family's diet. Today we are leaning all about pumpkins.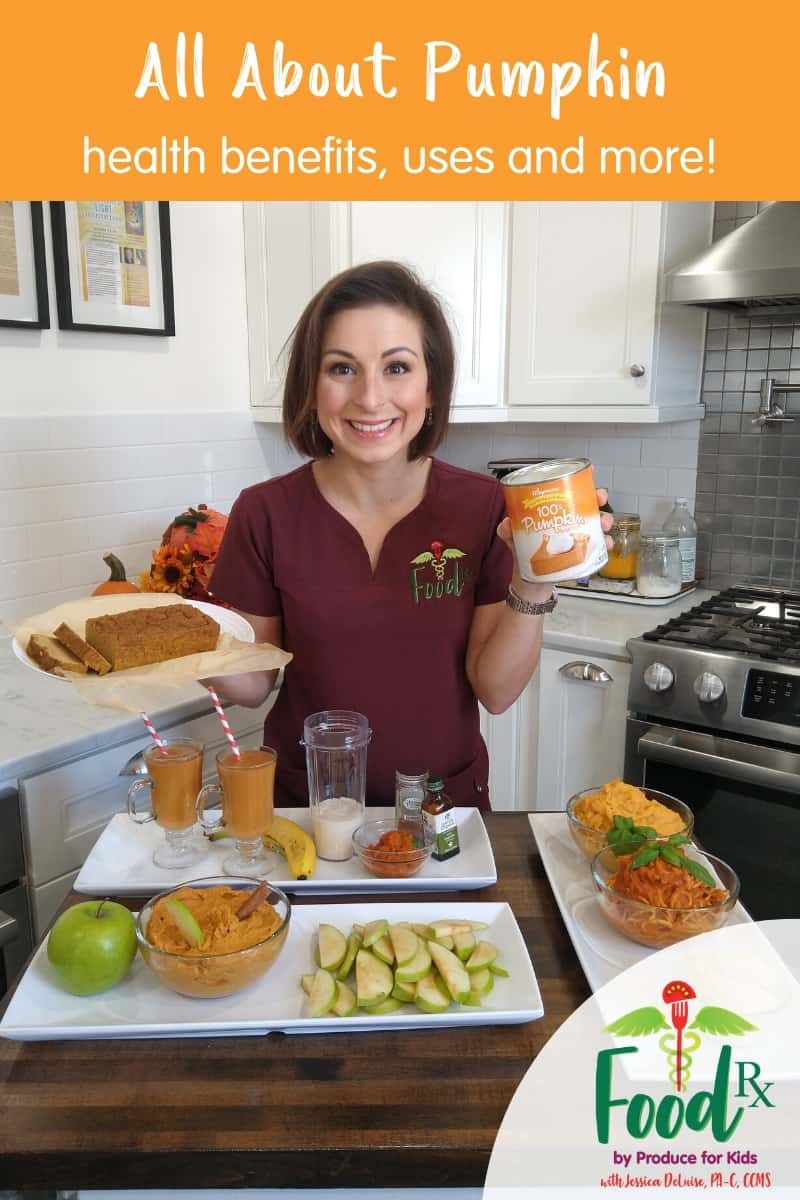 While we all love our pumpkin decorations and lattes, pumpkins offer tons of nutrients that aid in immune system function, is collagen-building, and supply plenty of vitamins. In the latest Food Rx live, Jessica shares pumpkin health benefits, uses, and a few delicious recipes.
The Rx
Get a high dose of fiber, vitamin C, and vitamin A by consuming more pumpkin!
Pumpkin Health Benefits
Pumpkin is rich in fiber!
There's 4g of fiber in ½ cup of canned pumpkin. Here's how much fiber you should aim for:
Women under 50 should consume 21 to 25 grams per day.
Men under 50 should consume 30 to 38 grams per day.
Children 1- 18 years need anywhere from 14- 31 grams per day depending on their age and gender.
Pumpkin contains beta carotene
Beta carotene is converted to vitamin A in the body. Vitamin A is essential for eye health, and specifically NIGHT VISION. The vitamin A that pumpkin provides can help fight viruses, bacteria, and other pathogens.
Pumpkin contains Vitamin C
There is Vitamin C in pumpkin, which aid immune system function, healing, collagen formation, AND absorption of NON-HEME iron (plant based iron). Children ages 1- 18 years old need anywhere form 40-75mg of Vitamin C per day, and 1 cup of pumpkin has about 10 mg!
Pumpkin helps hydrate us!
Besides being packed with vitamins and minerals, pumpkin is also relatively low in calories, as it's 94% water… SO it's a food that can HYDRATE us as well as nourish us.
Ways to Use Pumpkin
Natural Face Mask
Pureed pumpkin can be used as a natural face mask that helps exfoliate the skin and soothes it too. Here is a easy pumpkin face mask recipe to try at home:
Mix 2 1/2 Tbsp. pumkpin, 1 Tbsp. plain yogurt, 1 Tbsp. manuka honey, ½ tsp. lemon juice and apply to face for 12-15 minutes until mask begins to harden then rinse.
Healthy Cooking & Baking Swaps Using Pumpkin
In your baking recipes, swap the SAME amount of pureed pumpkin in for any oil or melted butter. Swap out added cream in sauces like alfredo, mac and cheese, or cream of mushroom in pot pie recipes.
For cheesecakes, add HALF the recommended amount of cream cheese and add replace the other half with pumpkin puree. It will soften the cake and reduce the saturated fat content, reduce overall calories, and add a seasonal flare!
Smoothies
Add pumpkin to soothes for a fun way to get veggies into your body at the beginning of the day. Here is a great Pumpkin Smoothie recipe:
1/2 cup pureed pumpkin
1 large carrot, chopped
8 oz. milk of choice (unsweetened)
1/4 cup yogurt
1/2 tsp. cinnamon
Here are a few more healthy smoothies with pumpkin: Fruity Pumpkin Pie Smoothie and Healthy Pumpkin Apple Pie Smoothie.
More Pumpkin Recipes to Try!
Pumpkin Waffles or Pancakes
Treat the family to an extra special weekend breakfast with this recipe, perfect for waffles or pancakes. Made with simple ingredients you probably already have stocked in your pantry.
Ingredients
1 1/2 cup brown rice flour
1 Tbsp. pumpkin pie spice
3 tsp. baking powder
1/2 tsp. baking soda
1/8 tsp. salt
2 large eggs
1 2/3 cup milk
1 cup pumpkin puree
1/4 cup melted coconut oil
3 Tbsp. coconut sugar
Directions
Mix flour, pumpkin pie spice, baking powder, baking soda and salt in large bowl. Set aside.
Beat eggs in separate bowl. Add milk, pumpkin puree, oil and sugar. Mix well.
Fold dry ingredients into wet ingredients. Don't overmix.
Heat a waffle iron or griddle. Add 1/4 cup of mix to make waffles or pancakes (for pancakes, flip once bubbles form on top of batter)
Here is another yummy Pumpkin Pancake recipe to try: Easy Pumpkin Spice Pancakes.
Pumpkin Tomato Sauce
Making homemade pasta sauce doesn't have to be a laborious process! With a few simple ingredients, you can whip up a flavor-packed sauce that is loaded with nutrients and sure to be a hit with the family. Freeze leftovers for a quick dinner in a pinch.
Ingredients
2 Tbsp. olive oil (not extra virgin)
4 cloves garlic, minced
1 medium onion, chopped
3 fresh sage leaves, minced (or 1 tsp. dried)
1 Tbsp. fresh basil, minced (or 1 tsp. dried)
1/2 tsp. salt
4 cups pumpkin puree
1 (26 oz.) can crushed tomatoes
Directions
Heat oil in large sauce pan over medium heat. Add garlic and onions, and cook 5minutes, or until the onions are translucent. Add sage, basil and salt. Add pumpkin puree and crushed tomatoes, and stir to combine. Simmer over low to medium-low heat 20 minutes, stirring occasionally.
Serve over noodles with protein of choice.
Pumpkin Bread
Ingredients
2 cups almond flour
1/4 cup sugar
2 Tbsp. pumpkin pie spice
1 tsp. baking powder
1/4 tsp. pink salt
3 large eggs
1 cup milk
1/2 cup pumpkin puree
1/4 cup olive oil
1 tsp. vanilla extract
Directions
Preheat the oven to 350F. Grease loaf pan and set aside.
Mix flour, sugar, pumpkin pie spice, baking powder and salt in large bowl. Set aside.
Beat eggs in seperate bowl. Add milk, pumpkin puree, oil and vanilla. Mix well.
Fold dry ingredients into wet ingredients. Don't overmix.
Pout batter into prepared pan.
Bake 50-55 minutes, or until toothpick is removed easily.
Do you like cooking with pumpkin? Did you know that pumpkin was so good for us?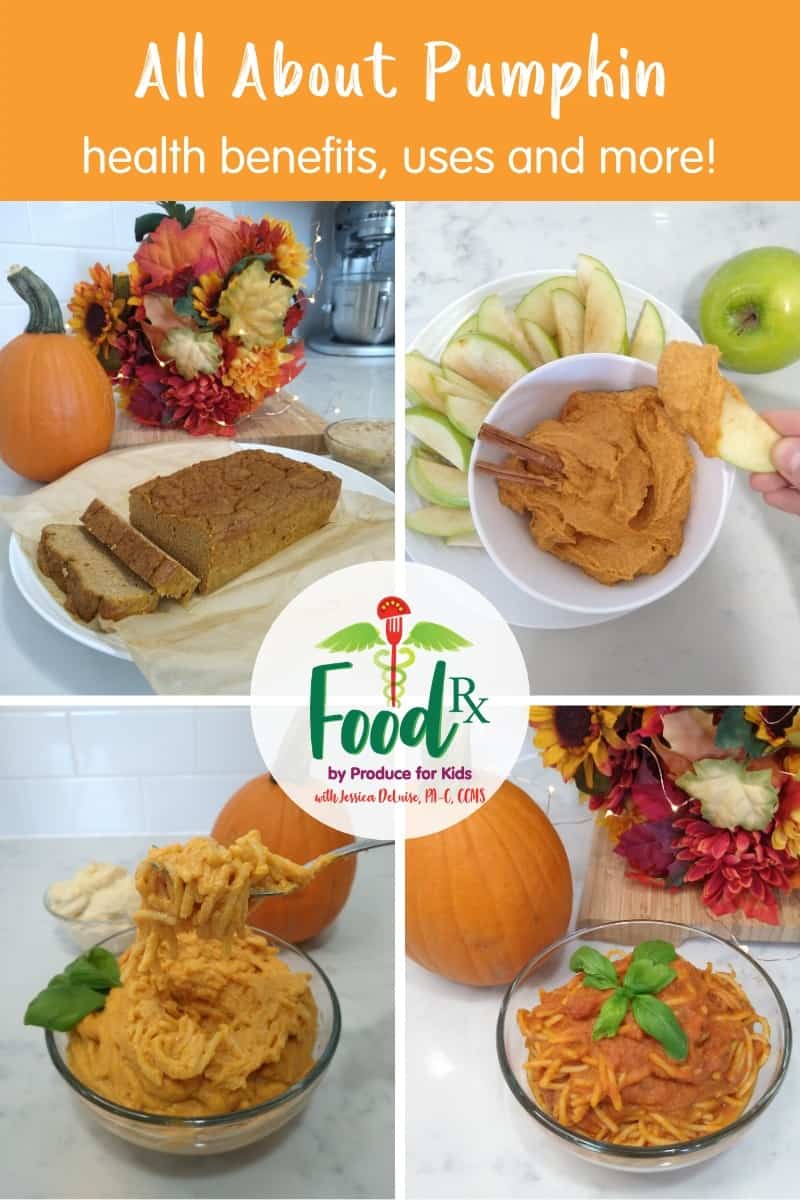 Disclaimer: Before making any health or diet changes, please consult your doctor. The information shared as part of Food Rx is meant to be informative but not replace medical advice from your doctor.
Looking for more healthy pumpkin recipes?