Episode 81: Tech Tips & Apps That Make Life Easier
On this episode of the Healthy Family Project Podcast, we're joined by Jennifer Johnstone Lopez to chat all things tech tips and how we can use apps, platforms, and cool gadgets to make life easier! Jennifer is a wealth of knowledge and shared tons of apps she uses to maximize her limited free time and be super efficient when it comes to things like everyday tasks, meal planning, house chores and more.
One recurring thread in so many of my conversations with friends, colleagues and fellow parents is too many to-dos and not enough time. When you're juggling a million responsibilities, it's natural to want to find tools to help but it can be difficult to wade through the crazy amount of options available. We're here to offer a great foundation for lots of pain points we face in our everyday lives like efficient meal planning, staying on top of tasks, and managing our homes.
Our guest, Jennifer, is the definition of techy and she's tested tons of apps and different systems to bring us the creme of the crop when it comes to tech tips and apps that make life easier. Plus, she offered some really great insight on digital decluttering. It's not enough to find the right apps, but also cut down on all the noise by eliminating the ones that aren't serving you. This cuts down on the app and notification overload.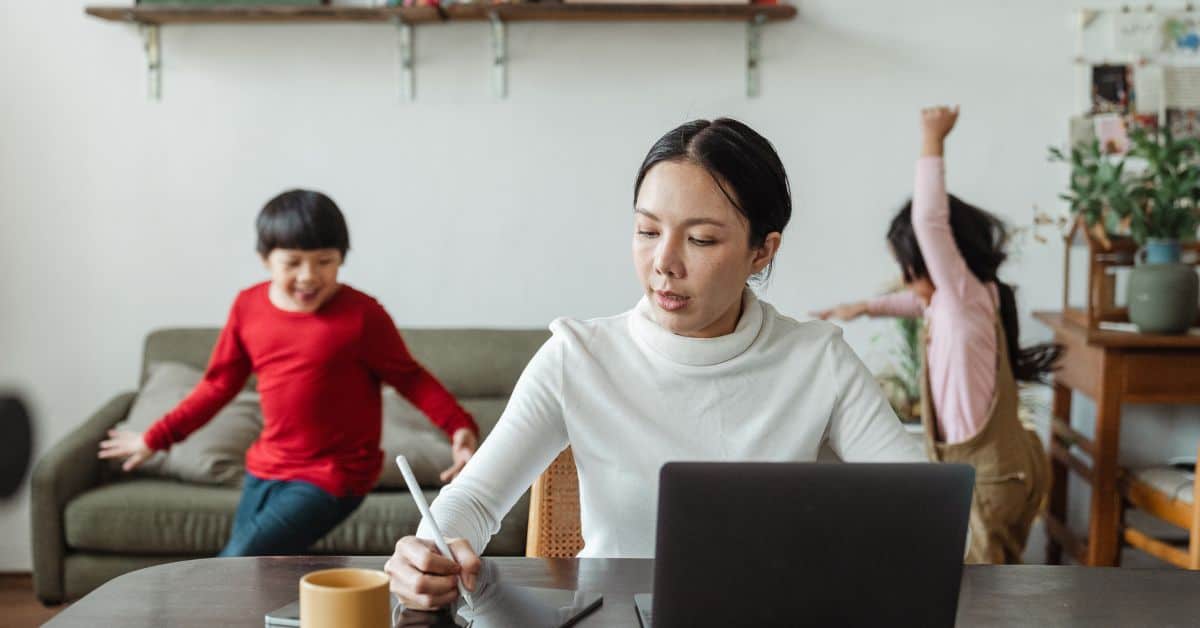 About Our Guest, Jennifer Johnstone Lopez
Jennifer Johnstone Lopez is a mother of three, Cameron (3), Caroline (2) & Carly (1), and wife to a serial entrepreneur, Ricky. She is also an international award-winning digital marketer, and co-founder and managing partner of Jalapeño Digital, a 7-figure ad agency lovingly deemed her "fourth child." Jennifer loves to cook, entertain and tell stories. Why I Cried: Tales from Hysterical Pregnant Women is her debut (hilarious) book, though she is credited with many other published works including articles and blogs in her field, as well as poetry dating back to 2002. Much of the proceeds from the book go back to supporting Postpartum Support International (psi.org). In 2022, she is slated to publish the next book in the series called "Why I Laughed: Tales from Talkative Toddlers"
Jennifer's mission is to help women see the joy in pregnancy & motherhood. To remind them to take time to breathe, laugh at themselves, laugh with their kids and find camaraderie among other moms, encouraging them to build a strong tribe. Also, since she has a background in digital marketing, she is up to speed on a lot of tech that mothers might not even know exists, and loves sharing all about tech resources that simplify motherhood – everything from apps to getting a load of laundry done, to the best resources out there to meal plan and prep.
Listen to Tech Tips & Apps That Make Life Easier
What We Cover:
Want to skip straight to a hot topic? See timestamps below. But of course, we recommend listening all the way through to get all the great tips and tricks!
2:14 Get to know Jennifer
4:48 What technology have you come to rely on as a parent?
6:27 Task management apps and platform
11:30 Jennifer's favorite home automation tools and apps
16:10 Self-care app recommendation
18:35 How to cut through the noise & avoid "digital clutter"
26:50 Tips for managing the overload of photos we have on our phones
32:34 Apple Air Tags
39:01 Jennifer's books
42:56 What does a healthy family mean to you?
Relevant Links
Other Podcast Episodes to Check Out:
Healthy Family Project Facebook Group
Join our Healthy Family Project Facebook group! This group will serve as a safe space for parents and caregivers to talk all about raising a healthy family – from dealing with a picky eater and tips to get more fruits and veggies onto plates to exercising as a family and mental health. We welcome all of you to join in!
Listener Survey!
Thank you so much for supporting the Healthy Family Project Podcast! We'd love it if you could take 5 minutes to let us know how we can bring you the best possible content for future episodes. Take the survey here.
---
Healthy Family Project Podcast
Conversations covering hot topics in the world of health, food and family with a dose of fun. Helping families ease their way into a new fresh and healthy world.
Be on the lookout for new bi-weekly episodes and don't forget to subscribe on Apple Podcasts, Google Podcasts, Spotify or your favorite podcasting site. If you like an episode, make sure to leave a rating and comment.
If you are interested in being a guest on the Healthy Family Project podcast, contact amanda@healthyfamilyproject.com with your topic idea for consideration.