13 Of The Best Apps for Parents
Life is busy. Parenting is hard. But there are tools out there that can help! We gathered a list of more than 10 of the best apps for parents. Be sure to leave a comment with your favorite!
Parenting can be a full-time job, but with technology at our fingertips, when can get a little help. Now, I know the last thing we all need is another excuse to be on our phone, but let's face it, life is crazy busy, so if there are some apps out there that can help keep us on track, keep the kids on track, and even help with anxiety and stress, I figured I should share them. We could all use some help, right?
Before I get into sharing the best apps for parents, one of the things that really helps in my house is meal-planning. Since all the apps below are designed to help us navigate the parenting world, I wanted to point out one thing that really helps me, that isn't an app. Meal planning.
Meal time is a constant struggle; from offering variety (who wants that casserole, again?!), finding something everyone likes, to making sure you get in enough fruits and vegetables, to figuring out the rising prices at the store. And we struggle with it too! We get it! So, let us help.
What is meal planning?
Meal planning is simply planning out the meals that you would like to make. I have found that if I sit down and do this on the weekend, I am much more efficient. It helps running to the store throughout the week and it helps save money.
How do you decide what meals to make?
There are countless options online, maybe too many! It can be overwhelming. Check out these Meal Planning Tips and listen to this Meal Planning podcast. One of my #1 tips is to always plan for a leftover night and a night off. Planning for a leftover night helps reduce food waste and having a night off allows everyone to not feel guilty for not cooking one night.
I also recommend buying ingredients that you can use in several meals throughout the week. My family loves rice, so we typically make a big batch on Monday and use it for meals throughout the week. And we always have RealSweet sweet onions in the pantry. I use them in breakfast, lunch and dinner most days 🙂 Not only because they taste great and add flavor to every meal, but onions have many health benefits. Did you know that sweet onions help boost the immune system and helps gut health? Yep!
Help! How do I get started meal planning?
I got you! Don't worry! Grab this FREE Printable Meal Planner. It has everything you need in one place. You can even download it to your phone so that you always have it with you.
Now that we tackled one of the biggest parts of our days as parents…feeding everyone…let's get back to those apps that can help us with the rest of our day.
Of course there are thousands of apps out there, and no, we haven't tested them all, so we would love for you to share your favorite apps in the comments so we can get them added to our list.
Not a parent? Be sure to cruise through this list too, there are some great apps on here that you will appreciate too!
Here are the Best Apps For Parents
Calm
Frequently described as "the world's happiest app" , this app creates unique audio content that strengthens mental fitness and tackles some of the biggest mental health challenges of today: stress, anxiety, insomnia, and depression. The most popular feature on Calm is a 10-minute meditation called, 'The Daily Calm,' that explores a fresh mindful theme and inspiring concept each day. Calm also contains 250+ Sleep Stories (bed-time stories for all ages), plus sleep music, meditation lessons, nature sounds, Calm Masterclasses delivered by world experts, and more. Our VP, Trish, uses this app…multiple times a day. Calm is her #1 recommended app!
Cost: You can try it for free, then there are costs for a subscription.
Google Maps
This app is essential for parents who want to keep track of their kids' whereabouts. You can add notes and map out routes so you always know where your kids are. You do have to make sure the location sharing is turned on on your child's devices. My phone came with Google Maps on it.
Download on Google Play or App Store
Cost: Free
Life360
I downloaded this app the moment my son started to drive. It tracks where you and your family members are, you can even see how fast they drive. We also get notices when the kids' phones are low on battery on their phones. Nothing really prepares you for when the kids start driving – it's nerve-wracking – but having this app helps us feel a little better. It also alerts you when your child comes and goes from the house.
Cost: Free. But there are upgrades available at a cost.
Instacart
Well, between the happenings over the last few years and life getting busy, getting groceries delivered can be a huge time-saver. We love that Instacart is always having deals, and they partner with one of our favorite grocery stores, Publix. Don't forget to stock up on your meal planning favorites: RealSweet Onions, fruits and veggies.
Cost: Free to download. Groceries are not free.
iHeart
You can listen to all your favorite podcasts (don't forget to subscribe to the Healthy Family Project Podcast), radio stations, and music.
Cost: Free. There are upgrades available for a cost.
Insight Timer
This app has a multitude of features that make it an ideal tool for meditation, help with sleep, anxiety and stress. It has a built-in timer, so users can set how long they want to meditate for and it will notify them when their time is up. It also has a bell sound that users can choose to ring at the end of their meditation or they can choose one of the many other sounds that the app offers. Insight Timer also allows users to share their meditation with others, which can be helpful for those who are just starting out. Additionally, the app keeps track of how often you meditate and how long you have been doing it for, so you can see your progress over time.
There is a LOT available within this app, from celebrity input, events, workshops and so much more.
Cost: Free
BetterHelp Online Counseling
BetterHelp is the world's largest therapy service. And you can do it all online. So, you can talk to someone when you need it.
This service offers a wide range of benefits, including:
A large selection of licensed counselors to choose from.
A variety of communication methods, including chat, phone, and video sessions.
Affordable prices, with discounts available for extended sessions.
A confidential and secure platform that protects your personal information.
24/7 customer support in case you have any questions or problems.
Cost: There is a cost to use this service.
ArtKive
As a parent, it's likely that you have mountains of artwork created by your little one. From crayon drawings to finger paintings, there's just so much of it! With Artkive, an app designed specifically for parents, you can digitally store all of your child's artwork and share it with family members who will no doubt enjoy seeing their creativity shine. Plus, you can access your Artkive account from anywhere in the world, so no one has to miss out on the fun.
Cost: Free. If you decide to purchase items/gifts, those are available at a cost.
Bark Parental Control App
Bark helps families manage and protect their children's online lives. They monitor 30+ of the most popular apps and social media platforms, including text messaging and email, for signs of digital dangers. Their screen time management and web filtering tools help you set healthy limits around how and when your kids use their devices.
Cost: You can get a free trial, then there is a fee.
The Happy Child
There's a new app on the market that is designed to help parents increase the long-term happiness of their child. The app, called "The Happy Child," is free to download and offers bite-sized lessons each day.
The Happy Child was created by two psychologists who wanted to give parents an easy way to learn about the latest research on happiness and how to apply it to their own lives. The app covers a range of topics, from gratitude and optimism to self-compassion and relationships.
One of the things that makes The Happy Child so unique is that it offers parents access to experts in the field of happiness. Parents can submit questions directly to the experts, and they also have access to a private forum where they can connect with other parents who are using the app.
Cost: Free
Yuka
Yuka is an app you can use to scan food and beauty (personal care) products to get clear information on the health impact of the products you consume. I struggle to find healthier alternatives and safe products for my family. This app makes it super easy to do just that. I actually just learned about this app from our team member, Andrea, who scans every food and beauty item now. It compares and educates you on products quickly and easy. She also loves that it simplifies finding safe items for my son who has food allergies. I don't purchase anything without scanning it first!
Cost: Free
Any.do
Any.do is an all-in-one app that was built to help you manage your life including calendar, tasks, lists, reminders and a smart assistant that can take care of your tasks for you. Any.do is always in-sync across all your devices. Andrea also told me about this one, she needed an app to organize her life and Any.do did just that. It keeps her organized with her work schedule and her kids crazy sports schedules. It's completely user friendly. It syncs with gmail which makes it convenient when you are working on my computer. You are able to share it with family members so they can all use the "to-do" application along with family calendar. Andrea's favorite feature is making her shopping list with Alexa.
Cost: Free. But there is a Premium version that you can get for as little as $2.99 per month.
Habit
Habit is a habit tracker app that helps you to build good habits and reach your goals. It will remind you when needed, track habits with stats and notes. The habit tracker app is really easy to use and customizable for your needs. You can set up daily, weekly, and monthly habits and track your progress on them. This can be anything from meeting your daily water intake goal to house chores or weekly exercise. It allows you to set reminders and has lots of options for widgets so you can have a visual reminder of your tracker front and center on your home screen. For kids who have phones or tablets, it could be a good way for them to keep track reading, their weekly chores, exercise and more. Grace uses this app and loves it!
Download in App-Store or Google Play
Cost: Free
We actually just recorded a podcast that is all about apps and tech tips that make life a bit easier, if you are looking for even more ideas, be sure to give it a listen!
Listen to Tech Tips & Apps That Make Life Easier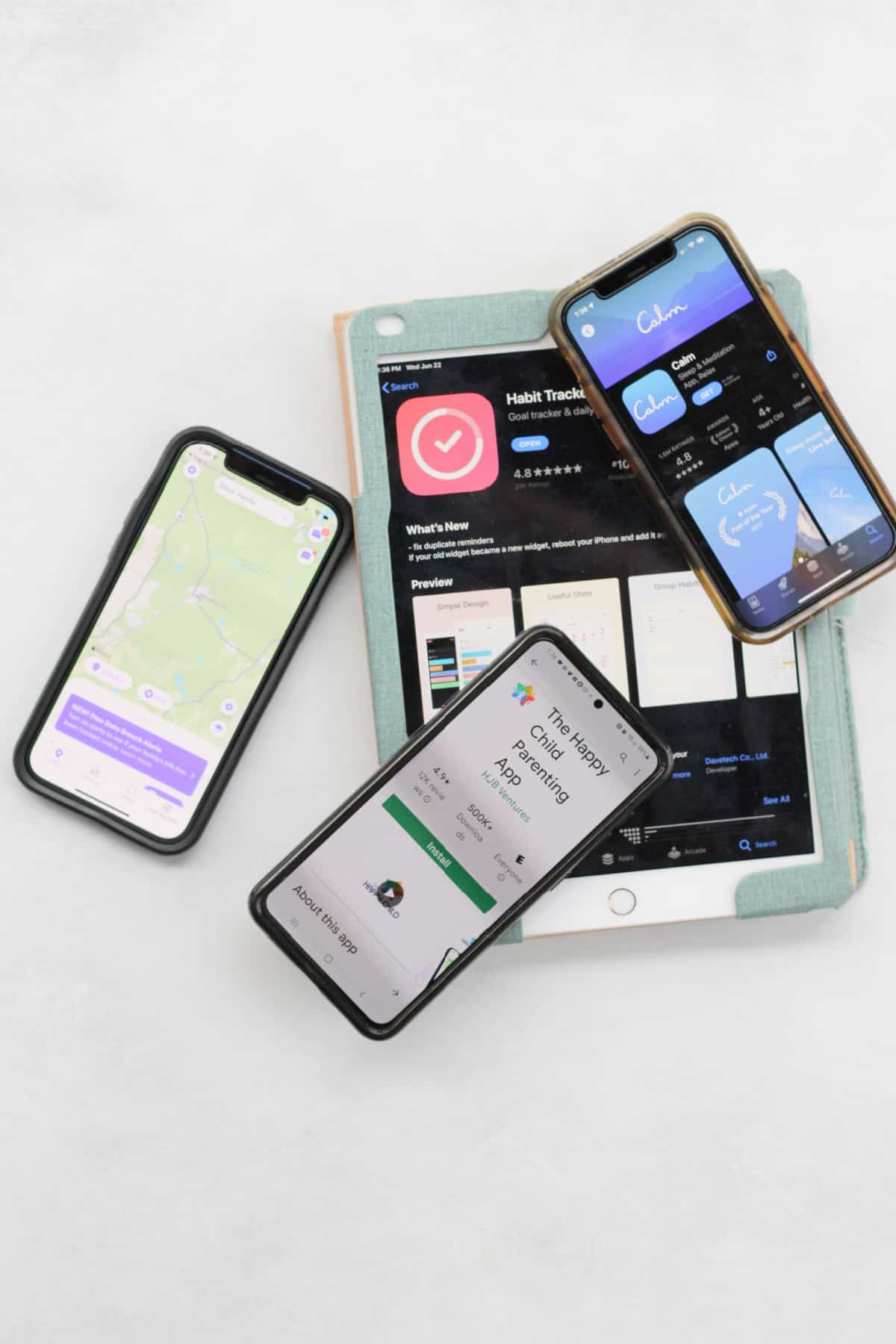 What is one of your favorite apps to use as a parent?