How To Make Freezer Friendly Breakfast Burritos
These freezer friendly breakfast burritos are easy to make and the perfect way to mornings easier! Loaded with protein and reheated in just minutes, this easy breakfast idea will keep the family fueled all morning.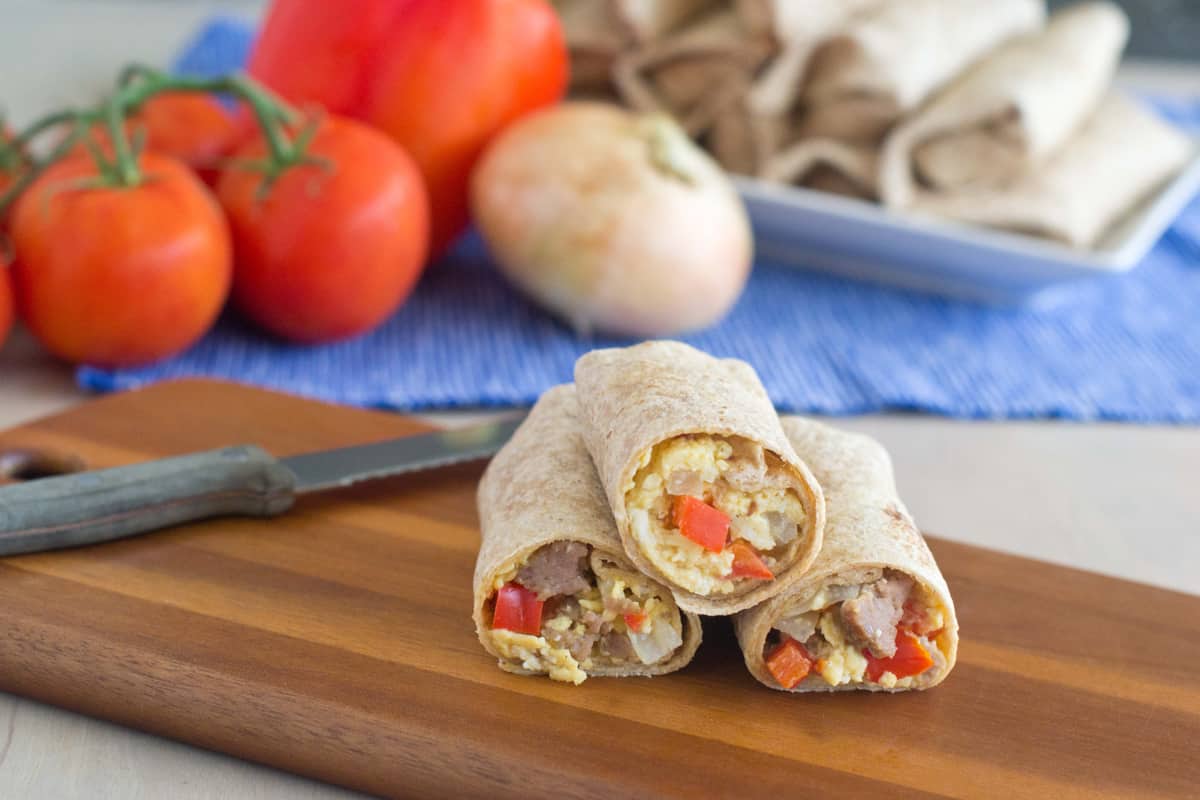 Mornings are a whirlwind of activity in my house. And not just on weekdays. Yes, school starts bright and early this year…Mia is out the door before 7:00 a.m. Weekends are typically filled with tennis and whatever other family activity we can get in there. While I love relaxing family breakfast time, some days it's just not possible. Some mornings we have about 5 minutes before someone is rushing out the door.
And that's why these freezer friendly breakfast burritos are almost always in my freezer. These Breakfast burritos are a protein-packed breakfast that's ready in 15 minutes. These have just 6 ingredients and are a healthy breakfast.
These protein-packed breakfast burritos can be made ahead of time and frozen for easy reheating and eating. These tasty burritos are packed with sweet goodness! Sweet onions support heart health while sweet peppers regulate blood pressure and promote immune health.
Nutrition Tip: Research shows that eating breakfast has a positive effect on kids' behavior and academic performance. Make-ahead meals they can grab mean even early-morning breakfasts are a lot more likely to happen!
Breakfast Burrito Key Ingredients
Tortillas
Eggs
Cheese
Veggies – we use tomato, onion and bell pepper
Sausage – we use turkey sausage
One of the things I love about these freezer friendly breakfast burritos is that they are easily customizes to whatever your family likes! If you want to use a different protein, go ahead! Your kiddos don't like tomatoes? Leave em out!
Additions or Substitution Ideas
Bacon!
Chicken. We don't always think of using chicken for breakfast, but it's a lean protein that it excellent option in these breakfast burritos.
Leave out the meat for a meat-free option. Use beyond meat, tofu etc for added protein if desired.
Use dairy-free cheese for a dairy-free breakfast burrito.
Jalapenos make for a spicy addition.
Zucchini or summer squash.
Add extra protein with the addition of black beans or refried beans.
Flour tortillas.
We make 14 of these yummy make-ahead breakfast burritos at a time usually, sometimes we even make a double batch! These are seriously how I manage to get my kids to eat breakfast before they run out the door!
How To Freeze Breakfast Burritos
Once your burritos are filled, simply lay seam-side-down on a parchment-line baking sheet. Freeze 1 hour, transfer to freezer-safe zip top bag and return to freezer. You can also wrap each burrito individually in press n seal before adding them to the freezer bag if you are worried about freezer burn, but we eat ours too fast in my house for that to happen 🙂
How to Reheat Freezer Friendly Breakfast Burritos
To reheat your make-ahead freezer friendly breakfast burritos, remove from freezer, wrap in paper towel if desired and microwave on HIGH 1-2 minutes. Wrapping in dry paper towel will absorb moisture when reheating and help reduce any chance of your breakfast burrito getting soggy. Somehow mine are never soggy, but I do know some of our readers have mentioned that in the past. So, if you are concerned…wrap them in a piece of paper towel.
You can put them on a skillet to crisp them up with you would like.
Nutrition Tip: The vitamin C in these sweet peppers will help your kids absorb even more iron from the iron in the turkey, eggs, and tortilla. Iron is key during growth and development because it helps make amino acids, the building blocks of proteins.
Why we love these Veggie and Turkey Sausage Breakfast Burritos
They are ready in just 15 minutes
They are packed with protein
They are an easy way to get extra veggies into your diet
You can freeze them
I love that you can freeze these for easy breakfast meal-prep. Anything that can make that morning rush easier is a win for me.