Episode 70: How to Raise an Adult
This episode of the Healthy Family Project podcast is all about how parents can prepare their children for adulthood. We're joined by New York Times bestselling author, Julie Lythcott-Haims, for an honest conversation about how our parenting style can inspire independence and confidence. Julie shares tips for parents to help them empower their children to develop agency and a 4-step process to transition our kids from depending on us for tasks to doing it themselves.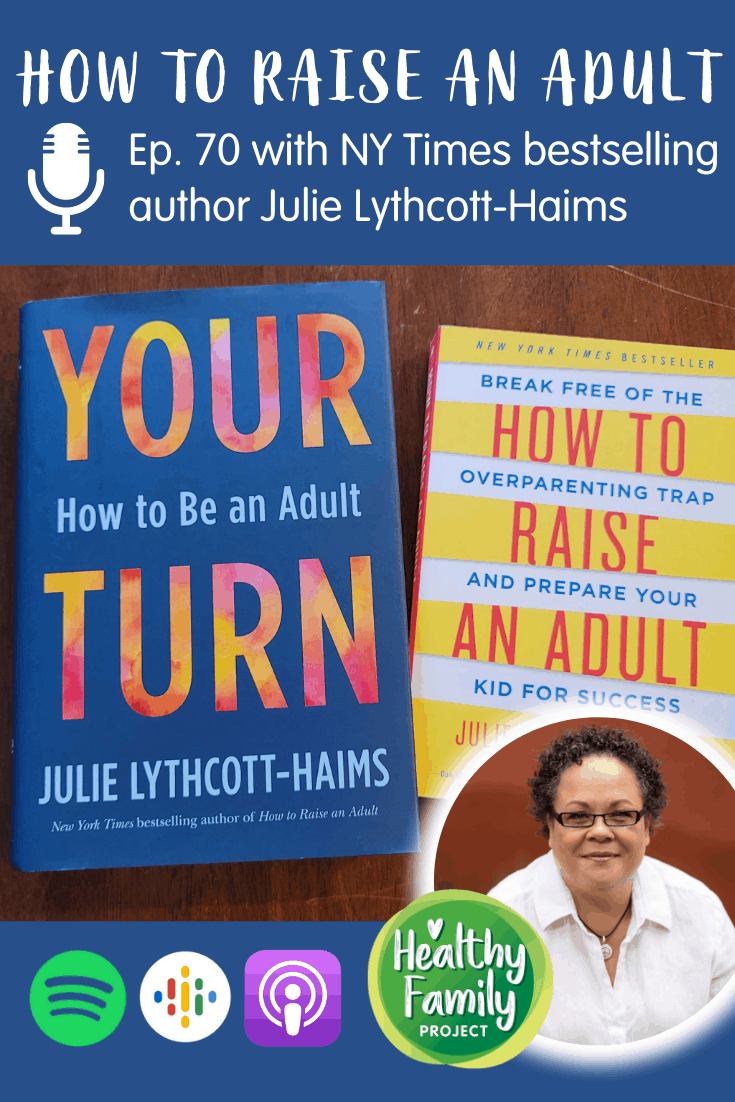 To say that parenting is hard would be the understatement of the year. Parenting is a delicate balance of keeping your children safe, providing their essential needs, helping them navigate transitional periods, and providing them the tools to help them blossom into adulthood. Raising an adult that is ready to navigate the real world can be a challenging task, but since all of us parents face it, we are excited to be sharing these helpful parenting tips.
Several years ago, Julie observed the long-term effects of overparenting while working at a university. This inspired her to publish her best-selling book, How to Raise an Adult. During our conversation, we got lots of great insights for Julie to help us break those parenting habits that make children become overdependent on us and less likely to develop anxiety.
Listen to the episode How To Raise An Adult
What We Cover:
Want to skip straight to a hot topic? See timestamps below. But of course, we recommend listening all the way through to get all the great tips and tricks!
2:36 Welcome, Julie!
3:52 What was your inspiration for writing How to Raise an Adult?
6:52 Advice for parents who want to avoid being helicopter parents
12:20 4 Step Method to Getting Kids to do things for themselves
15:26 Tips to help parents let go during transitional phases
22:40 Opportunities for teaching moments
25:30 Advice for the college arm race
30:43 Relationship between overparenting and the negative impact on confidence
34:03 Inspiration for Julie's new book
42:29 What does a healthy family mean to you?
About Our Guest, Julie Lythcott-Haims
Julie Lythcott-Haims is the New York Times bestselling author of How to Raise an Adult and Real American. She holds a BA from Stanford, a JD from Harvard Law School, and an MFA from California College of the Arts. She resides in the Bay Area with her partner, their two itinerant young adults, and her mother.
Relevant Links
Check out Julie's books:
Julie's Book Recommendations
Other Podcast Episodes to Check Out:
Healthy Family Project Facebook Group
Join our Healthy Family Project Facebook group! This group will serve as a safe space for parents and caregivers to talk all about raising a healthy family – from dealing with a picky eater and tips to get more fruits and veggies onto plates to exercising as a family and mental health. We welcome all of you to join in!
Listener Survey!
Thank you so much for supporting the Healthy Family Project Podcast! We'd love it if you could take 5 minutes to let us know how we can bring you the best possible content for future episodes. Take the survey here.
---
Healthy Family Project Podcast
Conversations covering hot topics in the world of health, food and family with a dose of fun. Helping families ease their way into a new fresh and healthy world.
Be on the lookout for new bi-weekly episodes and don't forget to subscribe on Apple Podcasts, Google Podcasts, Spotify or your favorite podcasting site. If you like an episode, make sure to leave a rating and comment.
If you are interested in being a guest on the Healthy Family Project podcast, contact amanda@healthyfamilyproject.com with your topic idea for consideration.