6 Healthy and Delicious Ways To Prepare Sweet Potatoes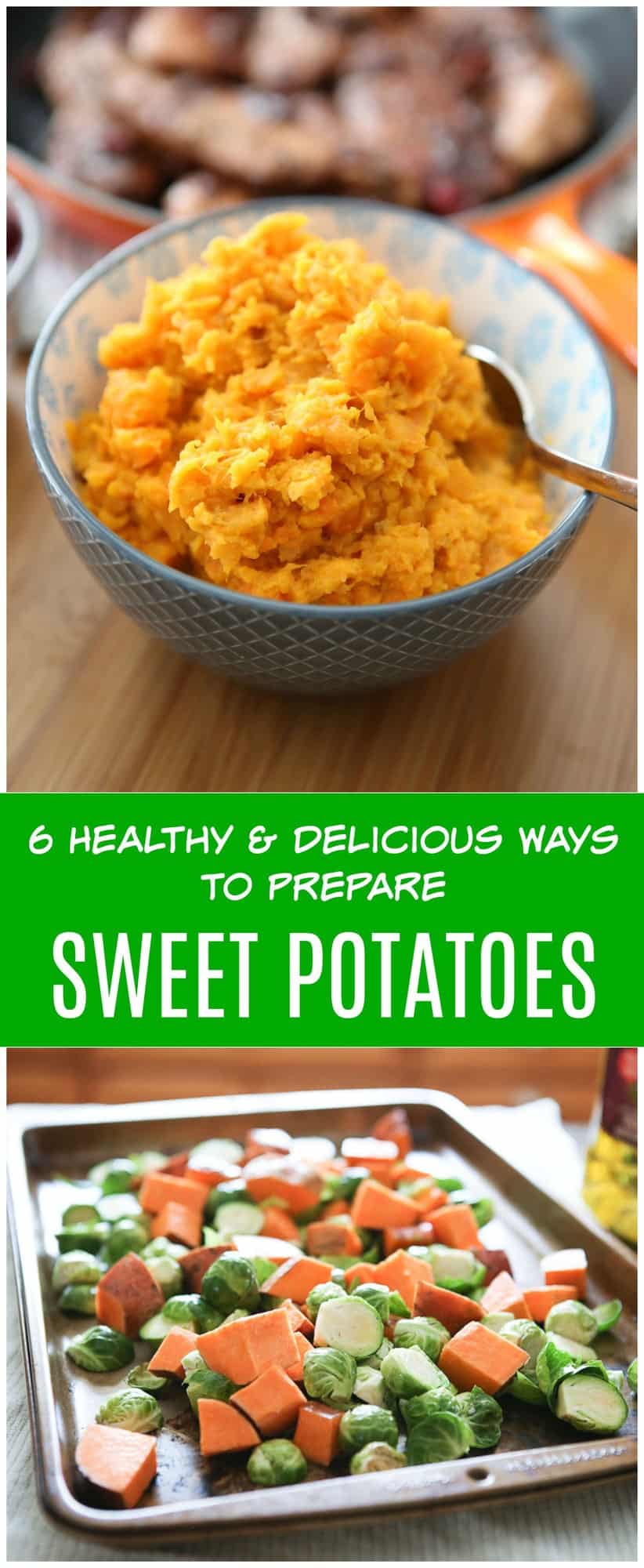 Sweet potatoes are a vegetable you can always find in my kitchen. Knowing that they are one of my family's favorites, I try to include them in our meals regularly. I've prepared sweet potatoes in so many different ways over the years, the ideas are truly endless. I figured I would share these 6 Healthy and Delicious Ways To Prepare Sweet Potatoes with you.
Whether you are baking, roasting, mashing or turning them into fries, there are plenty of ways to keep your family on their toes with this tasty root vegetable.
What we love about Sweet Potatoes
Did you know sweet potatoes contain a high amount of Vitamin A, a key nutrient in vision health, bone development and immune function? Yes sweetpotatoes are a starch but they are a healthy one at that.
Sweet potatoes also contain many antioxidants which can help to protect cells from damage caused by free radicals. The nutrients in sweet potatoes also help to reduce inflammation in the body and can be beneficial to those who suffer from conditions such as arthritis.
Get more tips on how to select, prepare and store sweet potatoes here.
6 Healthy and Delicious Ways To Prepare Sweet Potatoes

#1 Baked Sweet Potatoes
Baked sweet potatoes are always a hit simply served with a pat of butter and some cinnamon. There are a few different ways to prepare baked sweet potatoes but this Quick Baked Potato method is my go-to way to bake sweet potatoes every time.
I also love the idea of cooking sweet potatoes in the slow cooker. These Stuffed Sweet Potatoes (pictured) look like a great way to add even more veggies to dinner!

#2 Roasted Sweet Potatoes
Roasted vegetables are a busy family's lifesaver. When I roast sweet potatoes I like to include them with other vegetables like broccoli or Brussels sprouts such as these Roasted Sweet Potatoes and Brussels with Pecans (pictured), but Simple Roasted Sweet Potatoes make a great side dish on their own.
Keep things interesting when roasting your sweet potatoes by switching up the seasonings – I love using spices like smoked paprika, chili powder and cinnamon to season up our roasted sweet potatoes.

#3 In a Hash
Sweet potato hash has become quite popular with recently with plans like Whole30 and Paleo, but I have always found them to be a delicious way to add a little sweet potato to breakfast or breakfast for dinner nights.
You can keep it simple like this sweet potato hash I often whip up or bulk it up and serve it more like a meal like this delicious looking Sweet Potato Hash with Sausage and Eggs (pictured). Breakfast for dinner just got taken up a notch with that one!

#4 In a Skillet
Skillet meals are all the craze right now, and for good reason. Who doesn't love being able to cook up an entire meal in one skillet. Adding sweet potatoes to skillet meals is a great way to bulk up a dish with nutrition and add a ton of flavor.
This Ground Turkey Sweet Potato Skillet (pictured) is one to try along with Chicken, Asparagus and Sweet Potato Skillet. This Maple Mustard Roasted Pork Tenderloin with Sweet Potatoes and Mango is prepared in one pan in the oven (try apples or pears instead of mango when in season!).

#5 In Soups
I don't always think to add sweet potatoes to soup but recently I tried this Slow Cooker Italian Sausage and Kale Soup with Sweet Potatoes and it has become a family favorite.
Adding sweet potatoes to soups and chilis give them such a unique flavor. This No Bean Turkey and Sweet Potato Chili (pictured) and Smoky Black Bean and Sweet Potato Soup are also ones to try.

#6 Mashed Sweet Potatoes
You can't go wrong with a side of mashed sweet potatoes in my opinion. I like to peel and cube them and boil in a little water until soft and mash them up right in the pot (after draining) with a little butter, salt and cinnamon.
You can bake them first in the oven, microwave or slow cooker and scoop out the insides and flavor them up like this Maple Orange Mashed Sweet Potato recipe. Or if you have an Instant Pot try these Instant Pot Carrot and Sweet Potato Mash (pictured).
Another great way to enjoy mashed sweet potatoes is to use them as a topping for Shepherd's Pie or as a filling for Vegetarian Quesadillas.
Make Sure to Pin It!
Recipes to try:
Roasted Sweet Potato Taco Bowls
Sweet Potato & Black Bean Quesadillas