3 Ways to Use the Whole Watermelon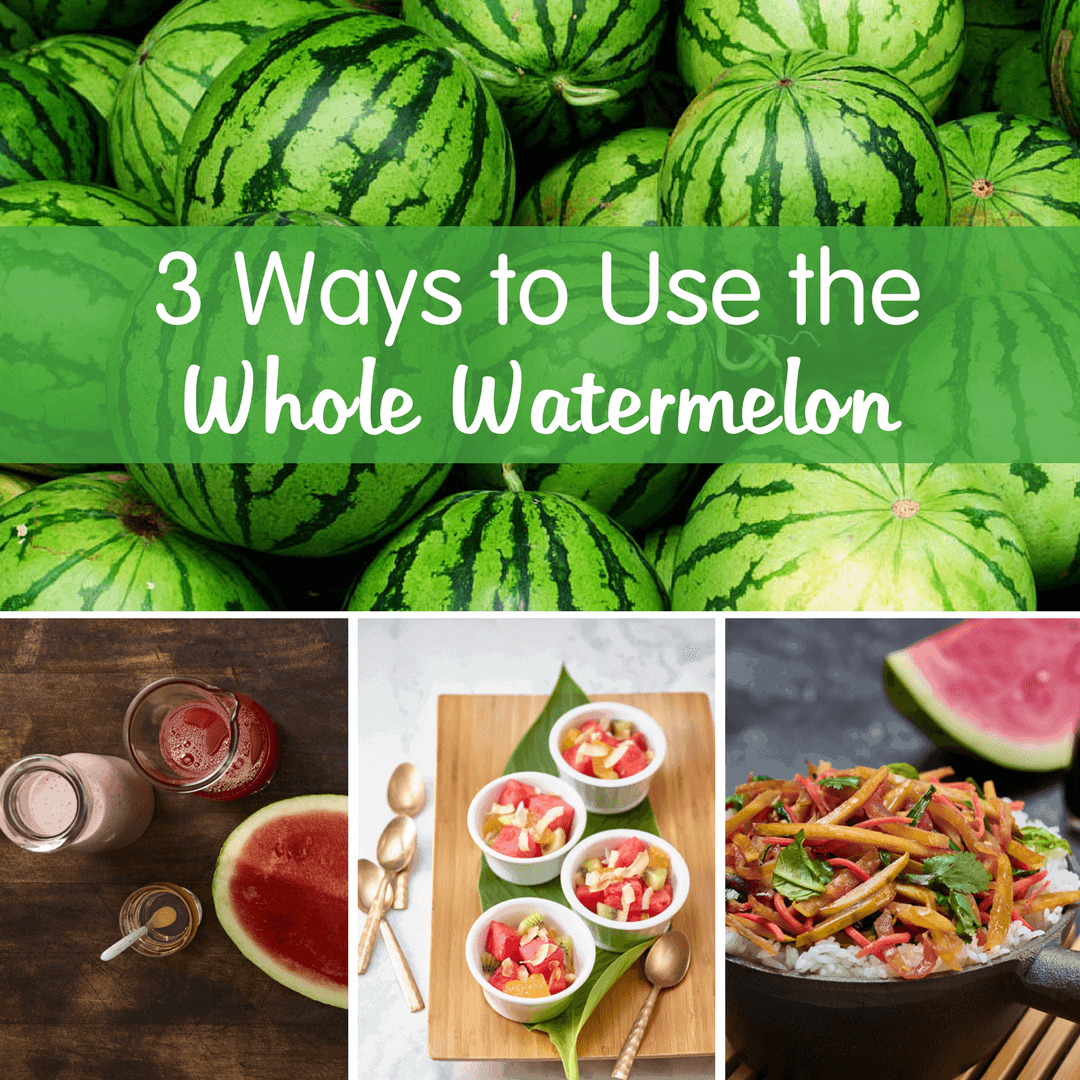 Note: The post is sponsored by the National Watermelon Promotional Board. All opinions are our own. 
It's watermelon season! Today's guest blog post comes from our friends at the Watermelon Board, who represents 1,500 watermelon growers, shippers and importers nationwide. Their goal is to promote the nutritional, culinary and convenience benefits of watermelon.
Nothing screams summer quite like a slice of refreshing watermelon! Watermelon is made up of 92% water, so it's a natural and delicious choice to stay hydrated on hot summer days. And we all know about enjoying a slice of watermelon, but did you know you could also juice it for a refreshing drink AND use the rind in recipes? We teamed up with the Watermelon Board to bring you 3 delicious ways to use your whole watermelon.
A whole watermelon can feed up to three dozen people, making it No. 1 on the list of budget-friendly fruits. Don't let your watermelon go to waste! You can use every part of the watermelon to make delicious meals, snacks and beverages all year round.
This summer, challenge yourself to #UseTheWholeWatermelon with one of these simple solutions:
Juice: Stay hydrated with watermelon. Pureeing or juicing the watermelon lets you to retain all of the nutritional value and is the perfect alternative to throwing out overripe watermelons. Drink as a stand-alone juice or create your own summertime concoctions, like a rejuvenating Rosy Red Superfood Smoothie, to help you recharge.
Flesh: Snacking on watermelon is a great way to replenish fluids during sizzling summer months (or any time of the year). Not only is it packed with essential vitamins and nutrients, but it also adds a pop of color to flavorful dishes. Enjoy a hand-held slice or try adding watermelon chunks to your favorite snacks and meals. Or, the taste of summer and pair watermelon with oranges and kiwi to create a delicious Island Fruit Salad.
Rind: Get the most out of your watermelon by saving the rind. It's completely edible and can be pickled, stewed or used as a vegetable in an ingenious Watermelon Rind Stir Fry. When cooked, the rind will soften and quickly absorb the flavor of your sauce, giving your meal a little extra oomph.
For more tips on how to pick, prepare and store watermelon, plus nutritional information, fun facts, recipes and more, visit our Watermelon Produce Tips page.
Are you more of a juicer or do you prefer a sweet slice? Or perhaps you're a watermelon pro and have mastered the rind? Show us how you're using watermelon this summer by using #UseTheWholeWatermelon!