Homemade Turkey Sloppy Joes
Kids can be messy eaters, but here's one recipe that's meant to be sloppy! The veggies and homemade sauce cut down on the sodium level while pumping up nutrition in this classic sloppy joes recipe.
These sloppy Joes are even better than the canned version. We use ground turkey to help cut down on saturated fat, add in veggies like peppers and onions, and finish it off with a homemade sauce full of things you probably already have on hand.
Everything cooks together in one skillet for a quick and easy meal that the whole family will love. Plus, leftovers can be frozen to use later for a quick meal on a busy weeknight.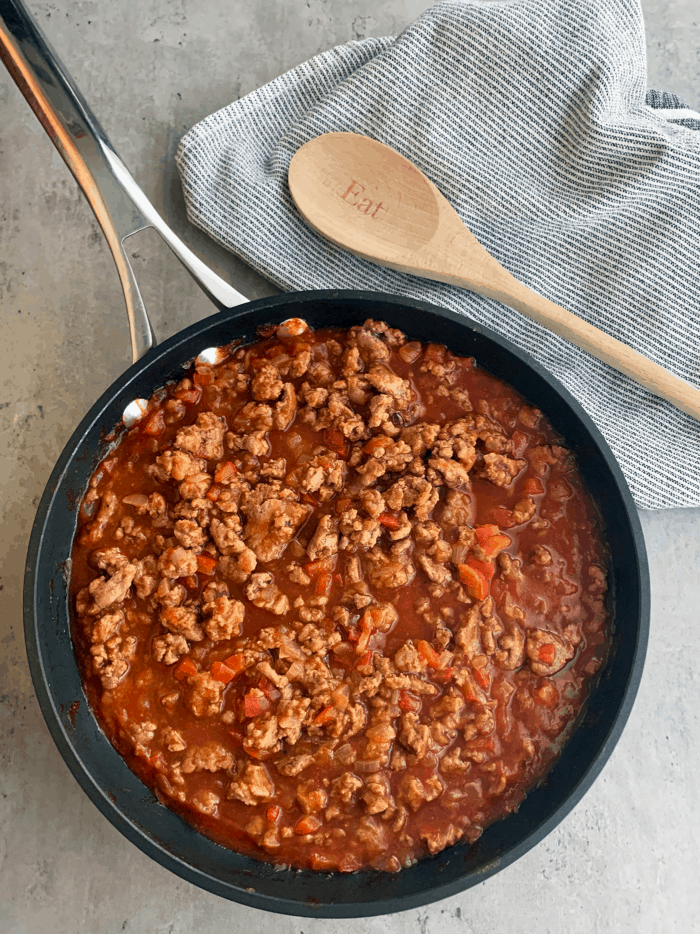 We really love this recipe with a fun broccoli slaw as a side dish. We use bagged broccoli slaw and add in sweet apples, tart dried cranberries and crunchy walnuts.. Then mix it all up with a poppy seed dressing. Easy peasy!
Our Homemade Turkey Sloppy Joes Are Made From Scratch!
We've all been there. You're in the middle of cooking dinner when you realize that your last can of Manwich expired last month. But don't worry, we've got you covered. Our homemade turkey sloppy joes are made from scratch, with no store-bought sauces in this mix! That means no added preservatives or artificial flavors, just deliciousness that you can feel good about feeding your family. Go ahead and ditch the processed stuff, because our sloppy joes are sure to please everyone at the table.
We used ground turkey instead of ground beef because we're health conscious, but also because we're cheap. We figure that if we're going to save some calories by using leaner meat, we might as well save some money too.
But it's not just about being healthy and thrifty – sometimes ground turkey can actually taste better than ground beef. When it's cooked properly, ground turkey is juicy and flavorful, making it a great substitute in all your favorite recipes.
The next time you're looking to cut down on calories or save some money at the grocery store, remember that ground turkey is a delicious and versatile option.
By the way – did you know you can get ground turkey at bulk and discount stores like Costco and Sam's Club for as much as half off the cost you'll find it at your local grocery store? When you can, plan ahead and buy from the bulk stores because the savings can be significant!
Delicious Ingredients in Our Homemade Turkey Sloppy Joes
Ground turkey isn't the only delicious ingredient in these homemade turkey sloppy joes! This yummy concoction also features: red bell pepper, brown sugar, tomato sauce, apple cider vinegar, Worcestershire sauce, yellow mustard, salt, and pepper. We know! It sounds like a lot of ingredients, but don't leave any of them out. These ingredients all come together to make that savory sauce that will give you a hit of nostalgia, but taste better and be healthier than the original.
We also paired it with the most delicious Broccoli Apple Slaw ever. Broccoli slaw, julienned apples, dried cranberries, chopped walnuts, and poppyseed dressing combine into a yummy salad that is light and refreshing. 
The best part about this entire meal is that it can come together in just 25 minutes. You can't even order a pizza and have it delivered that fast! While it can be difficult to make healthy meals for your family quickly on busy nights, this one is so easy we're betting you'll add it to your regular meal rotation. And, it can be easily doubled for a larger family or to have leftovers later in the week. That slaw will taste even better the next day too! All those flavors sitting overnight just makes them even more delicious!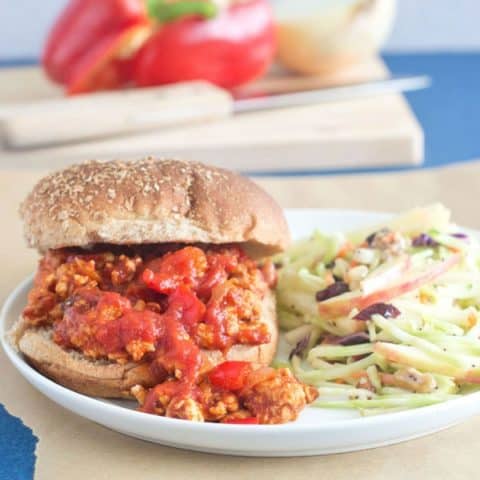 Homemade Turkey Sloppy Joes
Kids can be messy eaters, but here's one recipe that's meant to be sloppy! The veggies and homemade sauce cut down on the sodium level while pumping up nutrition in this classic sloppy joes recipe.
Ingredients
Homemade Turkey Sloppy Joes
1 tablespoon olive oil
1 pound lean ground turkey
1 red bell pepper seeded, diced
1/2 sweet onion diced
12 oz. no-salt-added tomato sauce
3 tablespoons brown sugar
2 teaspoons apple cider vinegar
1 teaspoon Worcestershire sauce
1 teaspoon yellow mustard
1/2 teaspoon salt
1/4 teaspoon pepper
8 whole wheat hamburger buns
Broccoli Apple Slaw
1 12 oz. package broccoli slaw
1 Honeycrisp apple julienned
1/2 cup dried cranberries
1/2 cup chopped walnuts
1/2 cup Poppyseed dressing
Instructions
Zesty Turkey Sloppy Joes

Heat oil in nonstick large skillet over medium heat. Add turkey, bell pepper and onion, and cook 5-7 minutes, or until meat is cooked through. Add tomato sauce, brown sugar, vinegar, Worcestershire, mustard, garlic powder, salt and pepper. Stir and heat thoroughly.

Top buns with sloppy joe mixture.

Broccoli Apple Slaw

Mix broccoli slaw, apple, cranberries, walnuts and dressing in large bowl. Cover and refrigerate 30 minutes before serving.
Nutrition
Calories: 320kcalCarbohydrates: 40gProtein: 20gFat: 11gSaturated Fat: 2gPolyunsaturated Fat: 5gMonounsaturated Fat: 4gTrans Fat: 0.01gCholesterol: 31mgSodium: 603mgPotassium: 497mgFiber: 4gSugar: 19gVitamin A: 680IUVitamin C: 24mgCalcium: 70mgIron: 3mg