Whole Roasted Cauliflower
This easy and delicious recipe is a great way to introduce your family to cauliflower and the presentation is sure to wow everyone!
Looking to switch up your go-to side dish? This whole roasted cauliflower is the perfect recipe to do just that. Whole roasted cauliflower is absolutely delicious. The best part is it's also incredibly healthy to eat, and even easier to make. All you need is a large head of cauliflower and a quarter cup of chipotle Ranch dressing, and you'll have a side dish that people will be talking about!
Roasted Cauliflower
Roasting an entire cauliflower is a great way to cook this tasty vegetable. Here are some of the benefits of roasting a whole cauliflower:
Roasting brings out the natural sweetness of the cauliflower, making it even more delicious.
It's a quick and easy way to cook cauliflower, and you don't have to worry as much about overcooking it.
Roasted cauliflower makes a great side dish or main course.
How to select the right cauliflower
When it comes to cauliflower, there are a few things you want to keep in mind when choosing one at the grocery store. Here are a few tips:
Size Matters: You want to make sure the cauliflower is not too big or too small. Too big and it will be difficult to cook evenly, too small and there won't be much to eat.
Color Is Important: You want to look for a white or cream-colored cauliflower. Avoid any that have brown spots or blemishes.
Feeling Is Key: Gently squeeze the cauliflower head. It should be firm, but not hard. If it's too soft, or feels/looks like it is drooping in any way, it's past its prime.
Now that you know what to look for, go forth and pick out the perfect cauliflower!
You can also roast a head of broccoli! Broccoli and cauliflower are two cruciferous vegetables that are often used in similar dishes. They can both be roasted in the oven with some simple seasonings. However, broccoli will cook faster than cauliflower because it is typically smaller and has less moisture. When roasted properly however, both of these vegetables can be delicious side dishes.
Make sure to PIN IT!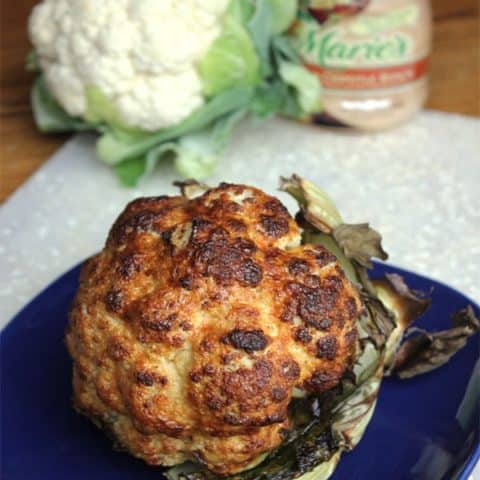 Whole Roasted Cauliflower
This Whole Roasted Cauliflower is so simple with just two ingredients.
Ingredients
1/4 cup chipotle Ranch dressing
1 head cauliflower
Instructions
Preheat oven to 400°F.

Coat cauliflower with dressing, making sure to get all nooks & crannies.

Bake 30 – 40 minutes, or until golden brown.
Nutrition
Calories: 100kcalCarbohydrates: 8gProtein: 3gFat: 7gSaturated Fat: 1gPolyunsaturated Fat: 4gMonounsaturated Fat: 1gCholesterol: 4mgSodium: 178mgPotassium: 439mgFiber: 3gSugar: 3gVitamin A: 6IUVitamin C: 69mgCalcium: 36mgIron: 1mg
More recipes to try:
Lemon Garlic Roasted Artisan Broccoli
Buffalo Cauliflower Lettuce Wraps