Orange, Mango & Banana Smoothie Popsicles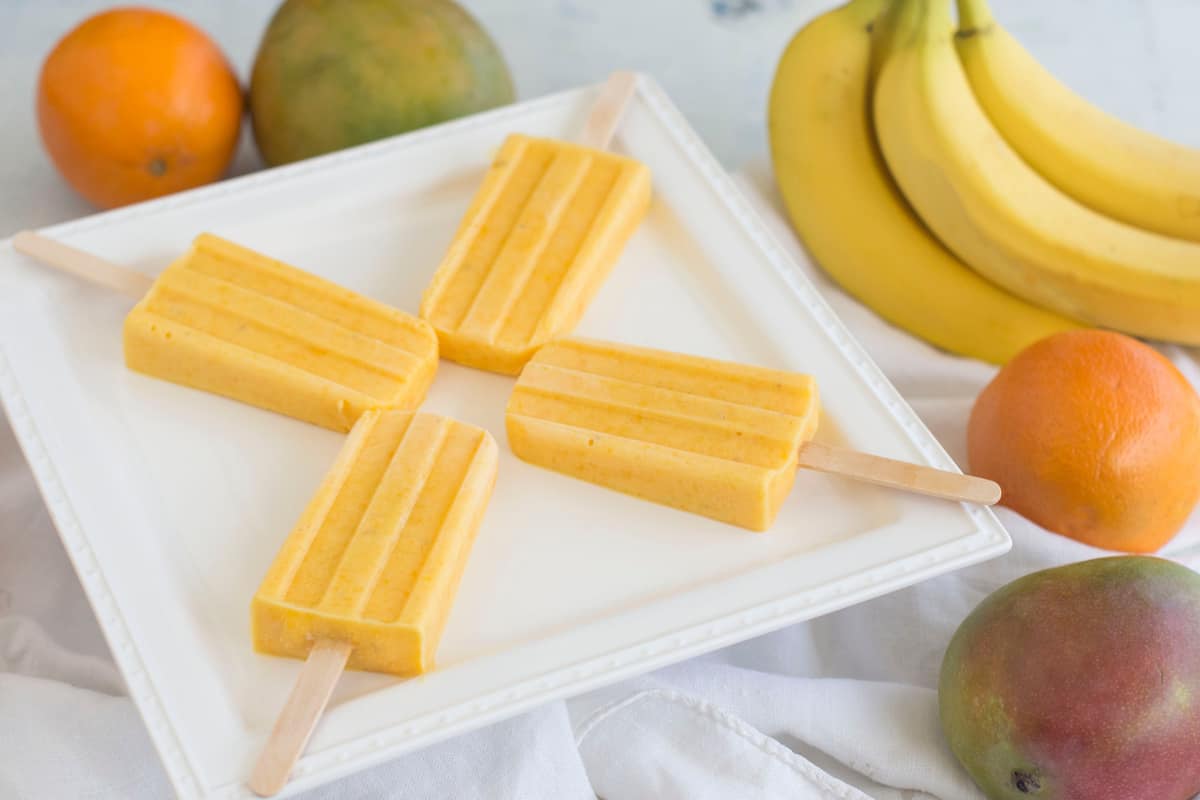 Why buy popsicles at the store, when you can make simple 4-ingredient popsicles at home? These popsicles combine tropical flavors like mango, banana, and orange with yogurt for a creamy and fruity flavor. Plus, they're a great, healthy way to cool down on a hot summer day.
Our Orange, Mango, and Banana Smoothie Popsicles are a fun way to enjoy a refreshing, healthy treat. These popsicles are the perfect way to cool off on a hot summer day or to get some extra vitamins into your body. They're also a great way to sneak more fruit into your kids' diets! Plus, they are easy to make and don't require any special equipment—just a blender, popsicle mold, and some time!
Ingredients and their Benefits
1. Orange juice
Orange juice is a good source of vitamin C, potassium, folate, and fiber. It also contains vitamin A and calcium. Vitamin C helps to protect your body from infection and aids in the healing of wounds as well as helping to prevent scurvy (a disease caused by a lack of vitamin C).
Potassium, on the other side, helps muscles contract and nerves transmit impulses. In addition to helping regulate blood pressure, it prevents bone loss, which makes it important for older adults.
Folate helps make red blood cells healthy and reduces the risk of birth defects when consumed during pregnancy. It helps reduce homocysteine levels in the body, which can lead to heart disease. Folate may also help lower cancer risk factors such as high blood pressure or anemia.
2. Peeled, Seeded, and Chopped Mangoes (or use 1 cup of frozen mango chunks)
Mangoes are undeniably one of the sweetest and healthiest fruits as it contains a total of 20 different vitamins and minerals. Known as a superfood, mango helps support your immune system thanks to its nutrients.
3. Sliced Bananas and Oranges
Bananas and oranges both have their merits. Bananas are rich in potassium, which is good for your heart and may even help manage diabetes. Oranges are a good source of vitamin C, which aids in fighting free radicals (cells that cause disease). Both fruits also contain antioxidant compounds that can help prevent damage from ultraviolet rays from the sun. Bananas and oranges also happen to be very sweet—so if you're going for something refreshingly fruity but not too tart or sour, this one should fit the bill!
4. Plain or Vanilla Yogurt
Yogurt is a good source of calcium, which helps to keep your bones strong and healthy. It's also a probiotic food, which means it can help keep your digestive system healthy by replenishing the good bacteria in your gut. And finally, yogurt is high in protein and B vitamins—both nutrients that have been shown to help boost energy levels when eaten before workouts!
Optional Ideas for Serving
These popsicles are made by blending all the ingredients and pouring them into popsicle molds, but for an added pop of flavor and color, you could put some chopped strawberries in the mold before filling them. Or, if you want to keep the flavor the same, but still want some chunky fruits mixed in, you could chop up some additional mango and add that to the mold before filling them.
If you want your fruit at the "top" of the popsicle though, pour the chunky fruit in and just enough popsicle mix to cover the fruit and put it in the freezer. Once it hardens slightly, then pour the rest of your popsicle mix into the mold. Otherwise, all the chunk fruit could end up on the bottom of your popsicle because it will float to the top of the mold when you pour in the mix.
Another idea is to chop pistachios or other nuts up really finely (or use any nuts you have) and sprinkle them into the mix. Again, if you want them at the top of the popsicle, you will need to use the same method we just described for the fruit.
No matter how you go about making these Orange, Mango, and Banana Smoothie Popsicles, they are so easy to make and they're healthy too! You can eat them right out of the popsicle mold as well. Enjoy!
Orange, Mango & Banana Smoothie Popsicles
Ingredients
1 mango sliced
1 banana
1 navel orange juiced
1/2 cup vanilla Greek yogurt
Instructions
Place mango, banana, orange juice and yogurt in blender. Blend until smooth.

Pour into molds and freeze 2 – 3 hours, or until frozen.
Nutrition
Calories: 65kcalCarbohydrates: 15gProtein: 2gFat: 0.2gSaturated Fat: 0.1gPolyunsaturated Fat: 0.05gMonounsaturated Fat: 0.1gCholesterol: 1mgSodium: 6mgPotassium: 184mgFiber: 2gSugar: 11gVitamin A: 444IUVitamin C: 28mgCalcium: 15mgIron: 0.1mg