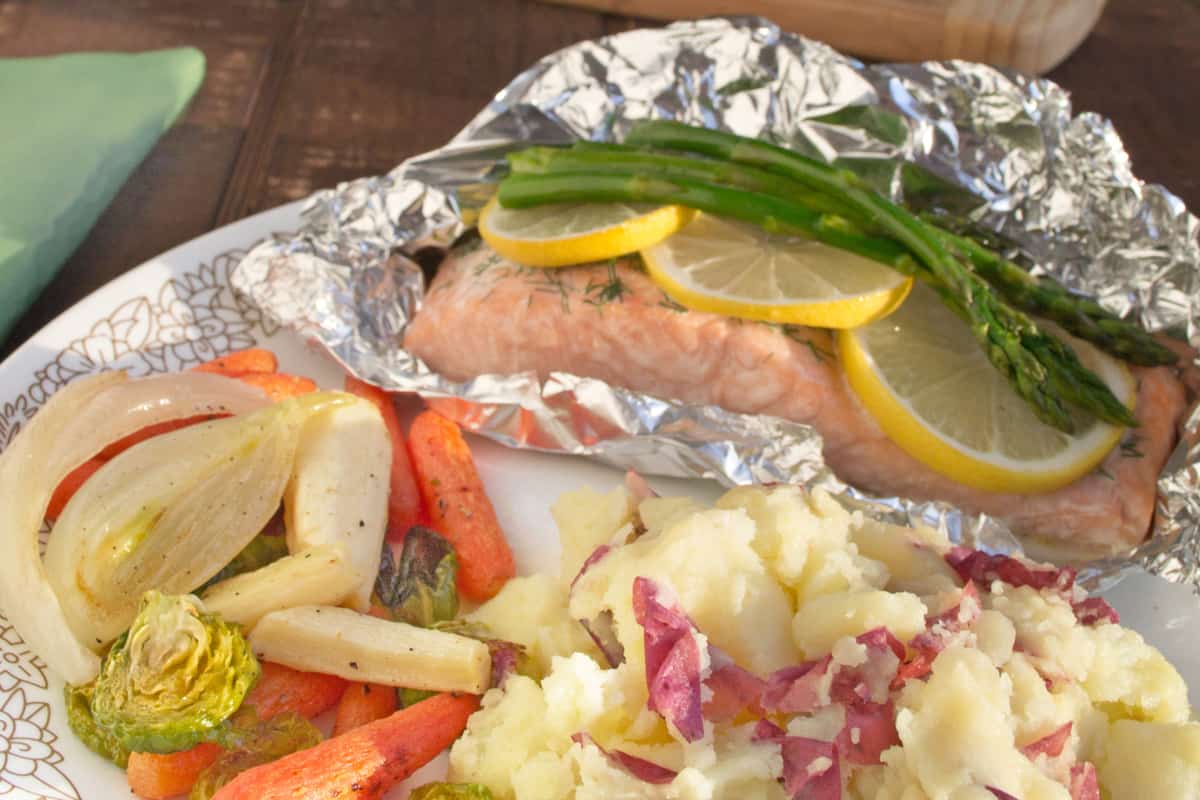 Lemon and dill add a punch of flavor to this dish without adding extra calories or salt. The salmon and veggies are cooked at the same temperature, so dinner is quick and easy!
Lemon Roasted Salmon
Ingredients
Salmon Packets
4 4 oz. salmon steaks
1 tablespoon fresh dill chopped
1 pound asparagus tough ends trimmed
1 lemon sliced
Roasted Vegetables
1 cup baby carrots
2 parsnips peeled, sliced on diagonal into 2" pieces
1 sweet onion peeled, quartered
2 cups halved brussels sprouts
4 tablespoons olive oil
Smashed Red Potatoes
2 pounds russet potatoes chopped
3 cloves garlic peeled
1/4 cup fat-free milk
Instructions
Salmon Packets
Lightly coat four 12-inch sheets of aluminum foil with non-stick cooking spray.

Place salmon in middle of foil and season with dill, salt and pepper. Top salmon with asparagus and lemon slices. Fold and seal foil making a packet.

Bake in oven 25 minutes or until fish is cooked through.
Roasted Vegetables
Spread evenly on baking sheet and roast 25-30 minutes, or until vegetables brown and caramelize.
Smashed Red Potatoes
Drain and return to pot. Add 2 Tbsp. olive oil, milk, salt and pepper. Mash with heavy wooden spoon or potato masher, until desired consistency is achieved.
Nutrition
Calories: 611kcalCarbohydrates: 57.42gProtein: 32.77gFat: 25.87gSodium: 138mgFiber: 11.28g