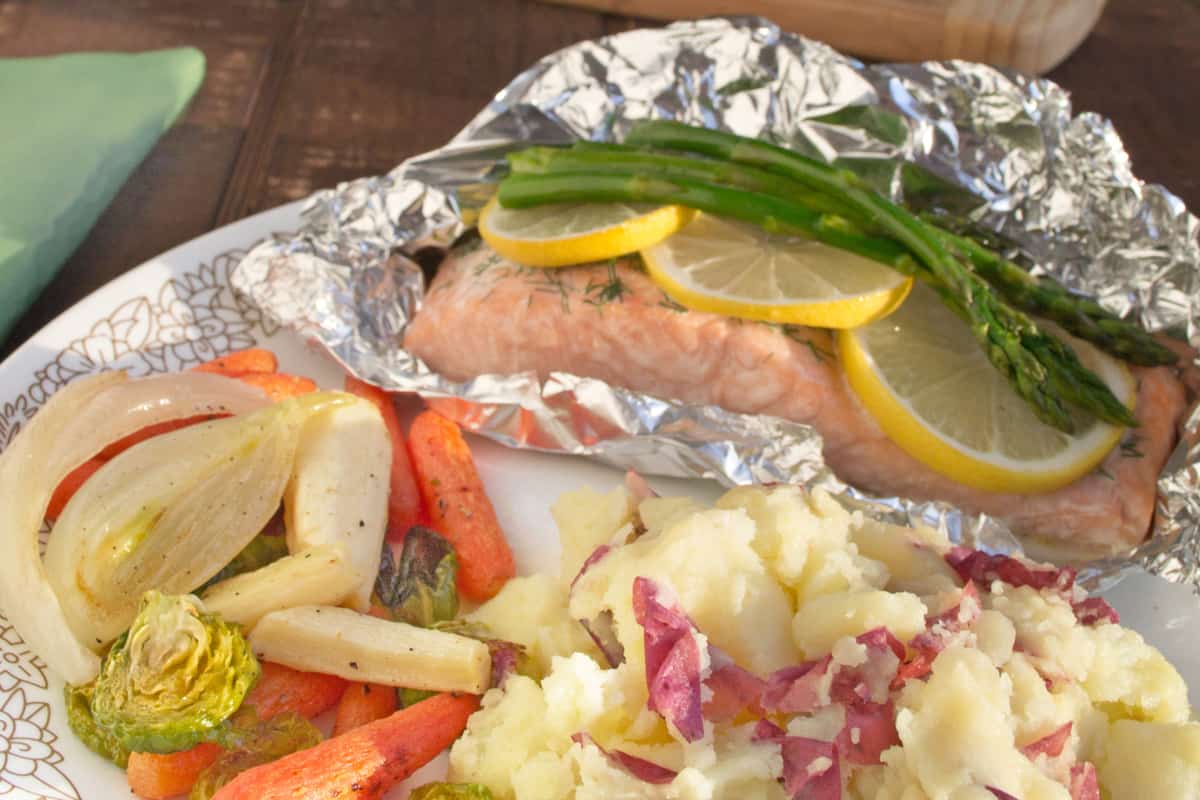 Lemon and dill add a punch of flavor to this dish without adding extra calories or salt. The salmon and veggies are cooked at the same temperature, so dinner is quick and easy!
Lemon roasted salmon is an easy, healthy, and delicious dinner option. It can be cooked in foil packets, which makes for easy after-dinner cleanup. This recipe is perfect for those crazy busy nights when you don't have a lot of time to cook. Hello soccer practice and karate classes!
Salmon is a healthy, delicious, and easy-to-prepare fish that should be a staple in your diet. Here are four reasons why you should add more salmon to your diet:
Salmon is packed with nutrients. It is a good source of protein, vitamin D, and omega-3 fatty acids, which are beneficial for heart health and brain function.
It is also low in mercury and other toxins. This makes it a safer choice than some other types of fish when it comes to consuming seafood.
Salmon is versatile and easy to cook. Whether you bake it, broil it, or pan fry it, salmon is quick and simple to prepare. Plus, it pairs well with many different sides and flavors.
The fish, when purchased in season, is a budget-friendly source of protein. It's also worth noting that it can be found at grocery stores year-round.
What Are the Best Veggies to Serve with Salmon?
Salmon is a versatile fish that can be paired with many different types of vegetables. However, there are some that work particularly well. For example, broccoli works great because of its mild flavor and texture. We chose baby carrots, sweet onion, and brussels sprouts because of their flavor profile and nutritional benefits.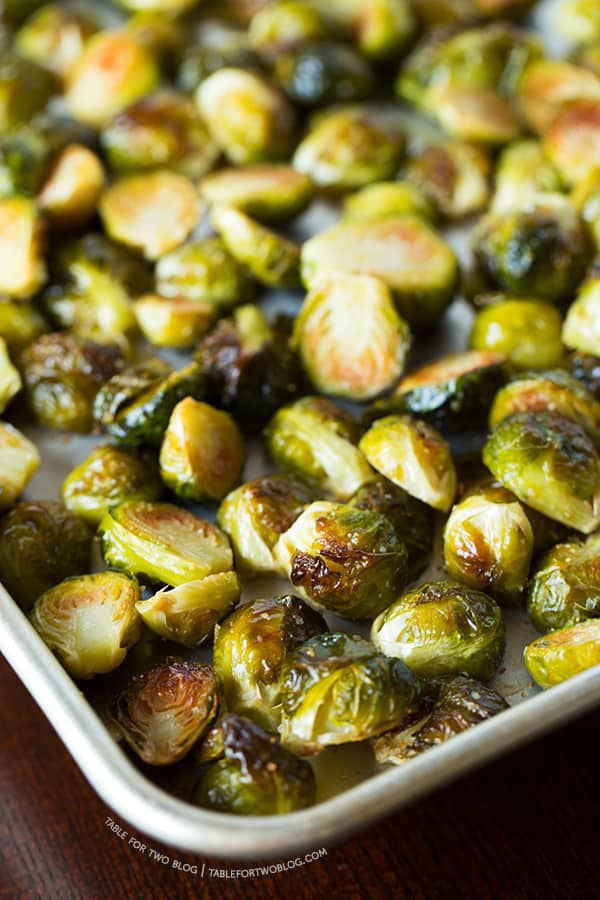 Brussels sprouts are an excellent source of vitamin C, a good source of iron, and a very good source of dietary fiber. Sweet onion offers a bold flavor and is a good source of vitamin B6, dietary fiber, and manganese. Carrots are an excellent source of vitamin A, vitamin K, and manganese.
What Else Should I Serve with Salmon?
There are many different types of side dishes that pair well with this lemon roasted salmon. Some of the more popular options include rice pilaf, orzo pasta, and even couscous.
To round out our plate, we opted for smashed red potatoes. Red potatoes have a more earthy flavor and are higher in nutrients than white potatoes. Some of the nutrients that red potatoes contain include vitamin C, vitamin B6, folate, and potassium.
How Long Does Lemon Roasted Salmon Last in the Fridge?
The lemon-roasted salmon will stay fresh in the fridge for 3 to 4 days. To reheat the salmon, you can place it in a toaster oven/traditional oven and bake it at 350 degrees for just a few minutes or until heated through. Don't reheat it too long though because then it will get rubbery and not taste as good! To reheat your veggies and smashed red potatoes, you can microwave them in 30 second intervals on 50% power until heated through.
After trying this delicious Lemon Roasted Salmon, try our recipe for Sesame Ginger Salmon. Another family favorite!
Lemon Roasted Salmon
Ingredients
Salmon Packets
4 4 oz. salmon steaks
1 tablespoon fresh dill chopped
1 pound asparagus tough ends trimmed
1 lemon sliced
Roasted Vegetables
1 cup baby carrots
2 parsnips peeled, sliced on diagonal into 2" pieces
1 sweet onion peeled, quartered
2 cups halved brussels sprouts
4 tablespoons olive oil
Smashed Red Potatoes
2 pounds russet potatoes chopped
3 cloves garlic peeled
1/4 cup fat-free milk
Instructions
Salmon Packets
Lightly coat four 12-inch sheets of aluminum foil with non-stick cooking spray.

Place salmon in middle of foil and season with dill, salt and pepper. Top salmon with asparagus and lemon slices. Fold and seal foil making a packet.

Bake in oven 25 minutes or until fish is cooked through.
Roasted Vegetables
Spread evenly on baking sheet and roast 25-30 minutes, or until vegetables brown and caramelize.
Smashed Red Potatoes
Drain and return to pot. Add 2 Tbsp. olive oil, milk, salt and pepper. Mash with heavy wooden spoon or potato masher, until desired consistency is achieved.
Nutrition
Calories: 698kcalCarbohydrates: 76gProtein: 45gFat: 26gSaturated Fat: 4gPolyunsaturated Fat: 6gMonounsaturated Fat: 14gCholesterol: 94mgSodium: 146mgPotassium: 2717mgFiber: 13gSugar: 15gVitamin A: 5718IUVitamin C: 90mgCalcium: 182mgIron: 8mg