Episode 68: Buying Organic – What You Need To Know
This episode of the Healthy Family Project podcast is all all about how to shop for organic foods. We're joined by Sally Kuzemchak, our official registered dietitian and author of RealMomNutrition.com. Sally dispels the myths and breaks down everything you need to know about buying organic.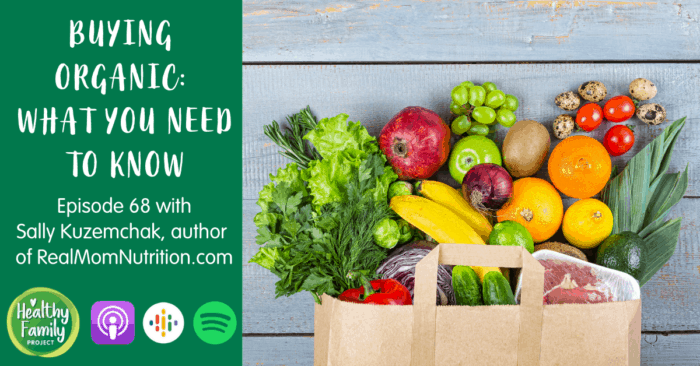 You can't walk into a grocery store without seeing all sorts of labels making bold health claims including organic labels on fresh and packaged foods. There is a lot of confusion among shoppers around what the organic label means, does organic equal healthy, and what nutrition information should actually be taken into account when making food purchases.
As Sally notes "organic cookies are still cookies" and shoppers should not be duped into thinking organic always means the food item is healthy. Sally breaks down the meaning of organic when it comes to food labels, what we should know about the dirty dozen list, and what food items to prioritize when it comes to deciding between conventional and organic.
Listen to the episode
What We Cover:
Want to skip straight to a hot topic? See timestamps below. But of course, we recommend listening all the way through to get all the great tips and tricks!
2:40 Welcome back, Sally!
3:24 Does organic mean healthy?
5:58 What we need to know about the dirty dozen list?
11:40 Prioritizing conventional vs organic foods
14:14 Healthy Bite Featuring YoQuiero Brands
17:09 How are organic labels regulated?
19:30 Online resources to learn more about organic foods and labels
22:17 What should parents be doing when it comes to shopping organic?
YoQuiero's guacamole is made with hand-scooped hass avocados and contains no preservatives. It's perfect for taco night, tailgating season, Cinco de Mayo and so much more. With Cinco de Mayo celebrations around the corner, check out this Ultimate Taco Board loaded with must-have taco toppings including YoQuiero guacamole, queso, and salsa.
About Our Guest, Sally Kuzemchak
Sally is a registered dietitian, author, and mom of two boys. She blogs at RealMomNutrition.com, a "no-judgement zone" for feeding families. She is the author of two books, The 101 Healthiest Foods For Kids, a guidebook to the best whole foods for kids, and Cooking Light Dinnertime Survival Guide, a cookbook for busy families.
An award-winning reporter and writer, Sally serves as a Contributing Editor for Parents magazine and a blogger for WebMD. Her writing has been published in magazines including Prevention, Health, Family Circle, Eating Well, Fitness, and Shape.
Sally received her master's degree in dietetics from The Ohio State University and resides in Columbus, OH with her family.
Relevant Links
Sally's article about the dirty dozen
Check out Sally's blog
Follow Food Science Babe on Instagram
Other Podcast Episodes to Check Out:
Healthy Family Project Facebook Group
Join our Healthy Family Project Facebook group! This group will serve as a safe space for parents and caregivers to talk all about raising a healthy family – from dealing with a picky eater and tips to get more fruits and veggies onto plates to exercising as a family and mental health. We welcome all of you to join in!
Listener Survey!
Thank you so much for supporting the Healthy Family Project Podcast! We'd love it if you could take 5 minutes to let us know how we can bring you the best possible content for future episodes. Take the survey here.
---
Healthy Family Project Podcast
Conversations covering hot topics in the world of health, food and family with a dose of fun. Helping families ease their way into a new fresh and healthy world.
Be on the lookout for new bi-weekly episodes and don't forget to subscribe on Apple Podcasts, Google Podcasts, Spotify or your favorite podcasting site. If you like an episode, make sure to leave a rating and comment.
If you are interested in being a guest on the Healthy Family Project podcast, contact amanda@healthyfamilyproject.com with your topic idea for consideration.