20 Virtual Summer Camps for Kids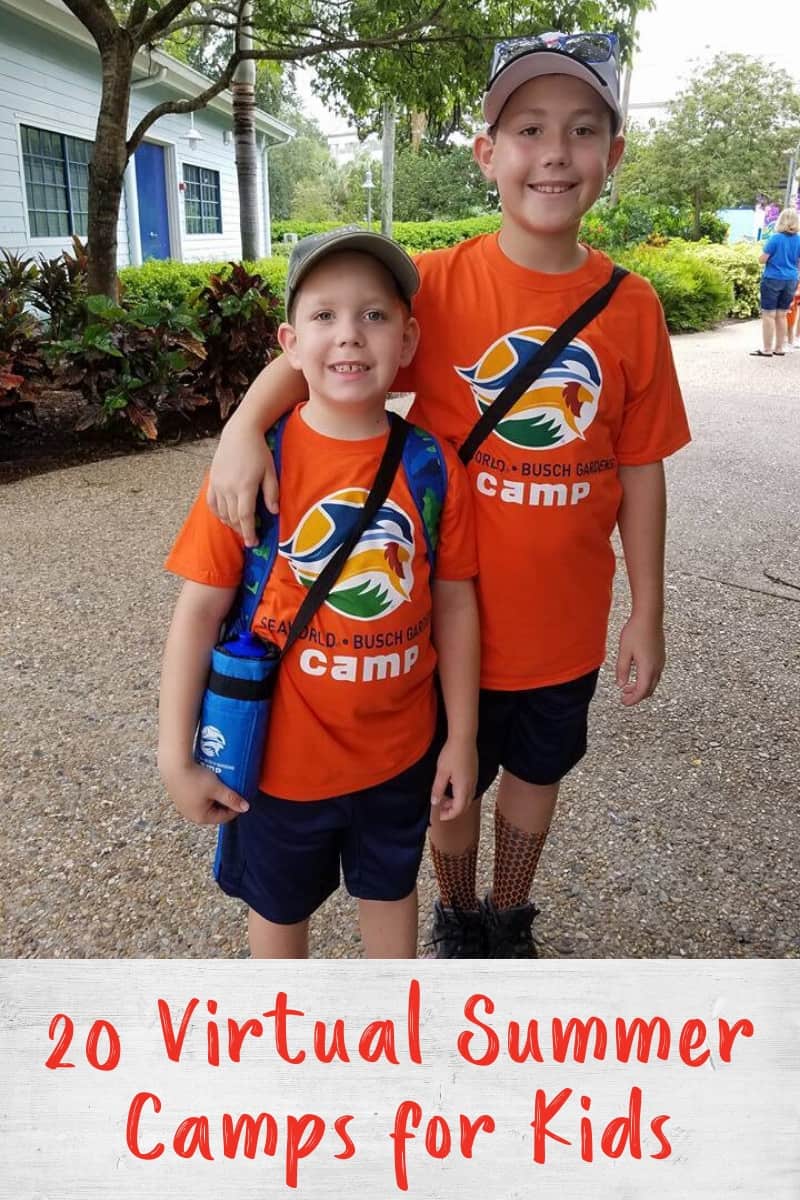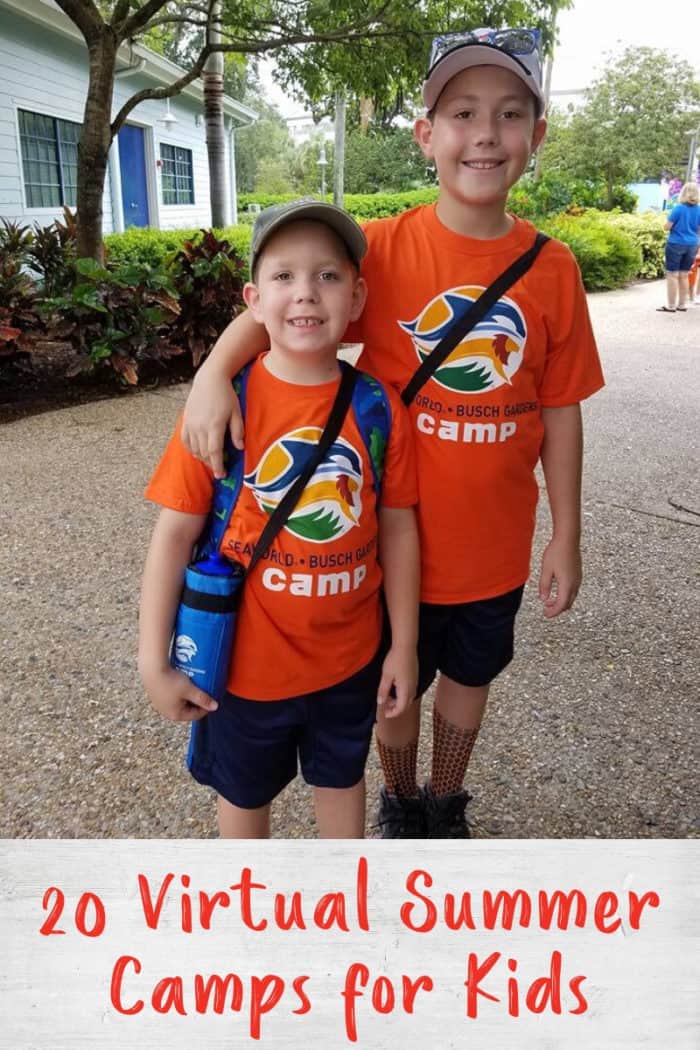 Summer camp or plans canceled? Here are 20 summer virtual camps, activities, and classes to keep kids busy and learning this summer.
My husband is a teacher and I work from home so we are very lucky that we don't count on summer camps for child care. However, each summer we ask each of our boys (Kris, 13 and Matt, 10) to pick 2 or 3 camps that they would like to attend in order to keep them busy, active, and most importantly, to try new things.
As with everything else that has been turned upside down this year, summer camps are another. All of the ones that we had signed up for have been canceled and so it's back to the drawing board.
I've done some research and rounded up a list of 20 virtual camps or classes that offer great content and activities for kids below.
Plus, we're giving away five $100 Summer Camp Scholarships to lucky winners! Enter on the form at the bottom of this post for your chance to win!
Check out our blog more activity ideas, recipes, tips and more for navigating our "new normal" this summer.
ABC Mouse (ages 2 – 8) and Adventure Academy (ages 8 – 13)
ABC Mouse (for ages 2 – 8), and more recently Adventure Academy (ages 8 – 13), created by Age of Learning Inc., are subscription-based digital education programs with age-appropriate curriculum in reading, math, science, social studies, music, art, and more.
My son, Matt, did ABC Mouse for several years when he was in preschool through 2nd grade and I'm looking forward to him trying Adventure Academy now.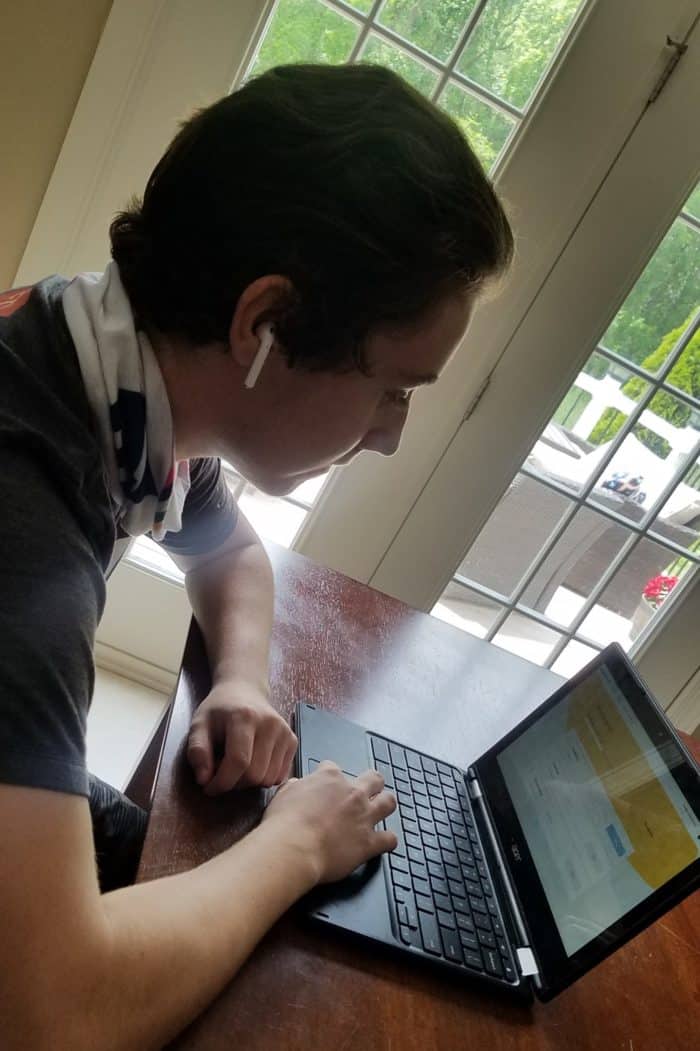 Rosetta Stone
Rosetta Stone is currently offering a 3-month, no-cost subscription for students who either attended a school that is closed as a result of COVID-19 or are homeschooled. Language offerings include Spanish, French, Italian, German, Japanese, Chinese, or English.
My oldest, Kris, was in the middle of his first year of French when we switched to distance learning. We tried a few other foreign language programs but found this one worked the best for his learning style. We've decided to continue the program through the summer so that he can be better prepared for French 2 come fall.
DIY.org
This website offers a large variety of courses and challenges with topics such as Secrets of Drawing, Photography, Invent Your Own Machines, and Strange Science. Matt, our resident Lego Master, is currently taking Build Anything with Lego. Each day he is given a challenge to build something using Legos we have at the house. I love that it is forcing him to think outside of the Lego box and use the bricks in new ways.
Camp PBS Kids
We are definitely a PBS Kids family – the boys grew up on Sesame Street and Super WHY. Matt, who wants to be a paleontologist, loved Dinosaur Train and both boys loved the Wild Kratts so much that we took them to see them live. Camp PBS Kids has a ton of activities to keep everyone busy and learning. I love that there are also free printables for screen-free time.
Science Explorers
Both of my boys have participated in several in-person Science Explorer camps so I was excited to see that they were offering virtual programs this summer.
Science Explorers is an innovative, hands-on science company dedicated to providing an opportunity for children ages 4-11 to become engaged in the wonders of science. Whether it's an after-school club, summer camp, school assembly, or other program Science Explorers can make science cool and exciting through our interactive, hands-on format.
This summer, they will be offering Virtual STEAM Programs for ages 7 – 11. The virtual camps will be held via Zoom and kids will receive a box of science goodies for the topic they choose about 1-2 weeks before the start date. All sessions will be taught by a live Science Explorer instructor and they will lead kids through a variety of engaging and exciting hands-on science activities and experiments.
Raddish Kids
I truly believe that having kids in the kitchen is essential for helping them develop self-confidence, learn problem-solving, and create a healthy lifestyle. Raddish Kids encourages children of all ages to get in the kitchen but mailing a kit to your doorstep every month. This program is perfect for selective eaters as kids are more likely to try foods when they participate in the process.
Connected Camps
What first got me interested in learning more about this online camp was their Minecraft offerings. Matt loves Minecraft and to code so I thought this would be a good way to help him learn while doing something he really enjoys.
Connected Camps offers live week-long coed and girls-only online camps for kids 8 to 13 years old. Each camp runs for 5 days, 90 minutes a day. Camps run June 1 – August 14. They even have "just for girls" offerings which help girls build their coding skills. I'm really looking forward to Matt trying these camps.
Cosmic Kids Yoga
Yoga, mindfulness and relaxation videos designed specially for kids aged 3+. Kids and families can do yoga through telling the stories of familiar, well-loved stories (nursery rhymes, Harry Potter, Star Wars, Frozen, and more).
While none of us are Yogis in our house, we have done several of these together and really enjoyed them. They are geared toward younger children but my 13-year-old will still participate.
Varsity Tutors
Help your kids make the most of their break with interactive camps taught by expert instructors. Each camp consists of five sessions, starting on Monday and ending on Friday. I love how many camps they have that are perfect for middle and high school students with topics like CSI: Crack the Case, Video Editing 101, Environmental Hero Class, and even a SAT prep class. They continue to add classes every week so make sure to continue to check back to see what they have to offer.
Outschool
Outschool has been described as the "Netflix of Learning" and offers dozens of paid online courses for kids 3-18. Kids can learn about a variety of subjects (everything from coding to social studies to sewing) In Outschool, teachers craft an immersive course based on how they believe students would best be able to master the course— this leaves for a really fun approach to learning, architecture classes are taught with Minecraft and spanish through Taylor Swift lyrics.
Outschool classes start at $5 and are sold for an average of $18. The exact price students are charged is based on the expected class size, the teacher's level of experience, and the time the teacher will spend developing the material.
Camp Invention
Camp Invention Connect™ is a new and unique camp-at-home experience! Building on 30 years of innovative STEM education for children, Camp Invention Connect uses the foundations of the traditional Camp Invention program to expand its reach and deliver a hands-on exploration to your doorstep. Kits containing all the materials and instructions for the week's activities will be sent directly to your home.
Dribble up
DribbleUp is a super fun to way to use your phone to exercise something other than your thumbs. People show us every day how DribbleUp helps them transform their skills.
My two play hockey and swim so we haven't used this yet but during my research, I kept seeing really great reviews about this program – not only is it fun, but it keeps kids practicing their sport even if they can't be with their team.
Time4Learning
Time4Learning provides a high-quality, effective online learning curriculum for students as well as time-saving tools and useful resources for parents. The award-winning curriculum has been refined through years of feedback from educators, parents, and students.
The Wonder's Explorers Club
This is a really interesting concept where The Wonder's Explorers Club where they bring the camp to you and your child has an opportunity to interact live with staff and other kids.
Campers can attend 8-10 live classes per week (each 30 minutes long), so you have flexibility when your kid has screen time.They also have twice daily cabin check-ins that are 15-minutes long and designed for social interaction and community building.
Curriculum designed to encourage social emotional learning for kids ages 3-6. Each week is a different theme and focuses on a "Wonder value", like community, gratitude, empathy, and kindness.
Camp Wonderopolis
Camp Wonderopolis® is the FREE online summer-learning destination that's full of fun, interactive STEM and literacy-building topics boosted by Maker experiments!
Keeping kids and their families learning together throughout the summer and out-of-school time, Camp Wonderopolis can help build vocabulary, background knowledge in science, reading comprehension, critical thinking, and other literacy skills along the way.
When you register as a Camper (kids of all ages) or Counselor (parents, community and library program staff, teachers), you'll enjoy learning through wonder—an approach honed by the award-winning Wonderopolis.org!
MarcoPolo World School
MarcoPolo Learning aims at inspiring children to become explorers and lifelong learners. Their program started by two regular dads, Justin and Nazar, who realized that there weren't any interactive tools out there to help our own children explore the world.
They now work with a team of PhD early childhood education specialists and children's media experts on board to help create this tool and make it available to every family, everywhere in the world. This program includes content from their website, app, and great downloadables for exploring outside.
K12 Inc. Summer Camp
K12 Inc. is an online academic resource that helps kids continue their education out of the classroom. Students participating in K12 programs receive a high-quality, personalized education experience online. In online schooling serving grades K–12, the classroom is in the home or on the road, wherever an internet connection is available. Students are expected to complete schoolwork each day and attend virtual classroom sessions as scheduled by their teachers.
Reading Rockets
This is a wonderful website with a ton of different resources for those students who are growing readers. Reading Rockets is a national multimedia project that offers a wealth of research-based reading strategies, lessons, and activities designed to help young children learn how to read and read better. Their resources assist parents, teachers, and other educators in helping struggling readers build fluency, vocabulary, and comprehension skills.
Happy Camper Live
Happy Camper Live brings camp to you with fun activities and adventures designed to motivate kids to learn, do, and spark life-changing moments every day. Campers can choose from hundreds of activities and create their own adventure including flip out with a world-class gymnast, learn how to pilot a drone like a pro, or create new art, music, and recipes.
Little Passports
What kid doesn't like receiving mail? Especially when it is summer camp in a box! This subscription-based program starts at $12.95/ month and each box contains themed toys and activities for kids to enjoy. For ages 3 – 12, kits explore themes such as music, geography, science, and math.
---