12 Fun Indoor Activities for Kids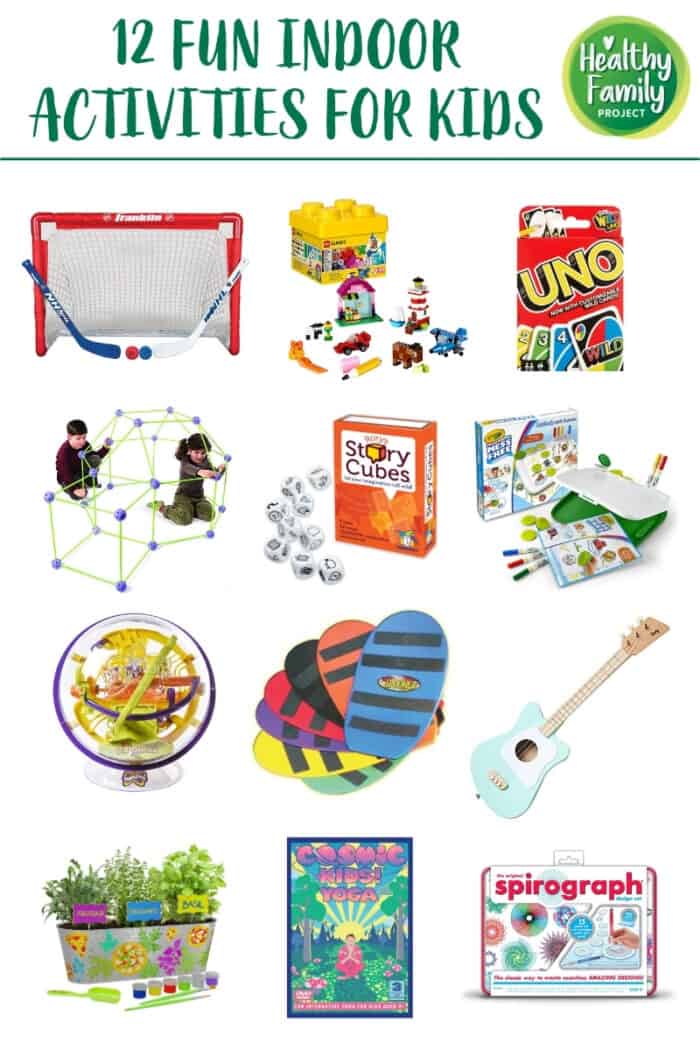 Disclosure: This post contains Amazon affiliate links which means we may receive a commission if you click a link and purchase something that we have recommended.
Whether it's a cold, snowy day or a rainy day, being stuck inside all day is no fun for kids or parents. Rather than camping out on the couch watching TV or playing video games, there are tons of fun things kids and families can do indoors to expel excess energy and get creative juices flowing.
(For more information on managing your kids' screen time, check out episode 3 of our podcast!)
Our team rounded up some of our favorite items to keep kids busy indoors on snow or rain days. Check out the list below. Do you have a favorite indoor activity that's not on our list? Comment below and let us know!
12 Fun Indoor Activities for Kids
If your kids love getting outside and playing hockey like mine do, this indoor set will satisfy the need to play when there's too much snow to go outside.
The possibilities are endless with LEGOs. Kids can build houses, cars, animals and more. Put their imagination to the test!
Classic card games like UNO are a great way for the whole family to spend time together. Break out the card for an after-dinner game night.
All you need is this kit and a bedsheet for endless fun! Curl up underneath with a flashlight and a good book and you'll think you're outside camping.
Get those imagination juices flowing with this fun game. What stories will you come up with? Play and find out.
Mess-free is the key here! Let kids draw, color and more with this art desk from Crayola.
All the fun of puzzle video games without the cord! Kids will spend hours moving the ball around the various mazes.
Kids with excess energy? Tire them out with one of the boards. They can spin, twist, slide and wobble themselves tired!
Inspire a budding musician with this guitar designed just for kids! The 3-string neck makes it easy for kids as young as 3 to form chords and play songs.
Too early to plant an outside garden? No worries! Grow herbs like inside with this pizza herb kit.
Get kids stretching with a fun yoga DVD. Yoga teaches confidence, concentration and calmness. Every parent can get on board with that!
Okay, maybe this one is for my own nostalgia, but it's great for kids too! What fun designs will they create?